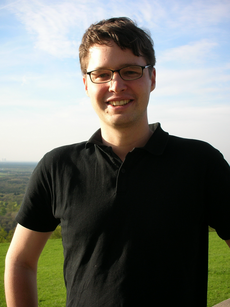 Dr.-Ing. Nikolaus Vahrenkamp
Adenauerring 2
76131 Karlsruhe
Nikolaus Vahrenkamp
received his Diploma and Ph.D. degrees from the Karlsruhe Institute of Technology (KIT), in 2005 and 2011, respectively. During his PhD he developed the Grasping and Manipulation Pipeline of ARMAR-III. From 2011 to 2012, he was senior post-doc at the Cognitive Humanoids Lab of the Robotics, Brain and Cognitive Sciences Department, Italian Institute of Technology (IIT), where he worked on grasp and motion planning for the humanoid robot iCub.
His research interests include humanoid robots, motion planning, grasping and sensor-based motion execution.
He is the main developer of the robot simulation toolbox Simox.
2023
Journals
Gao, J., Tao, Z., Jaquier, N. and Asfour, T., K-VIL: Keypoints-based Visual Imitation Learning, IEEE Transactions on Robotics, vol. , no. , pp. 1-21, 2023
BibTeX:

@ARTICLE {Gao2023,
author = {Jianfeng Gao and Zhi Tao and Noémie Jaquier and Tamim Asfour},
title = {K-VIL: Keypoints-based Visual Imitation Learning},
pages = {1--21},
volume ={},
number ={},
journal ={IEEE Transactions on Robotics},
year = {2023}
}
                
Kartmann, R. and Asfour, T., Interactive and Incremental Learning of Spatial Object Relations from Human Demonstrations, Frontiers in Robotics and AI, vol. 10, no. , pp. 1-14, 2023
BibTeX:

@ARTICLE {Kartmann2023,
author = {Rainer Kartmann and Tamim Asfour},
title = {Interactive and Incremental Learning of Spatial Object Relations from Human Demonstrations},
pages = {1--14},
volume ={10},
number ={},
journal ={Frontiers in Robotics and AI},
year = {2023}
}
                
Klas, C. and Asfour, T., Reaching Torque-Velocity Profiles of Human Muscles: The Adaptive Cycloidal Linear Drive, IEEE/ASME Transactions on Mechatronics, vol. , no. , pp. 1-10, 2023
BibTeX:

@ARTICLE {Klas2023,
author = {Cornelius Klas and Tamim Asfour},
title = {Reaching Torque-Velocity Profiles of Human Muscles: The Adaptive Cycloidal Linear Drive},
pages = {1--10},
volume ={},
number ={},
journal ={IEEE/ASME Transactions on Mechatronics},
year = {2023}
}
                
Lee, J., Balachandran, R., Kondak, K., Coelho, A., De Stefano, M., Humt, M., Feng, J., Asfour, T. and Triebel, R., Virtual Reality via Object Poses and Active Learning: Realizing Telepresence Robots with Aerial Manipulation Capabilities, International Journal on Field Robotics (accepted), vol. , no. , 2023

[BibTeX]
BibTeX:

@ARTICLE {Lee2023,
author = {Jongseok Lee and Ribin Balachandran and Konstantin Kondak and Andre Coelho and Marco De Stefano and Matthias Humt and Jianxiang Feng and Tamim Asfour and Rudolph Triebel},
title = {Virtual Reality via Object Poses and Active Learning: Realizing Telepresence Robots with Aerial Manipulation Capabilities},
pages = {0--0},
volume ={},
number ={},
journal ={International Journal on Field Robotics (accepted)},
year = {2023}
}
                
Moeller, T., Moehler, F., Krell-Roesch, J., De\vzman, M., Marquardt, C., Asfour, T., Stein, T. and Woll, A., Use of Lower Limb Exoskeletons as an Assessment Tool for Human Motor Performance: A Systematic Review, Sensors, vol. 23, no. 6, 2023

[BibTeX]
BibTeX:

@ARTICLE {Moeller2023,
author = {Tobias Moeller and Felix Moehler and Janina Krell-Roesch and Miha De\vzman and Charlotte Marquardt and Tamim Asfour and Thorsten Stein and Alexander Woll},
title = {Use of Lower Limb Exoskeletons as an Assessment Tool for Human Motor Performance: A Systematic Review},
pages = {0--0},
volume ={23},
number ={6},
journal ={Sensors},
year = {2023}
}
                
Newbury, R., Gu, M., Chumbley, L., Mousavian, A., Eppner, C., Leitner, J., Bohg, J., Morales, A., Asfour, T., Kragic, D., Fox, D. and Cosgun, A., Deep Learning Approaches to Grasp Synthesis: A Review, IEEE Transactions on Robotics, vol. , no. , 2023 (Key: grasping)
BibTeX:

@ARTICLE {Newbury2023,
author = {Rhys Newbury and Morris Gu and Lachlan Chumbley and Arsalan Mousavian and Clemens Eppner and JÃŒrgen Leitner and Jeannette Bohg and Antonio Morales and Tamim Asfour and Danica Kragic and Dieter Fox and Akansel Cosgun},
title = {Deep Learning Approaches to Grasp Synthesis: A Review},
pages = {0--0},
volume ={},
number ={},
journal ={IEEE Transactions on Robotics},
year = {2023}
}
                
Peller-Konrad, F., Kartmann, R., Dreher, C. R. G., Meixner, A., Reister, F., Grotz, M. and Asfour, T., A memory system of a robot cognitive architecture and its implementation in ArmarX, Robotics and Autonomous Systems, vol. 164, no. , pp. 1-20, 2023
BibTeX:

@ARTICLE {Peller2023,
author = {Fabian Peller-Konrad and Rainer Kartmann and Christian R. G. Dreher and Andre Meixner and Fabian Reister and Markus Grotz and Tamim Asfour},
title = {A memory system of a robot cognitive architecture and its implementation in ArmarX},
pages = {1--20},
volume ={164},
number ={},
journal ={Robotics and Autonomous Systems},
year = {2023}
}
                
Conferences
Baek, W., Ledermann, C., Asfour, T. and Kroeger, T., Combining Measurement Uncertainties with the Probabilistic Robustness for Safety Evaluation of Robot Systems, IEEE/RSJ International Conference on Intelligent Robots and Systems (IROS), 2023
BibTeX:

@INPROCEEDINGS {Baek2023,
author = {Woo-Jeong Baek and Christoph Ledermann and Tamim Asfour and Torsten Kroeger},
title = {Combining Measurement Uncertainties with the Probabilistic Robustness for Safety Evaluation of Robot Systems},
booktitle = {IEEE/RSJ International Conference on Intelligent Robots and Systems (IROS)},
pages = {0--0},
year = {2023}
}
                
Cebulla, A., Asfour, T. and Kroeger, T., Speeding Up Assembly Sequence Planning Through Learning Removability Probabilities, IEEE International Conference on Robotics and Automation (ICRA), pp. 12388-12394, 2023
BibTeX:

@INPROCEEDINGS {Cebulla2023,
author = {Alexander Cebulla and Tamim Asfour and Torsten Kroeger},
title = {Speeding Up Assembly Sequence Planning Through Learning Removability Probabilities},
booktitle = {IEEE International Conference on Robotics and Automation (ICRA)},
pages = {12388--12394},
year = {2023}
}
                
Klein, H., Jaquier, N., Meixner, A. and Asfour, T., On the Design of Region-Avoiding Metrics for Collision-Safe Motion Generation on Riemannian Manifolds, IEEE/RSJ International Conference on Intelligent Robots and Systems (IROS), October, 2023
BibTeX:

@INPROCEEDINGS {Klein2023,
author = {Holger Klein and Noémie Jaquier and Andre Meixner and Tamim Asfour},
title = {On the Design of Region-Avoiding Metrics for Collision-Safe Motion Generation on Riemannian Manifolds},
booktitle = {IEEE/RSJ International Conference on Intelligent Robots and Systems (IROS)},
pages = {0--0},
year = {2023}
}
                
Meixner, A., Krebs, F., Jaquier, N. and Asfour, T., An Evaluation of Action Segmentation Algorithms on Bimanual Manipulation Datasets, IEEE/RSJ International Conference on Intelligent Robots and Systems (IROS), October, 2023
BibTeX:

@INPROCEEDINGS {Meixner2023,
author = {Andre Meixner and Franziska Krebs and Noémie Jaquier and Tamim Asfour},
title = {An Evaluation of Action Segmentation Algorithms on Bimanual Manipulation Datasets},
booktitle = {IEEE/RSJ International Conference on Intelligent Robots and Systems (IROS)},
pages = {0--0},
year = {2023}
}
                
Schlosser, P., Ledermann, C. and Asfour, T., Upper Bounds for Localization Errors in 2D Human Pose Estimation, IEEE/RSJ International Conference on Intelligent Robots and Systems (IROS), 2023
BibTeX:

@INPROCEEDINGS {Schlosser2023,
author = {Patrick Schlosser and Christoph Ledermann and Tamim Asfour},
title = {Upper Bounds for Localization Errors in 2D Human Pose Estimation},
booktitle = {IEEE/RSJ International Conference on Intelligent Robots and Systems (IROS)},
pages = {0--0},
year = {2023}
}
                
Books
Preprints
2022
Journals
De\vzman, M., Asfour, T., Ude, A. and Gams, A., Mechanical design and friction modelling of a cable-driven upper-limb exoskeleton, Mechanism and Machine Theory, vol. 171, no. , 2022
BibTeX:

@ARTICLE {Dezman2022,
author = {Miha De\vzman and Tamim Asfour and Aleš Ude and Andrej Gams},
title = {Mechanical design and friction modelling of a cable-driven upper-limb exoskeleton},
pages = {0--0},
volume ={171},
number ={},
journal ={Mechanism and Machine Theory},
year = {2022}
}
                
Dreher, C. R. G., Zaremski, M., Leven, F., Schneider, D., Roitberg, A., Stiefelhagen, R., Heizmann, M., Deml, B. and Asfour, T., Capturing and Interpreting Human Actions for Programming Robots in the Production, at – Automatisierungstechnik, vol. 70, no. 6, pp. 517-533, 2022 (In German)
BibTeX:

@ARTICLE {Dreher2022a,
author = {Christian R. G. Dreher and Manuel Zaremski and Fabian Leven and David Schneider and Alina Roitberg and Rainer Stiefelhagen and Michael Heizmann and Barbara Deml and Tamim Asfour},
title = {Capturing and Interpreting Human Actions for Programming Robots in the Production},
pages = {517--533},
volume ={70},
number ={6},
journal ={at – Automatisierungstechnik},
year = {2022}
}
                
Jaquier, N., Zhou, Y., Starke, J. and Asfour, T., Learning to Sequence and Blend Robot Skills via Differentiable Optimization, IEEE Robotics and Automation Letters (RA-L), vol. 7, no. 3, pp. 8431-8438, 2022
BibTeX:

@ARTICLE {Jaquier2022a,
author = {Noémie Jaquier and You Zhou and Julia Starke and Tamim Asfour},
title = {Learning to Sequence and Blend Robot Skills via Differentiable Optimization},
pages = {8431--8438},
volume ={7},
number ={3},
journal ={IEEE Robotics and Automation Letters (RA-L)},
year = {2022}
}
                
Krebs, F. and Asfour, T., A Bimanual Manipulation Taxonomy, IEEE Robotics and Automation Letters (RA-L), vol. 7, no. 4, pp. 11031-11038, 2022
BibTeX:

@ARTICLE {Krebs2022,
author = {Franziska Krebs and Tamim Asfour},
title = {A Bimanual Manipulation Taxonomy},
pages = {11031--11038},
volume ={7},
number ={4},
journal ={IEEE Robotics and Automation Letters (RA-L)},
year = {2022}
}
                
Lanza, G., Asfour, T., Beyerer, J., Deml, B., Fleischer, J., Heizmann, M., Furmans, K., Hofmann, C., Cebulla, A., Dreher, C. R. G., Kaiser, J., Klein, J., Leven, F., Mangold, S., Mitschke, N., Stricker, N., Pfrommer, J., Wu, C., Wurster, M. and Zaremski, M., Concept of an Agile Production System Based on Learning Robots Applied to Disassembly, at - Automatisierungstechnik, vol. 70, no. 6, pp. 504-516, 2022 (In German)
BibTeX:

@ARTICLE {Lanza2022,
author = {Gisela Lanza and Tamim Asfour and JÃŒrgen Beyerer and Barbara Deml and JÃŒrgen Fleischer and Michael Heizmann and Kai Furmans and Constantin Hofmann and Alexander Cebulla and Christian R. G. Dreher and Jan-Philipp Kaiser and Jan-Felix Klein and Fabian Leven and Simon Mangold and Norbert Mitschke and Nicole Stricker and Julius Pfrommer and Chengzhi Wu and Marco Wurster and Manuel Zaremski},
title = {Concept of an Agile Production System Based on Learning Robots Applied to Disassembly},
pages = {504--516},
volume ={70},
number ={6},
journal ={at - Automatisierungstechnik},
year = {2022}
}
                
Pohl, C., Hegemann, P., An, B., Grotz, M. and Asfour, T., Humanoid Robotic System for Grasping and Manipulation in Decontamination Tasks, at – Automatisierungstechnik, vol. , no. , 2022
BibTeX:

@ARTICLE {Pohl2022b,
author = {Christoph Pohl and Patrick Hegemann and Byungchul An and Markus Grotz and Tamim Asfour},
title = {Humanoid Robotic System for Grasping and Manipulation in Decontamination Tasks},
pages = {0--0},
volume ={},
number ={},
journal ={at – Automatisierungstechnik},
year = {2022}
}
                
Pohl, C. and Asfour, T., Probabilistic Spatio-Temporal Fusion of Affordances for Grasping and Manipulation, IEEE Robotics and Automation Letters (RA-L), vol. 7, no. 2, pp. 3226-3233, 2022
BibTeX:

@ARTICLE {Pohl2022a,
author = {Christoph Pohl and Tamim Asfour},
title = {Probabilistic Spatio-Temporal Fusion of Affordances for Grasping and Manipulation},
pages = {3226--3233},
volume ={7},
number ={2},
journal ={IEEE Robotics and Automation Letters (RA-L)},
year = {2022}
}
                
Reister, F., Grotz, M. and Asfour, T., Combining Navigation and Manipulation Costs for Time-Efficient Robot Placement in Mobile Manipulation Tasks, IEEE Robotics and Automation Letters (RA-L), vol. 7, no. 4, pp. 9913-9920, 2022
BibTeX:

@ARTICLE {Reister2022,
author = {Fabian Reister and Markus Grotz and Tamim Asfour},
title = {Combining Navigation and Manipulation Costs for Time-Efficient Robot Placement in Mobile Manipulation Tasks},
pages = {9913--9920},
volume ={7},
number ={4},
journal ={IEEE Robotics and Automation Letters (RA-L)},
year = {2022}
}
                
Starke, J., Weiner, P., Crell, M. and Asfour, T., Semi-autonomous control of prosthetic hands based on multimodal sensing, human grasp demonstration and user intention, Robotics and Autonomous Systems, vol. 154, no. , 2022
BibTeX:

@ARTICLE {Starke2022,
author = {Julia Starke and Pascal Weiner and Markus Crell and Tamim Asfour},
title = {Semi-autonomous control of prosthetic hands based on multimodal sensing, human grasp demonstration and user intention},
pages = {0--0},
volume ={154},
number ={},
journal ={Robotics and Autonomous Systems},
year = {2022}
}
                
Weiner, P., Starke, J., Rader, S., Hundhausen, F. and Asfour, T., Designing Prosthetic Hands with Embodied Intelligence: The KIT Prosthetic Hands, Frontiers in Neurorobotics, vol. 16, no. , pp. 1-14, 2022
BibTeX:

@ARTICLE {Weiner2022,
author = {Pascal Weiner and Julia Starke and Samuel Rader and Felix Hundhausen and Tamim Asfour},
title = {Designing Prosthetic Hands with Embodied Intelligence: The KIT Prosthetic Hands},
pages = {1--14},
volume ={16},
number ={},
journal ={Frontiers in Neurorobotics},
year = {2022}
}
                
Conferences
Avigal, Y., Berscheid, L., Asfour, T., Kroeger, T. and Goldberg, K., SpeedFolding: Learning Efficient Bimanual Folding of Garments, IEEE/RSJ International Conference on Intelligent Robots and Systems (IROS), pp. 1-8, 2022
BibTeX:

@INPROCEEDINGS {Agival2022,
author = {Yahav Avigal and Lars Berscheid and Tamim Asfour and Torsten Kroeger and Ken Goldberg},
title = {SpeedFolding: Learning Efficient Bimanual Folding of Garments},
booktitle = {IEEE/RSJ International Conference on Intelligent Robots and Systems (IROS)},
pages = {1--8},
year = {2022}
}
                
Baek, W., Pohl, C., Pelcz, P., Kröger, T. and Asfour, T., Improving Humanoid Grasp Success Rate based on Uncertainty-aware Metrics and Sensitivity Optimization, IEEE/RAS International Conference on Humanoid Robots (Humanoids), 2022
BibTeX:

@INPROCEEDINGS {BaekPohl2022,
author = {Woo-Jeong Baek and Christoph Pohl and Philipp Pelcz and Torsten Kr\"oger and Tamim Asfour},
title = {Improving Humanoid Grasp Success Rate based on Uncertainty-aware Metrics and Sensitivity Optimization},
booktitle = {IEEE/RAS International Conference on Humanoid Robots (Humanoids)},
pages = {0--0},
year = {2022}
}
                
Bayreuther, S., Jacob, F., Grotz, M., Kartmann, R., Peller-Konrad, F., Paus, F., Hartenstein, H. and Asfour, T., BlueSky: Combining Task Planning and Activity-Centric Access Control for Assistive Humanoid Robots, Symposium on Access Control Models and Technologies (SACMAT), pp. 185-194, 2022
BibTeX:

@INPROCEEDINGS {Bayreuther2022,
author = {Saskia Bayreuther and Florian Jacob and Markus Grotz and Rainer Kartmann and Fabian Peller-Konrad and Fabian Paus and Hannes Hartenstein and Tamim Asfour},
title = {BlueSky: Combining Task Planning and Activity-Centric Access Control for Assistive Humanoid Robots},
booktitle = {Symposium on Access Control Models and Technologies (SACMAT)},
pages = {185--194},
year = {2022}
}
                
Birr, T., Pohl, C. and Asfour, T., Oriented Surface Reachability Maps for Robot Placement, IEEE International Conference on Robotics and Automation (ICRA), 2022
BibTeX:

@INPROCEEDINGS {Birr2022,
author = {Timo Birr and Christoph Pohl and Tamim Asfour},
title = {Oriented Surface Reachability Maps for Robot Placement},
booktitle = {IEEE International Conference on Robotics and Automation (ICRA)},
pages = {0--0},
year = {2022}
}
                
Dreher, C. R. G. and Asfour, T., Learning Temporal Task Models from Human Bimanual Demonstrations, IEEE/RSJ International Conference on Intelligent Robots and Systems (IROS), 2022
BibTeX:

@INPROCEEDINGS {Dreher2022,
author = {Christian R. G. Dreher and Tamim Asfour},
title = {Learning Temporal Task Models from Human Bimanual Demonstrations},
booktitle = {IEEE/RSJ International Conference on Intelligent Robots and Systems (IROS)},
pages = {0--0},
year = {2022}
}
                
Hegemann, P., Zechmeister, T., Grotz, M., Hitzler, K. and Asfour, T., Learning Symbolic Failure Detection for Grasping and Mobile Manipulation Tasks, IEEE/RSJ International Conference on Intelligent Robots and Systems (IROS), 2022
BibTeX:

@INPROCEEDINGS {Hegemann2022,
author = {Patrick Hegemann and Tim Zechmeister and Markus Grotz and Kevin Hitzler and Tamim Asfour},
title = {Learning Symbolic Failure Detection for Grasping and Mobile Manipulation Tasks},
booktitle = {IEEE/RSJ International Conference on Intelligent Robots and Systems (IROS)},
pages = {0--0},
year = {2022}
}
                
Jaquier, N. and Asfour, T., Riemannian geometry as a unifying theory for robot motion learning and control, International Symposium on Robotics Research (ISRR), September, 2022 (Blue Sky)
BibTeX:

@INPROCEEDINGS {Jaquier2022b,
author = {Noémie Jaquier and Tamim Asfour},
title = {Riemannian geometry as a unifying theory for robot motion learning and control},
booktitle = {International Symposium on Robotics Research (ISRR)},
pages = {0--0},
year = {2022}
}
                
Klas, C. and Asfour, T., A Compact, Lightweight and Singularity-Free Wrist Joint Mechanism for Humanoid Robots, IEEE/RSJ International Conference on Intelligent Robots and Systems (IROS), October, 2022
BibTeX:

@INPROCEEDINGS {Klas2022,
author = {Cornelius Klas and Tamim Asfour},
title = {A Compact, Lightweight and Singularity-Free Wrist Joint Mechanism for Humanoid Robots},
booktitle = {IEEE/RSJ International Conference on Intelligent Robots and Systems (IROS)},
pages = {0--0},
year = {2022}
}
                
Klein, H., Jaquier, N., Meixner, A. and Asfour, T., A Riemannian Take on Human Motion Analysis and Retargeting, IEEE/RSJ International Conference on Intelligent Robots and Systems (IROS), pp. 5210-5217, October, 2022
BibTeX:

@INPROCEEDINGS {Klein2022,
author = {Holger Klein and Noémie Jaquier and Andre Meixner and Tamim Asfour},
title = {A Riemannian Take on Human Motion Analysis and Retargeting},
booktitle = {IEEE/RSJ International Conference on Intelligent Robots and Systems (IROS)},
pages = {5210--5217},
year = {2022}
}
                
Marquardt, C., Weiner, P., De\vzman, M. and Asfour, T., Embedded Barometric Pressure Sensor Unit for Force Myography in Exoskeletons, IEEE/RAS International Conference on Humanoid Robots (Humanoids), pp. 67-73, 2022

[BibTeX]
BibTeX:

@INPROCEEDINGS {Marquardt2022,
author = {Charlotte Marquardt and Pascal Weiner and Miha De\vzman and Tamim Asfour},
title = {Embedded Barometric Pressure Sensor Unit for Force Myography in Exoskeletons},
booktitle = {IEEE/RAS International Conference on Humanoid Robots (Humanoids)},
pages = {67--73},
year = {2022}
}
                
Books
Asfour, T., Yoshida, E., Park, J., Christensen, H. and Khatib, O., Robotics Research, The 19th International Symposium on Robotics Research ISRR, Springer Proceedings in Advanced Robotics book series (SPAR), 2022

[BibTeX]
BibTeX:

@INCOLLECTION {Asfour2022a,
author = {Tamim Asfour and Eiichi Yoshida and Jaeheung Park and Henrik Christensen and Oussama Khatib},
publisher = {},
booktitle = {Springer Proceedings in Advanced Robotics book series (SPAR)},
title = {Robotics Research, The 19th International Symposium on Robotics Research ISRR},
pages = {0--0},
year = {2022}
}
                
Asfour, T., Rader, S., Weiner, P., Hundhausen, F., Starke, J., Klas, C., Reither, S., Dreher, C. R. G., Reister, F., De\vzman, M. and Marquardt, C., Robotronics – Robot Mechatronics, Robotics Goes MOOC, Springer Cham, 2022
BibTeX:

@INCOLLECTION {Asfour2022b,
author = {Tamim Asfour and Samuel Rader and Pascal Weiner and Felix Hundhausen and Julia Starke and Cornelius Klas and Stefan Reither and Christian R. G. Dreher and Fabian Reister and Miha De\vzman and Charlotte Marquardt},
publisher = {Springer Cham},
booktitle = {Robotics Goes MOOC},
title = {Robotronics – Robot Mechatronics},
pages = {0--0},
year = {2022}
}
                
Preprints
Jaquier, N., Rozo, L., González-Duque, M., Borovitskiy, V. and Asfour, T., Bringing robotics taxonomies to continuous domains via GPLVM on hyperbolic manifolds, Preprint on arXiv, 2022
BibTeX:

@MISC {Jaquier2022c,
title = {Bringing robotics taxonomies to continuous domains via GPLVM on hyperbolic manifolds},
author = {Noémie Jaquier and Leonel Rozo and Miguel González-Duque and Viacheslav Borovitskiy and Tamim Asfour},
publisher = {Preprint on arXiv},
year = {2022}
}
                
2021
Journals
Bärmann, L., Peller-Konrad, F., Constantin, S., Asfour, T. and Waibel, A., Deep Episodic Memory for Verbalization of Robot Experience, IEEE Robotics and Automation Letters (RA-L), vol. 6, no. 3, pp. 5808-5815, 2021
BibTeX:

@ARTICLE {Baermann2021,
author = {Leonard B\"armann and Fabian Peller-Konrad and Stefan Constantin and Tamim Asfour and Alex Waibel},
title = {Deep Episodic Memory for Verbalization of Robot Experience},
pages = {5808--5815},
volume ={6},
number ={3},
journal ={IEEE Robotics and Automation Letters (RA-L)},
year = {2021}
}
                
Kuo, C., Schaarschmidt, A., Cui, Y., Asfour, T. and Matsubara, T., Uncertainty-aware Contact-safe Model-based Reinforcement Learning, IEEE Robotics and Automation Letters, vol. 6, no. 2, pp. 3918-3925, 2021
BibTeX:

@ARTICLE {Kuo2021,
author = {C.-Y. Kuo and A. Schaarschmidt and Y. Cui and T. Asfour and T. Matsubara},
title = {Uncertainty-aware Contact-safe Model-based Reinforcement Learning},
pages = {3918--3925},
volume ={6},
number ={2},
journal ={IEEE Robotics and Automation Letters},
year = {2021}
}
                
Conferences
Fasfous, N., Vemparala, M., Frickenstein, A., Badawy, M., Hundhausen, F., Höfer, J., Nagaraja, N., Unger, C., Vögel, H., Becker, J., Asfour, T. and Stechele, W., Binary-LoRAX: Low-power and Runtime Adaptable XNOR Classifier for Semi-Autonomous Grasping with Prosthetic Hands, IEEE International Conference on Robotics and Automation (ICRA), May, 2021
BibTeX:

@INPROCEEDINGS {Fasfous2021,
author = {Nael Fasfous and Manoj-Rohit Vemparala and Alexander Frickenstein and Mohamed Badawy and Felix Hundhausen and Julian H\"ofer and Naveen-Shankar Nagaraja and Christian Unger and Hans-Jörg V\"ogel and JÌrgen Becker and Tamim Asfour and Walter Stechele},
title = {Binary-LoRAX: Low-power and Runtime Adaptable XNOR Classifier for Semi-Autonomous Grasping with Prosthetic Hands},
booktitle = {IEEE International Conference on Robotics and Automation (ICRA)},
pages = {0--0},
year = {2021}
}
                
Grimm, R., Grotz, M., Ottenhaus, S. and Asfour, T., Vision-Based Robotic Pushing and Grasping for Stone Sample Collection under Computing Resource Constraints, IEEE International Conference on Robotics and Automation (ICRA), May, 2021
BibTeX:

@INPROCEEDINGS {Grimm2021,
author = {Raphael Grimm and Markus Grotz and Simon Ottenhaus and Tamim Asfour},
title = {Vision-Based Robotic Pushing and Grasping for Stone Sample Collection under Computing Resource Constraints},
booktitle = {IEEE International Conference on Robotics and Automation (ICRA)},
pages = {0--0},
year = {2021}
}
                
Hundhausen, F., Grimm, R., Stieber, L. and Asfour, T., Fast Reactive Grasping with In-Finger Vision and In-Hand FPGA-accelerated CNNs, IEEE/RSJ International Conference on Intelligent Robots and Systems (IROS), September, 2021
BibTeX:

@INPROCEEDINGS {Hundhausen2021,
author = {Felix Hundhausen and Raphael Grimm and Leon Stieber and Tamim Asfour},
title = {Fast Reactive Grasping with In-Finger Vision and In-Hand FPGA-accelerated CNNs},
booktitle = {IEEE/RSJ International Conference on Intelligent Robots and Systems (IROS)},
pages = {0--0},
year = {2021}
}
                
Jaquier, N., Borovitskiy, V., Smolensky, A., Terenin, A., Asfour, T. and Rozo, L., Geometry-aware Bayesian Optimization in Robotics using Riemannian Matérn Kernels, Conference on Robot Learning (CoRL), November, 2021
BibTeX:

@INPROCEEDINGS {Jaquier2021,
author = {Noémie Jaquier and Viacheslav Borovitskiy and Andrei Smolensky and Alexander Terenin and Tamim Asfour and Leonel Rozo},
title = {Geometry-aware Bayesian Optimization in Robotics using Riemannian Matérn Kernels},
booktitle = {Conference on Robot Learning (CoRL)},
pages = {0--0},
year = {2021}
}
                
Kartmann, R., Liu, D. and Asfour, T., Semantic Scene Manipulation Based on 3D Spatial Object Relations and Language Instructions, IEEE/RAS International Conference on Humanoid Robots (Humanoids), pp. 306-313, July, 2021
BibTeX:

@INPROCEEDINGS {Kartmann2021,
author = {Rainer Kartmann and Danqing Liu and Tamim Asfour},
title = {Semantic Scene Manipulation Based on 3D Spatial Object Relations and Language Instructions},
booktitle = {IEEE/RAS International Conference on Humanoid Robots (Humanoids)},
pages = {306--313},
year = {2021}
}
                
Klas, C., Hundhausen, F., Gao, J., Dreher, C. R. G., Reither, S., Zhou, Y. and Asfour, T., The KIT Gripper: A Multi-Functional Gripper for Disassembly Tasks, IEEE International Conference on Robotics and Automation (ICRA), May, 2021
BibTeX:

@INPROCEEDINGS {Klas2021,
author = {Cornelius Klas and Felix Hundhausen and Jianfeng Gao and Christian R. G. Dreher and Stefan Reither and You Zhou and Tamim Asfour},
title = {The KIT Gripper: A Multi-Functional Gripper for Disassembly Tasks},
booktitle = {IEEE International Conference on Robotics and Automation (ICRA)},
pages = {0--0},
year = {2021}
}
                
Krebs, F., Meixner, A., Patzer, I. and Asfour, T., The KIT Bimanual Manipulation Dataset, IEEE/RAS International Conference on Humanoid Robots (Humanoids), pp. 499-506, July, 2021 (Best Oral Paper Award Finalist)
BibTeX:

@INPROCEEDINGS {KrebsMeixner2021,
author = {Franziska Krebs and Andre Meixner and Isabel Patzer and Tamim Asfour},
title = {The KIT Bimanual Manipulation Dataset},
booktitle = {IEEE/RAS International Conference on Humanoid Robots (Humanoids)},
pages = {499--506},
year = {2021}
}
                
Marquardt, C., Lemus, D., Meijneke, C. and Vallery, H., Design and Evaluation of a Series-Elastic Gyroscopic Actuator for Balance Assistance, IEEE/ASME International Conference on Advanced Intelligent Mechatronics (AIM), pp. 781-786, July, 2021
BibTeX:

@INPROCEEDINGS {Marquardt2021,
author = {Charlotte Marquardt and Daniel Lemus and Cory Meijneke and Heike Vallery},
title = {Design and Evaluation of a Series-Elastic Gyroscopic Actuator for Balance Assistance},
booktitle = {IEEE/ASME International Conference on Advanced Intelligent Mechatronics (AIM)},
pages = {781--786},
year = {2021}
}
                
Starke, J., Keller, M. and Asfour, T., Temporal Force Synergies in Human Grasping, IEEE/RSJ International Conference on Intelligent Robots and Systems (IROS), pp. 3940-3947, September, 2021
BibTeX:

@INPROCEEDINGS {Starke2021,
author = {Julia Starke and Marco Keller and Tamim Asfour},
title = {Temporal Force Synergies in Human Grasping},
booktitle = {IEEE/RSJ International Conference on Intelligent Robots and Systems (IROS)},
pages = {3940--3947},
year = {2021}
}
                
Weiner, P., Hundhausen, F., Grimm, R. and Asfour, T., Detecting Grasp Phases and Adaption of Object-Hand Interaction Forces of a Soft Humanoid Hand Based on Tactile Feedback, IEEE/RSJ International Conference on Intelligent Robots and Systems (IROS), pp. 3956-3963, September, 2021
BibTeX:

@INPROCEEDINGS {Weiner2021,
author = {Pascal Weiner and Felix Hundhausen and Raphael Grimm and Tamim Asfour},
title = {Detecting Grasp Phases and Adaption of Object-Hand Interaction Forces of a Soft Humanoid Hand Based on Tactile Feedback},
booktitle = {IEEE/RSJ International Conference on Intelligent Robots and Systems (IROS)},
pages = {3956--3963},
year = {2021}
}
                
Weng, Z., Paus, F., Varava, A., Yin, H., Asfour, T. and Kragic, D., Graph-based Task-specific Prediction Models for Interactions between Deformable and Rigid Objects, IEEE/RSJ International Conference on Intelligent Robots and Systems (IROS), pp. 5453-5460, September, 2021
BibTeX:

@INPROCEEDINGS {ZehangPaus2021,
author = {Zehang Weng and Fabian Paus and Anastasiia Varava and Hang Yin and Tamim Asfour and Danica Kragic},
title = {Graph-based Task-specific Prediction Models for Interactions between Deformable and Rigid Objects},
booktitle = {IEEE/RSJ International Conference on Intelligent Robots and Systems (IROS)},
pages = {5453--5460},
year = {2021}
}
                
Books
Preprints
Zhou, Y., Gao, J. and Asfour, T., Learning to Shift Attention for Motion Generation, Preprint on arXiv, 2021
BibTeX:

@MISC {Zhou2021a,
title = {Learning to Shift Attention for Motion Generation},
author = {You Zhou and Jianfeng Gao and Tamim Asfour},
publisher = {Preprint on arXiv},
year = {2021}
}
                
2020
Journals
Dreher, C. R. G., Wächter, M. and Asfour, T., Learning Object-Action Relations from Bimanual Human Demonstration Using Graph Networks, IEEE Robotics and Automation Letters (RA-L), vol. 5, no. 1, pp. 187-194, 2020
BibTeX:

@ARTICLE {Dreher2020,
author = {Christian R. G. Dreher and Mirko W\"achter and Tamim Asfour},
title = {Learning Object-Action Relations from Bimanual Human Demonstration Using Graph Networks},
pages = {187--194},
volume ={5},
number ={1},
journal ={IEEE Robotics and Automation Letters (RA-L)},
year = {2020}
}
                
Starke, J., Eichmann, C., Ottenhaus, S. and Asfour, T., Human-Inspired Representation of Object-Specific Grasps for Anthropomorphic Hands, International Journal of Humanoid Robotics (IJHR), vol. 17, no. 2, 2020
BibTeX:

@ARTICLE {Starke2019b,
author = {Julia Starke and Christian Eichmann and Simon Ottenhaus and Tamim Asfour},
title = {Human-Inspired Representation of Object-Specific Grasps for Anthropomorphic Hands},
pages = {0--0},
volume ={17},
number ={2},
journal ={International Journal of Humanoid Robotics (IJHR)},
year = {2020}
}
                
Zhou, Y., Gao, J. and Asfour, T., Movement Primitive Learning and Generalization using Mixture Density Networks, IEEE Robotics & Automation Magazine, vol. 27, no. 2, pp. 22-32, 2020
BibTeX:

@ARTICLE {Zhou2020,
author = {You Zhou and Jianfeng Gao and Tamim Asfour},
title = {Movement Primitive Learning and Generalization using Mixture Density Networks},
pages = {22--32},
volume ={27},
number ={2},
journal ={IEEE Robotics & Automation Magazine},
year = {2020}
}
                
Zlatintsi, A., Dometios, A., Kardaris, N., Isidoros Rodomagoulakis, P. K., Papageorgiou, X., Maragos, P., Tzafestas, C., Varholomeos, P., Hauer, K., Werner, C., Annicchiarico, R., Lombardi, M. G., Adriano, F., Asfour, T., Sabatini, A. M., Laschi, C., Cianchetti, M., Guler, R. A., Kokkinos, I., Klein, B. and Lopez, R., I-SUPPORT: a Robotic Platform of an Assistive Bathing Robot for the Elderly Population, Robotics and Autonomous Systems, vol. , no. , 2020
BibTeX:

@ARTICLE {Zlatintsi2020,
author = {Athanasia Zlatintsi and Athanasios Dometios and Nikolaos Kardaris and Petros Koutras Isidoros Rodomagoulakis and Xanthi Papageorgiou and Petros Maragos and Costas Tzafestas and Panagiotis Varholomeos and Klaus Hauer and Christian Werner and Roberta Annicchiarico and Maria Giovanna Lombardi and Fulvia Adriano and Tamim Asfour and Angelo Maria Sabatini and Cecilia Laschi and Matteo Cianchetti and Riza Alp Guler and Iasonas Kokkinos and Barbara Klein and Rafael Lopez},
title = {I-SUPPORT: a Robotic Platform of an Assistive Bathing Robot for the Elderly Population},
pages = {0--0},
volume ={},
number ={},
journal ={Robotics and Autonomous Systems},
year = {2020}
}
                
Conferences
Hundhausen, F., Starke, J. and Asfour, T., A Soft Humanoid Hand with In-Finger Visual Perception, IEEE/RSJ International Conference on Intelligent Robots and Systems (IROS), pp. 8722-8728, October, 2020
BibTeX:

@INPROCEEDINGS {Hundhausen2020,
author = {Felix Hundhausen and Julia Starke and Tamim Asfour},
title = {A Soft Humanoid Hand with In-Finger Visual Perception},
booktitle = {IEEE/RSJ International Conference on Intelligent Robots and Systems (IROS)},
pages = {8722--8728},
year = {2020}
}
                
Kartmann, R., Zhou, Y., Liu, D., Paus, F. and Asfour, T., Representing Spatial Object Relations as Parametric Polar Distribution for Scene Manipulation Based on Verbal Commands, IEEE/RSJ International Conference on Intelligent Robots and Systems (IROS), pp. 8373-8380, October, 2020
BibTeX:

@INPROCEEDINGS {Kartmann2020,
author = {Rainer Kartmann and You Zhou and Danqing Liu and Fabian Paus and Tamim Asfour},
title = {Representing Spatial Object Relations as Parametric Polar Distribution for Scene Manipulation Based on Verbal Commands},
booktitle = {IEEE/RSJ International Conference on Intelligent Robots and Systems (IROS)},
pages = {8373--8380},
year = {2020}
}
                
Paus, F., Huang, T. and Asfour, T., Predicting Pushing Action Effects on Spatial Object Relations by Learning Internal Prediction Models, IEEE International Conference on Robotics and Automation (ICRA), pp. 10584-10590, Mai, 2020
BibTeX:

@INPROCEEDINGS {Paus2020a,
author = {Fabian Paus and Teng Huang and Tamim Asfour},
title = {Predicting Pushing Action Effects on Spatial Object Relations by Learning Internal Prediction Models},
booktitle = {IEEE International Conference on Robotics and Automation (ICRA)},
pages = {10584--10590},
year = {2020}
}
                
Paus, F. and Asfour, T., Probabilistic Representation of Objects and Their Support Relations, International Symposium on Experimental Robotics (ISER), pp. 510-519, 2020
BibTeX:

@INPROCEEDINGS {Paus2020b,
author = {Fabian Paus and Tamim Asfour},
title = {Probabilistic Representation of Objects and Their Support Relations},
booktitle = {International Symposium on Experimental Robotics (ISER)},
pages = {510--519},
year = {2020}
}
                
Pohl, C., Hitzler, K., Grimm, R., Zea, A., Hanebeck, U. D. and Asfour, T., Affordance-Based Grasping and Manipulation in Real World Applications, IEEE/RSJ International Conference on Intelligent Robots and Systems (IROS), pp. 9569-9576, October, 2020
BibTeX:

@INPROCEEDINGS {Pohl2020,
author = {Christoph Pohl and Kevin Hitzler and Raphael Grimm and Antonio Zea and Uwe D. Hanebeck and Tamim Asfour},
title = {Affordance-Based Grasping and Manipulation in Real World Applications},
booktitle = {IEEE/RSJ International Conference on Intelligent Robots and Systems (IROS)},
pages = {9569--9576},
year = {2020}
}
                
Books
Preprints
Gao, J., Zhou, Y. and Asfour, T., Learning Compliance Adaptation in Contact-Rich Manipulation, Preprint on arXiv, 2020
BibTeX:

@MISC {Gao2020,
title = {Learning Compliance Adaptation in Contact-Rich Manipulation},
author = {Jianfeng Gao and You Zhou and Tamim Asfour},
publisher = {Preprint on arXiv},
year = {2020}
}
                
2019
Journals
Asfour, T., Wächter, M., Kaul, L., Rader, S., Weiner, P., Ottenhaus, S., Grimm, R., Zhou, Y., Grotz, M. and Paus, F., ARMAR-6: A High-Performance Humanoid for Human-Robot Collaboration in Real World Scenarios, IEEE Robotics & Automation Magazine, vol. 26, no. 4, pp. 108-121, 2019
BibTeX:

@ARTICLE {Asfour2019,
author = {Tamim Asfour and Mirko W\"achter and Lukas Kaul and Samuel Rader and Pascal Weiner and Simon Ottenhaus and Raphael Grimm and You Zhou and Markus Grotz and Fabian Paus},
title = {ARMAR-6: A High-Performance Humanoid for Human-Robot Collaboration in Real World Scenarios},
pages = {108--121},
volume ={26},
number ={4},
journal ={IEEE Robotics & Automation Magazine},
year = {2019}
}
                
Llop-Harillo, I., Pérez-González, A., Starke, J. and Asfour, T., The Anthropomorphic Hand Assessment Protocol (AHAP), Robotics and Autonomous Systems, vol. 121, no. , 2019 (Data: https://doi.org/10.5281/zenodo.5704891)
BibTeX:

@ARTICLE {Llop2019,
author = {Immaculada Llop-Harillo and Antonio Pérez-González and Julia Starke and Tamim Asfour},
title = {The Anthropomorphic Hand Assessment Protocol (AHAP)},
pages = {0--0},
volume ={121},
number ={},
journal ={Robotics and Autonomous Systems},
year = {2019}
}
                
Ringhof, S., Patzer, I., Beil, J., Asfour, T. and Stein, T., Does a passive unilateral lower limb exoskeleton affect human static and dynamic balance control?, Journal Frontiers in Sports and Active Living, section Biomechanics and Control of Human Movement, vol. 1, no. 22, September, 2019
BibTeX:

@ARTICLE {Ringhof2019,
author = {Steffen Ringhof and Isabel Patzer and Jonas Beil and Tamim Asfour and Thorsten Stein},
title = {Does a passive unilateral lower limb exoskeleton affect human static and dynamic balance control?},
pages = {0--0},
volume ={1},
number ={22},
journal ={Journal Frontiers in Sports and Active Living, section Biomechanics and Control of Human Movement},
year = {2019}
}
                
Weiner, P., Neef, C., Shibata, Y., Nakamura, Y. and Asfour, T., An Embedded, Multi-Modal Sensor System for Scalable Robotic and Prosthetic Hand Fingers, Sensors, vol. 20, no. 1, pp. 108-121, 2019
BibTeX:

@ARTICLE {Weiner2019,
author = {Pascal Weiner and Caterina Neef and Yoshihisa Shibata and Yoshihiko Nakamura and Tamim Asfour},
title = {An Embedded, Multi-Modal Sensor System for Scalable Robotic and Prosthetic Hand Fingers},
pages = {108--121},
volume ={20},
number ={1},
journal ={Sensors},
year = {2019}
}
                
Conferences
Boltz, T., Asfour, T., Brosi, M., Bründermann, E., Härer, B., Kaiser, P., Müller, A., Pohl, C., Schreiber, P. and Yan, M., Feedback Design for Control of the Micro-Bunching Instability based on Reinforcement Learning, Proc. 10th International Particle Accelerator Conference (IPAC), May, 2019
BibTeX:

@INPROCEEDINGS {Boltz2019,
author = {Tobias Boltz and Tamim Asfour and Miriam Brosi and Erik Br\"undermann and Bastian H\"arer and Peter Kaiser and Anke-Susanne M\"uller and Christoph Pohl and Patrick Schreiber and Minjie Yan},
title = {Feedback Design for Control of the Micro-Bunching Instability based on Reinforcement Learning},
booktitle = {Proc. 10th International Particle Accelerator Conference (IPAC)},
pages = {0--0},
year = {2019}
}
                
Busch, B., Cotugno, G., Khoramshahi, M., Skaltsas, G., Turchi, D., Urbano, L., Wächter, M., Zhou, Y., Asfour, T., Deacon, G., Russell, D. and Billard, A., Evaluation of an Industrial Robotic Assistant in an Ecological Environment, 28th IEEE International Conference on Robot and Human Interactive Communication (RO-MAN), pp. 1-8, 2019

[BibTeX]
BibTeX:

@INPROCEEDINGS {Busch2019,
author = {Baptiste Busch and Giuseppe Cotugno and Mahdi Khoramshahi and Grigorios Skaltsas and Dario Turchi and Leonardo Urbano and Mirko W\"achter and You Zhou and Tamim Asfour and Graham Deacon and Duncan Russell and Aude Billard},
title = {Evaluation of an Industrial Robotic Assistant in an Ecological Environment},
booktitle = {28th IEEE International Conference on Robot and Human Interactive Communication (RO-MAN)},
pages = {1--8},
year = {2019}
}
                
Daab, T., Patzer, I., Mikut, R. and Asfour, T., Feature Space Exploration for Motion Classification Based on Multi-Modal Sensor Data for Lower Limb Exoskeletons, IEEE/RAS International Conference on Humanoid Robots (Humanoids), pp. 667-674, October, 2019
BibTeX:

@INPROCEEDINGS {Daab2019,
author = {Tilman Daab and Isabel Patzer and Ralf Mikut and Tamim Asfour},
title = {Feature Space Exploration for Motion Classification Based on Multi-Modal Sensor Data for Lower Limb Exoskeletons},
booktitle = {IEEE/RAS International Conference on Humanoid Robots (Humanoids)},
pages = {667--674},
year = {2019}
}
                
De\vzman, M., Asfour, T., Ude, A. and Gams, A., Exoskeleton Arm Pronation/Supination Assistance Mechanism With A Guided Double Rod System, IEEE/RAS International Conference on Humanoid Robots (Humanoids), pp. 559-564, October, 2019
BibTeX:

@INPROCEEDINGS {Dezman2019,
author = {Miha De\vzman and Tamim Asfour and Aleš Ude and Andrej Gams},
title = {Exoskeleton Arm Pronation/Supination Assistance Mechanism With A Guided Double Rod System},
booktitle = {IEEE/RAS International Conference on Humanoid Robots (Humanoids)},
pages = {559--564},
year = {2019}
}
                
Ferreira, F., Shao, L., Asfour, T. and Bohg, J., Learning Visual Dynamics Models of Rigid Objects using Relational Inductive Biases, NeurIPS 2019 Graph Representation Learning Workshop, 2019
BibTeX:

@INPROCEEDINGS {Ferreira2019,
author = {Fabio Ferreira and Lin Shao and Tamim Asfour and Jeannette Bohg},
title = {Learning Visual Dynamics Models of Rigid Objects using Relational Inductive Biases},
booktitle = {NeurIPS 2019 Graph Representation Learning Workshop},
pages = {0--0},
year = {2019}
}
                
Grotz, M., Sippel, D. and Asfour, T., Active Vision for Extraction of Physically Plausible Support Relations, IEEE/RAS International Conference on Humanoid Robots (Humanoids), pp. 463-469, October, 2019
BibTeX:

@INPROCEEDINGS {Grotz2019,
author = {Markus Grotz and David Sippel and Tamim Asfour},
title = {Active Vision for Extraction of Physically Plausible Support Relations},
booktitle = {IEEE/RAS International Conference on Humanoid Robots (Humanoids)},
pages = {463--469},
year = {2019}
}
                
Hitzler, K., Meier, F., Schaal, S. and Asfour, T., Learning and Adaptation of Inverse Dynamics Models: A Comparison, IEEE/RAS International Conference on Humanoid Robots (Humanoids), October, 2019
BibTeX:

@INPROCEEDINGS {Hitzler2019,
author = {Kevin Hitzler and Franziska Meier and Stefan Schaal and Tamim Asfour},
title = {Learning and Adaptation of Inverse Dynamics Models: A Comparison},
booktitle = {IEEE/RAS International Conference on Humanoid Robots (Humanoids)},
pages = {0--0},
year = {2019}
}
                
Hundhausen, F., Megerle, D. and Asfour, T., Resource-Aware Object Classification and Segmentation for Semi-Autonomous Grasping with Prosthetic Hands, IEEE/RAS International Conference on Humanoid Robots (Humanoids), October, 2019
BibTeX:

@INPROCEEDINGS {Hundhausen2019,
author = {Felix Hundhausen and Denis Megerle and Tamim Asfour},
title = {Resource-Aware Object Classification and Segmentation for Semi-Autonomous Grasping with Prosthetic Hands},
booktitle = {IEEE/RAS International Conference on Humanoid Robots (Humanoids)},
pages = {0--0},
year = {2019}
}
                
Ottenhaus, S., Renninghoff, D., Grimm, R., Ferreira, F. and Asfour, T., Visuo-Haptic Grasping of Unknown Objects based on Gaussian Process Implicit Surfaces and Deep Learning, IEEE/RAS International Conference on Humanoid Robots (Humanoids), pp. 426-432, October, 2019
BibTeX:

@INPROCEEDINGS {Ottenhaus2019,
author = {Simon Ottenhaus and Daniel Renninghoff and Raphael Grimm and Fabio Ferreira and Tamim Asfour},
title = {Visuo-Haptic Grasping of Unknown Objects based on Gaussian Process Implicit Surfaces and Deep Learning},
booktitle = {IEEE/RAS International Conference on Humanoid Robots (Humanoids)},
pages = {426--432},
year = {2019}
}
                
Patzer, I. and Asfour, T., Minimal Sensor Setup in Lower Limb Exoskeletons for Motion Classification based on Multi-Modal Sensor Data, IEEE/RSJ International Conference on Intelligent Robots and Systems (IROS), pp. 8158-8164, November, 2019
BibTeX:

@INPROCEEDINGS {Patzer2019,
author = {Isabel Patzer and Tamim Asfour},
title = {Minimal Sensor Setup in Lower Limb Exoskeletons for Motion Classification based on Multi-Modal Sensor Data},
booktitle = {IEEE/RSJ International Conference on Intelligent Robots and Systems (IROS)},
pages = {8158--8164},
year = {2019}
}
                
Petereit, J., Beyerer, J., Asfour, T., Gentes, S., Hein, B., Hanebeck, U. D., Kirchner, F., Dillmann, R., Götting, H. H., Weiser, M., Gustmann, M. and Egloffstein, T., ROBDEKON: Robotic Systems for Decontamination in Hazardous Environments, IEEE International Symposium on Safety, Security and Rescue Robotics, September, 2019
BibTeX:

@INPROCEEDINGS {Petereit2019,
author = {Janko Petereit and J\"urgen Beyerer and Tamim Asfour and Sascha Gentes and Bj\"orn Hein and Uwe D. Hanebeck and Frank Kirchner and R\"udiger Dillmann and Hans Heinrich G\"otting and Martin Weiser and Michael Gustmann and Thomas Egloffstein},
title = {ROBDEKON: Robotic Systems for Decontamination in Hazardous Environments},
booktitle = {IEEE International Symposium on Safety, Security and Rescue Robotics},
pages = {0--0},
year = {2019}
}
                
Rothfuss, J., Lee, D., Clavera, I., Asfour, T. and Abbeel, P., ProMP: Proximal Meta-Policy Search, International Conference on Learning Representations (ICLR), 2019
BibTeX:

@INPROCEEDINGS {Rothfuss2019,
author = {Jonas Rothfuss and Dennis Lee and Ignasi Clavera and Tamim Asfour and Pieter Abbeel},
title = {ProMP: Proximal Meta-Policy Search},
booktitle = {International Conference on Learning Representations (ICLR)},
pages = {0--0},
year = {2019}
}
                
Shingarey, D., Kaul, L. and Asfour, T., Torque-Based Velocity Control for Safe Human-Humanoid Interaction, 28th International Conference on Robotics in Alpe-Adria-Danube Region (RAAD), pp. 61-68, 2019
BibTeX:

@INPROCEEDINGS {Shingarey2019,
author = {Dmitriy Shingarey and Lukas Kaul and Tamim Asfour},
title = {Torque-Based Velocity Control for Safe Human-Humanoid Interaction},
booktitle = {28th International Conference on Robotics in Alpe-Adria-Danube Region (RAAD)},
pages = {61--68},
year = {2019}
}
                
Starke, J., Chatzilygeroudis, K., Billard, A. and Asfour, T., On Force Synergies in Human Grasping Behavior, IEEE/RAS International Conference on Humanoid Robots (Humanoids), pp. 72-78, October, 2019
BibTeX:

@INPROCEEDINGS {Starke2019a,
author = {Julia Starke and Konstantinos Chatzilygeroudis and Aude Billard and Tamim Asfour},
title = {On Force Synergies in Human Grasping Behavior},
booktitle = {IEEE/RAS International Conference on Humanoid Robots (Humanoids)},
pages = {72--78},
year = {2019}
}
                
Zhou, Y., Gao, J. and Asfour, T., Learning Via-Point Movement Primitives with Inter- and Extrapolation Capabilities, IEEE/RSJ International Conference on Intelligent Robots and Systems (IROS), pp. 4301-4308, November, 2019
BibTeX:

@INPROCEEDINGS {Zhou2019,
author = {You Zhou and Jianfeng Gao and Tamim Asfour},
title = {Learning Via-Point Movement Primitives with Inter- and Extrapolation Capabilities},
booktitle = {IEEE/RSJ International Conference on Intelligent Robots and Systems (IROS)},
pages = {4301--4308},
year = {2019}
}
                
Zimmer, J., Hellebrekers, T., Asfour, T., Majidi, C. and Kroemer, O., Predicting Grasp Success with a Soft Sensing Skin and Shape-Memory Actuated Gripper, IEEE/RSJ International Conference on Intelligent Robots and Systems (IROS), November, 2019
BibTeX:

@INPROCEEDINGS {Zimmer2019,
author = {Julian Zimmer and Tess Hellebrekers and Tamim Asfour and Carmel Majidi and Oliver Kroemer},
title = {Predicting Grasp Success with a Soft Sensing Skin and Shape-Memory Actuated Gripper},
booktitle = {IEEE/RSJ International Conference on Intelligent Robots and Systems (IROS)},
pages = {0--0},
year = {2019}
}
                
Books
Preprints
2018
Journals
Dometios, A. C., Zhou, Y., Papageorgiou, X. S., Tzafestas, C. S. and Asfour, T., Vision-Based Online Adaptation of Motion Primitives to Dynamic Surfaces: Application to an Interactive Robotic Wiping Task, IEEE Robotics and Automation Letters (RA-L), vol. 3, no. 3, pp. 1410-1417, 2018
BibTeX:

@ARTICLE {Dometios2018,
author = {Athanasios C. Dometios and You Zhou and Xanthi S. Papageorgiou and Costas S. Tzafestas and Tamim Asfour},
title = {Vision-Based Online Adaptation of Motion Primitives to Dynamic Surfaces: Application to an Interactive Robotic Wiping Task},
pages = {1410--1417},
volume ={3},
number ={3},
journal ={IEEE Robotics and Automation Letters (RA-L)},
year = {2018}
}
                
Kaiser, P. and Asfour, T., Autonomous Detection and Experimental Validation of Affordances, IEEE Robotics and Automation Letters (RA-L), vol. 3, no. 3, pp. 1949-1956, 2018
BibTeX:

@ARTICLE {Kaiser2018b,
author = {Peter Kaiser and Tamim Asfour},
title = {Autonomous Detection and Experimental Validation of Affordances},
pages = {1949--1956},
volume ={3},
number ={3},
journal ={IEEE Robotics and Automation Letters (RA-L)},
year = {2018}
}
                
Kartmann, R., Paus, F., Grotz, M. and Asfour, T., Extraction of Physically Plausible Support Relations to Predict and Validate Manipulation Action Effects, IEEE Robotics and Automation Letters (RA-L), vol. 3, no. 4, pp. 3991-3998, October, 2018
BibTeX:

@ARTICLE {KartmannPaus2018,
author = {R. Kartmann and F. Paus and M. Grotz and T. Asfour},
title = {Extraction of Physically Plausible Support Relations to Predict and Validate Manipulation Action Effects},
pages = {3991--3998},
volume ={3},
number ={4},
journal ={IEEE Robotics and Automation Letters (RA-L)},
year = {2018}
}
                
Knobloch, A., Vahrenkamp, N., Wächter, M. and Asfour, T., Distance-Aware Dynamically Weighted Roadmaps for Motion Planning in Unknown Environments, IEEE Robotics and Automation Letters (RA-L), vol. 3, no. 3, pp. 2016-2023, July, 2018
BibTeX:

@ARTICLE {Knobloch2018,
author = {Adrian Knobloch and Nikolaus Vahrenkamp and Mirko W\"achter and Tamim Asfour},
title = {Distance-Aware Dynamically Weighted Roadmaps for Motion Planning in Unknown Environments},
pages = {2016--2023},
volume ={3},
number ={3},
journal ={IEEE Robotics and Automation Letters (RA-L)},
year = {2018}
}
                
Laschi, C., Mazzolai, B., Nosengo, N., Cave, V. D., Asfour, T., Floreano, D., Stramigioli, S., Laumond, J. and Hauert, S., The Rise of the Robots: The European Robotics Flagship, IEEE Robotics & Automation Magazine, vol. 25, no. 4, pp. 121-122, Dec, 2018
BibTeX:

@ARTICLE {Laschi2018,
author = {C. Laschi and B. Mazzolai and N. Nosengo and V. Delle Cave and T. Asfour and D. Floreano and S. Stramigioli and J. Laumond and S. Hauert},
title = {The Rise of the Robots: The European Robotics Flagship},
pages = {121--122},
volume ={25},
number ={4},
journal ={IEEE Robotics & Automation Magazine},
year = {2018}
}
                
Ottenhaus, S., Kaul, L., Vahrenkamp, N. and Asfour, T., Active Tactile Exploration Based on Cost-Aware Information Gain Maximization, International Journal of Humanoid Robotics (IJHR), vol. 15, no. 1, pp. 1-21, 2018
BibTeX:

@ARTICLE {Ottenhaus2018a,
author = {Simon Ottenhaus and Lukas Kaul and Nikolaus Vahrenkamp and Tamim Asfour},
title = {Active Tactile Exploration Based on Cost-Aware Information Gain Maximization},
pages = {1--21},
volume ={15},
number ={1},
journal ={International Journal of Humanoid Robotics (IJHR)},
year = {2018}
}
                
Plappert, M., Mandery, C. and Asfour, T., Learning a Bidirectional Mapping Between Human Whole-Body Motion and Natural Language Using Deep Recurrent Neural Networks, Robotics and Autonomous Systems, vol. 109, no. , pp. 13-26, 2018
BibTeX:

@ARTICLE {Plappert2018a,
author = {Matthias Plappert and Christian Mandery and Tamim Asfour},
title = {Learning a Bidirectional Mapping Between Human Whole-Body Motion and Natural Language Using Deep Recurrent Neural Networks},
pages = {13--26},
volume ={109},
number ={},
journal ={Robotics and Autonomous Systems},
year = {2018}
}
                
Rothfuss, J., Ferreira, F., Aksoy, E. E., Zhou, Y. and Asfour, T., Deep Episodic Memory: Encoding, Recalling, and Predicting Episodic Experiences for Robot Action Execution, IEEE Robotics and Automation Letters (RA-L), vol. 3, no. 4, pp. 4007-4014, October, 2018
BibTeX:

@ARTICLE {RothfussFerreira2018,
author = {J. Rothfuss and F. Ferreira and E. E. Aksoy and Y. Zhou and T. Asfour},
title = {Deep Episodic Memory: Encoding, Recalling, and Predicting Episodic Experiences for Robot Action Execution},
pages = {4007--4014},
volume ={3},
number ={4},
journal ={IEEE Robotics and Automation Letters (RA-L)},
year = {2018}
}
                
Schlichting, N., Damsma, A., Aksoy, E. E., Wächter, M., Asfour, T. and Rijn, H. v., Temporal Context Influences the Perceived Duration of Everyday Actions: Assessing the Ecological Validity of Lab-Based Timing Phenomena, Journal of Cognition, vol. 1, no. 2, pp. 1-10, January, 2018
BibTeX:

@ARTICLE {Schlichting2018,
author = {Nadine Schlichting and Atser Damsma and Eren Erdal Aksoy and Mirko W\"achter and Tamim Asfour and Hedderik van Rijn},
title = {Temporal Context Influences the Perceived Duration of Everyday Actions: Assessing the Ecological Validity of Lab-Based Timing Phenomena},
pages = {1--10},
volume ={1},
number ={2},
journal ={Journal of Cognition},
year = {2018}
}
                
Vahrenkamp, N., Koch, E., Wächter, M. and Asfour, T., Planning High-Quality Grasps using Mean Curvature Object Skeletons, IEEE Robotics and Automation Letters (RA-L), vol. 3, no. 2, pp. 911-918, 2018
BibTeX:

@ARTICLE {Vahrenkamp2018,
author = {Nikolaus Vahrenkamp and Eduard Koch and Mirko W\"achter and Tamim Asfour},
title = {Planning High-Quality Grasps using Mean Curvature Object Skeletons},
pages = {911--918},
volume ={3},
number ={2},
journal ={IEEE Robotics and Automation Letters (RA-L)},
year = {2018}
}
                
Wächter, M., Ovchinnikova, E., Wittenbeck, V., Kaiser, P., Szedmak, S., Mustafa, W., Kraft, D., Krüger, N., Piater, J. and Asfour, T., Integrating multi-purpose natural language understanding, robot's memory, and symbolic planning for task execution in humanoid robots, Robotics and autonomous systems, vol. 99, no. , pp. 148-165, 2018
BibTeX:

@ARTICLE {Waechter2018,
author = {Mirko W\"achter and Ekaterina Ovchinnikova and Valerij Wittenbeck and Peter Kaiser and Sandor Szedmak and Wail Mustafa and Dirk Kraft and Norbert Kr\"uger and Justus Piater and Tamim Asfour},
title = {Integrating multi-purpose natural language understanding, robot's memory, and symbolic planning for task execution in humanoid robots},
pages = {148--165},
volume ={99},
number ={},
journal ={Robotics and autonomous systems},
year = {2018}
}
                
Conferences
Asfour, T., Kaul, L., Wächter, M., Ottenhaus, S., Weiner, P., Rader, S., Grimm, R., Zhou, Y., Grotz, M., Paus, F., Shingarey, D. and Haubert, H., ARMAR-6: A Collaborative Humanoid Robot for Industrial Environments, IEEE/RAS International Conference on Humanoid Robots (Humanoids), pp. 447-454, 2018
BibTeX:

@INPROCEEDINGS {Asfour2018a,
author = {Tamim Asfour and Lukas Kaul and Mirko W\"achter and Simon Ottenhaus and Pascal Weiner and Samuel Rader and Raphael Grimm and You Zhou and Markus Grotz and Fabian Paus and Dmitriy Shingarey and Hans Haubert},
title = {ARMAR-6: A Collaborative Humanoid Robot for Industrial Environments},
booktitle = {IEEE/RAS International Conference on Humanoid Robots (Humanoids)},
pages = {447--454},
year = {2018}
}
                
Beil, J. and Asfour, T., A Rolling Contact Joint Lower Extremity Exoskeleton Knee, International Conference on Intelligent Autonomous Systems (IAS), June, 2018
BibTeX:

@INPROCEEDINGS {Beil2018,
author = {Jonas Beil and Tamim Asfour},
title = {A Rolling Contact Joint Lower Extremity Exoskeleton Knee},
booktitle = {International Conference on Intelligent Autonomous Systems (IAS)},
pages = {0--0},
year = {2018}
}
                
Beil, J., Ehrenberger, I., Scherer, C., Mandery, C. and Asfour, T., Human Motion Classification based on Multi-Modal Sensor Data for Lower Limb Exoskeletons, IEEE/RSJ International Conference on Intelligent Robots and Systems (IROS), 2018
BibTeX:

@INPROCEEDINGS {Beil2018b,
author = {Jonas Beil and Isabel Ehrenberger and Clara Scherer and Christian Mandery and Tamim Asfour},
title = {Human Motion Classification based on Multi-Modal Sensor Data for Lower Limb Exoskeletons},
booktitle = {IEEE/RSJ International Conference on Intelligent Robots and Systems (IROS)},
pages = {0--0},
year = {2018}
}
                
Borràs, J., Heudorfer, R., Rader, S., Kaiser, P. and Asfour, T., The KIT Swiss Knife Gripper for Disassembly Tasks: A Multi-Functional Gripper for Bimanual Manipulation with a Single Arm, IEEE/RSJ International Conference on Intelligent Robots and Systems (IROS), pp. 4590-4597, 2018
BibTeX:

@INPROCEEDINGS {Borras2018,
author = {Júlia Borràs and Raphael Heudorfer and Samuel Rader and Peter Kaiser and Tamim Asfour},
title = {The KIT Swiss Knife Gripper for Disassembly Tasks: A Multi-Functional Gripper for Bimanual Manipulation with a Single Arm},
booktitle = {IEEE/RSJ International Conference on Intelligent Robots and Systems (IROS)},
pages = {4590--4597},
year = {2018}
}
                
Bäuerle, S., Kaul, L. and Asfour, T., Linear Contact Modeling and Stochastic Parameter Optimization for LQR-based Whole-Body Push Recovery, IEEE/RAS International Conference on Humanoid Robots (Humanoids), pp. 224-231, 2018
BibTeX:

@INPROCEEDINGS {Baeuerle2018,
author = {Simon B\"auerle and Lukas Kaul and Tamim Asfour},
title = {Linear Contact Modeling and Stochastic Parameter Optimization for LQR-based Whole-Body Push Recovery},
booktitle = {IEEE/RAS International Conference on Humanoid Robots (Humanoids)},
pages = {224--231},
year = {2018}
}
                
Clavera, I., Rothfuss, J., Schulman, J., Fujita, Y., Asfour, T. and Abbeel, P., Model-Based Reinforcement Learning via Meta-Policy Optimization, International Conference on Robot Learning (CoRL), 2018
BibTeX:

@INPROCEEDINGS {Rothfuss2018a,
author = {Ignasi Clavera and Jonas Rothfuss and John Schulman and Yasuhiro Fujita and Tamim Asfour and Pieter Abbeel},
title = {Model-Based Reinforcement Learning via Meta-Policy Optimization},
booktitle = {International Conference on Robot Learning (CoRL)},
pages = {0--0},
year = {2018}
}
                
Gao, J., Zhou, Y. and Asfour, T., Projected Force-Admittance Control for Compliant Bimanual Tasks, IEEE/RAS International Conference on Humanoid Robots (Humanoids), pp. 607-613, November, 2018
BibTeX:

@INPROCEEDINGS {Gao2018,
author = {Jianfeng Gao and You Zhou and Tamim Asfour},
title = {Projected Force-Admittance Control for Compliant Bimanual Tasks},
booktitle = {IEEE/RAS International Conference on Humanoid Robots (Humanoids)},
pages = {607--613},
year = {2018}
}
                
Grimm, R., Kheddar, A. and Asfour, T., Generation of walking Motions based on Whole-Body Poses and QP Control, IEEE/RAS International Conference on Humanoid Robots (Humanoids), pp. 510-515, 2018
BibTeX:

@INPROCEEDINGS {Grimm2018,
author = {Raphael Grimm and Abderrahmane Kheddar and Tamim Asfour},
title = {Generation of walking Motions based on Whole-Body Poses and QP Control},
booktitle = {IEEE/RAS International Conference on Humanoid Robots (Humanoids)},
pages = {510--515},
year = {2018}
}
                
Kaiser, P., Mandery, C., Boltres, A. and Asfour, T., Affordance-Based Multi-Contact Whole-Body Pose Sequence Planning for Humanoid Robots in Unknown Environments, IEEE International Conference on Robotics and Automation (ICRA), pp. 3114-3121, 2018
BibTeX:

@INPROCEEDINGS {Kaiser2018a,
author = {Peter Kaiser and Christian Mandery and Andreas Boltres and Tamim Asfour},
title = {Affordance-Based Multi-Contact Whole-Body Pose Sequence Planning for Humanoid Robots in Unknown Environments},
booktitle = {IEEE International Conference on Robotics and Automation (ICRA)},
pages = {3114--3121},
year = {2018}
}
                
Kaiser, P., Grotz, M., Paus, F. and Asfour, T., Towards the Formalization of Affordances as Dempster-Shafer Belief Functions, 1st International Workshop on Computational Models of Affordance in Robotics, Robotics Science and Systems (RSS), 2018
BibTeX:

@INPROCEEDINGS {Kaiser2018c,
author = {Peter Kaiser and Markus Grotz and Fabian Paus and Tamim Asfour},
title = {Towards the Formalization of Affordances as Dempster-Shafer Belief Functions},
booktitle = {1st International Workshop on Computational Models of Affordance in Robotics, Robotics Science and Systems (RSS)},
pages = {0--0},
year = {2018}
}
                
Karrenbauer, O., Rader, S. and Asfour, T., An Ontology-Based Expert System to Support the Design of Humanoid Robot Components, IEEE/RAS International Conference on Humanoid Robots (Humanoids), pp. 532-539, 2018
BibTeX:

@INPROCEEDINGS {Karrenbauer2018,
author = {Oliver Karrenbauer and Samuel Rader and Tamim Asfour},
title = {An Ontology-Based Expert System to Support the Design of Humanoid Robot Components},
booktitle = {IEEE/RAS International Conference on Humanoid Robots (Humanoids)},
pages = {532--539},
year = {2018}
}
                
Krauß, D., Paus, F., Vahrenkamp, N., Asfour, T. and Andelfinger, P., Evaluating and Optimizing Component-based Robot Architectures using Network Simulation, Winter Simulation Conference, pp. 1061-1072, December, 2018
BibTeX:

@INPROCEEDINGS {Krauss2018,
author = {Daniel Krauß and Fabian Paus and Nikolaus Vahrenkamp and Tamim Asfour and Philipp Andelfinger},
title = {Evaluating and Optimizing Component-based Robot Architectures using Network Simulation},
booktitle = {Winter Simulation Conference},
pages = {1061--1072},
year = {2018}
}
                
Ottenhaus, S., Weiner, P., Kaul, L., Tulbure, A. and Asfour, T., Exploration and Reconstruction of Unknown Objects using a Novel Normal and Contact Sensor, IEEE/RSJ International Conference on Intelligent Robots and Systems (IROS), pp. 1614-1620, 2018
BibTeX:

@INPROCEEDINGS {Ottenhaus2018b,
author = {Simon Ottenhaus and Pascal Weiner and Lukas Kaul and Andreea Tulbure and Tamim Asfour},
title = {Exploration and Reconstruction of Unknown Objects using a Novel Normal and Contact Sensor},
booktitle = {IEEE/RSJ International Conference on Intelligent Robots and Systems (IROS)},
pages = {1614--1620},
year = {2018}
}
                
Pankert, J., Kaul, L. and Asfour, T., Learning Efficient Omni-directional Capture Stepping for Humanoid Robots from Human Motion and Simulation Data, IEEE/RAS International Conference on Humanoid Robots (Humanoids), pp. 503-509, 2018
BibTeX:

@INPROCEEDINGS {Pankert2018,
author = {Johannes Pankert and Lukas Kaul and Tamim Asfour},
title = {Learning Efficient Omni-directional Capture Stepping for Humanoid Robots from Human Motion and Simulation Data},
booktitle = {IEEE/RAS International Conference on Humanoid Robots (Humanoids)},
pages = {503--509},
year = {2018}
}
                
Peller, F., Wächter, M., Grotz, M., Kaiser, P. and Asfour, T., Temporal Concurrent Planning with Stressed Actions, IEEE/RAS International Conference on Humanoid Robots (Humanoids), pp. 901-908, 2018
BibTeX:

@INPROCEEDINGS {Peller2018,
author = {Fabian Peller and Mirko W\"achter and Markus Grotz and Peter Kaiser and Tamim Asfour},
title = {Temporal Concurrent Planning with Stressed Actions},
booktitle = {IEEE/RAS International Conference on Humanoid Robots (Humanoids)},
pages = {901--908},
year = {2018}
}
                
Plappert, M., Houthooft, R., Dhariwal, P., Sidor, S., Chen, R. Y., Chen, X., Asfour, T., Abbeel, P. and Andrychowicz, M., Parameter Space Noise for Exploration, International Conference on Learning Representations, pp. 1-18, 2018
BibTeX:

@INPROCEEDINGS {Plappert2018,
author = {Matthias Plappert and Rein Houthooft and Prafulla Dhariwal and Szymon Sidor and Richard Y. Chen and Xi Chen and Tamim Asfour and Pieter Abbeel and Marcin Andrychowicz},
title = {Parameter Space Noise for Exploration},
booktitle = {International Conference on Learning Representations},
pages = {1--18},
year = {2018}
}
                
Schmidt, P., Vahrenkamp, N., Wächter, M. and Asfour, T., Grasping of Unknown Objects using Deep Convolutional Neural Networks based on Depth Images, IEEE International Conference on Robotics and Automation (ICRA), pp. 6831-6838, May, 2018
BibTeX:

@INPROCEEDINGS {Schmidt2018,
author = {Philipp Schmidt and Nikolaus Vahrenkamp and Mirko W\"achter and Tamim Asfour},
title = {Grasping of Unknown Objects using Deep Convolutional Neural Networks based on Depth Images},
booktitle = {IEEE International Conference on Robotics and Automation (ICRA)},
pages = {6831--6838},
year = {2018}
}
                
Starke, J., Eichmann, C., Ottenhaus, S. and Asfour, T., Synergy-Based, Data-Driven Generation of Object-Specific Grasps for Anthropomorphic Hands, IEEE/RAS International Conference on Humanoid Robots (Humanoids), pp. 327-333, November, 2018
BibTeX:

@INPROCEEDINGS {Starke2018,
author = {Julia Starke and Christian Eichmann and Simon Ottenhaus and Tamim Asfour},
title = {Synergy-Based, Data-Driven Generation of Object-Specific Grasps for Anthropomorphic Hands},
booktitle = {IEEE/RAS International Conference on Humanoid Robots (Humanoids)},
pages = {327--333},
year = {2018}
}
                
Weiner, P., Starke, J., Hundhausen, F., Beil, J. and Asfour, T., The KIT Prosthetic Hand: Design and Control, IEEE/RSJ International Conference on Intelligent Robots and Systems (IROS), pp. 3328-3334, October, 2018
BibTeX:

@INPROCEEDINGS {Weiner2018a,
author = {Pascal Weiner and Julia Starke and Felix Hundhausen and Jonas Beil and Tamim Asfour},
title = {The KIT Prosthetic Hand: Design and Control},
booktitle = {IEEE/RSJ International Conference on Intelligent Robots and Systems (IROS)},
pages = {3328--3334},
year = {2018}
}
                
Weiner, P., Neef, C. and Asfour, T., A Multimodal Embedded Sensor System for Scalable Robotic and Prosthetic Fingers, IEEE/RAS International Conference on Humanoid Robots (Humanoids), pp. 286-292, November, 2018
BibTeX:

@INPROCEEDINGS {Weiner2018b,
author = {Pascal Weiner and Caterina Neef and Tamim Asfour},
title = {A Multimodal Embedded Sensor System for Scalable Robotic and Prosthetic Fingers},
booktitle = {IEEE/RAS International Conference on Humanoid Robots (Humanoids)},
pages = {286--292},
year = {2018}
}
                
Welschehold, T., Dornhege, C., Paus, F., Asfour, T. and Burgard, W., Coupling Mobile Base and End-Effector Motion in Task Space, IEEE/RSJ International Conference on Intelligent Robots and Systems (IROS), pp. 7158-7163, 2018
BibTeX:

@INPROCEEDINGS {Welschehold2018,
author = {Tim Welschehold and Christian Dornhege and Fabian Paus and Tamim Asfour and Wolfram Burgard},
title = {Coupling Mobile Base and End-Effector Motion in Task Space},
booktitle = {IEEE/RSJ International Conference on Intelligent Robots and Systems (IROS)},
pages = {7158--7163},
year = {2018}
}
                
Books
Asfour, T., Borràs, J., Mandery, C., Kaiser, P., Aksoy, E. E. and Grotz, M., On the dualities between grasping and whole-body loco-manipulation tasks, Robotics Research, Springer Tracts in Advanced Robotics, Springer, 2018

[BibTeX]
BibTeX:

@INCOLLECTION {Asfour2018,
author = {Tamim Asfour and Júlia Borràs and Christian Mandery and Peter Kaiser and Eren Erdal Aksoy and Markus Grotz},
publisher = {Springer},
booktitle = {Robotics Research, Springer Tracts in Advanced Robotics},
title = {On the dualities between grasping and whole-body loco-manipulation tasks},
pages = {205--322},
year = {2018}
}
                
Kaiser, P., Whole-Body Affordances for Humanoid Robots: A Computational Approach, Karlsruhe Series on Humanoid Robotics, KIT Scientific Publishing, 2018

[BibTeX]
BibTeX:

@INCOLLECTION {Kaiser2018d,
author = {Peter Kaiser},
publisher = {KIT Scientific Publishing},
booktitle = {Karlsruhe Series on Humanoid Robotics},
title = {Whole-Body Affordances for Humanoid Robots: A Computational Approach},
pages = {0--0},
year = {2018}
}
                
Preprints
Rothfuss, J., Ferreira, F., Aksoy, E. E., Zhou, Y. and Asfour, T., Deep Episodic Memory: Encoding, Recalling, and Predicting Episodic Experiences for Robot Action Execution, Preprint on arXiv, 2018
BibTeX:

@MISC {Rothfuss2018b,
title = {Deep Episodic Memory: Encoding, Recalling, and Predicting Episodic Experiences for Robot Action Execution},
author = {Jonas Rothfuss and Fabio Ferreira and Eren Erdal Aksoy and You Zhou and Tamim Asfour},
publisher = {Preprint on arXiv},
year = {2018}
}
                
2017
Journals
Aksoy, E. E., Ovchinnikova, E., Orhan, A., Yang, Y. and Asfour, T., Unsupervised Linking of Visual Features to Textual Descriptions in Long Manipulation Activities, IEEE Robotics and Automation Letters (RA-L), vol. 2, no. 3, pp. 1397-1404, July, 2017
BibTeX:

@ARTICLE {Aksoy2017,
author = {Eren Erdal Aksoy and Ekaterina Ovchinnikova and Adil Orhan and Yezhou Yang and Tamim Asfour},
title = {Unsupervised Linking of Visual Features to Textual Descriptions in Long Manipulation Activities},
pages = {1397--1404},
volume ={2},
number ={3},
journal ={IEEE Robotics and Automation Letters (RA-L)},
year = {2017}
}
                
Borràs, J., Mandery, C. and Asfour, T., A Whole-Body Support Pose Taxonomy for Multi-Contact Humanoid Robot Motions, Science Robotics, vol. 2, no. 13, 2017 (http://robotics.sciencemag.org/content/2/13/eaaq0560)

[BibTeX]
BibTeX:

@ARTICLE {Borras2017,
author = {Júlia Borràs and Christian Mandery and Tamim Asfour},
title = {A Whole-Body Support Pose Taxonomy for Multi-Contact Humanoid Robot Motions},
pages = {0--0},
volume ={2},
number ={13},
journal ={Science Robotics},
year = {2017}
}
                
Conferences
Beil, J., Marquardt, C. and Asfour, T., Self-Aligning Exoskeleton Hip Joint: Kinematic Design With Five Revolute, Three Prismatic and One Ball Joint, 2017 International Conference on Rehabilitation Robotics (ICORR), pp. 1349-1355, July, 2017
BibTeX:

@INPROCEEDINGS {Beil2017,
author = {J. Beil and C. Marquardt and T. Asfour},
title = {Self-Aligning Exoskeleton Hip Joint: Kinematic Design With Five Revolute, Three Prismatic and One Ball Joint},
booktitle = {2017 International Conference on Rehabilitation Robotics (ICORR)},
pages = {1349--1355},
year = {2017}
}
                
Dreher, C. R. G., Kulp, N., Mandery, C., Wächter, M. and Asfour, T., A Framework for Evaluating Motion Segmentation Algorithms, IEEE/RAS International Conference on Humanoid Robots (Humanoids), pp. 83-90, November, 2017
BibTeX:

@INPROCEEDINGS {Dreher2017,
author = {Christian R. G. Dreher and Nicklas Kulp and Christian Mandery and Mirko W\"achter and Tamim Asfour},
title = {A Framework for Evaluating Motion Segmentation Algorithms},
booktitle = {IEEE/RAS International Conference on Humanoid Robots (Humanoids)},
pages = {83--90},
year = {2017}
}
                
Drigalski, F. v., Gall, M., Cho, S., Ding, M., Takamatsu, J., Ogasawara, T. and Asfour, T., Textile identification using fingertip motion and 3D force sensors in an open-source gripper, 2017 IEEE International Conference on Robotics and Biomimetics (ROBIO), pp. 424-429, 2017
BibTeX:

@INPROCEEDINGS {Drigalski2017,
author = {F. von Drigalski and M. Gall and S. Cho and M. Ding and J. Takamatsu and T. Ogasawara and T. Asfour},
title = {Textile identification using fingertip motion and 3D force sensors in an open-source gripper},
booktitle = {2017 IEEE International Conference on Robotics and Biomimetics (ROBIO)},
pages = {424--429},
year = {2017}
}
                
Grotz, M., Habra, T., Ronsse, R. and Asfour, T., Autonomous View Selection and Gaze Stabilization for Humanoid Robots, IEEE/RSJ International Conference on Intelligent Robots and Systems (IROS), pp. 1427-1434, 2017
BibTeX:

@INPROCEEDINGS {Grotz2017,
author = {Markus Grotz and Timothée Habra and Renaud Ronsse and Tamim Asfour},
title = {Autonomous View Selection and Gaze Stabilization for Humanoid Robots},
booktitle = {IEEE/RSJ International Conference on Intelligent Robots and Systems (IROS)},
pages = {1427--1434},
year = {2017}
}
                
Grotz, M., Kaiser, P., Aksoy, E. E., Paus, F. and Asfour, T., Graph-Based Visual Semantic Perception for Humanoid Robots, IEEE/RAS International Conference on Humanoid Robots (Humanoids), pp. 869-875, 2017
BibTeX:

@INPROCEEDINGS {Grotz2017b,
author = {Markus Grotz and Peter Kaiser and Eren Erdal Aksoy and Fabian Paus and Tamim Asfour},
title = {Graph-Based Visual Semantic Perception for Humanoid Robots},
booktitle = {IEEE/RAS International Conference on Humanoid Robots (Humanoids)},
pages = {869--875},
year = {2017}
}
                
Habra, T., Grotz, M., Sippel, D., Asfour, T. and Ronsse, R., Multimodal Gaze Stabilization of a Humanoid Robot based on Reafferences, IEEE/RAS International Conference on Humanoid Robots (Humanoids), pp. 47-54, 2017
BibTeX:

@INPROCEEDINGS {Habra2017,
author = {Timothée Habra and Markus Grotz and David Sippel and Tamim Asfour and Renaud Ronsse},
title = {Multimodal Gaze Stabilization of a Humanoid Robot based on Reafferences},
booktitle = {IEEE/RAS International Conference on Humanoid Robots (Humanoids)},
pages = {47--54},
year = {2017}
}
                
Kaiser, P., Aksoy, E. E., Grotz, M., Kanoulas, D., Tsagarakis, N. G. and Asfour, T., Experimental Evaluation of a Perceptual Pipeline for Hierarchical Affordance Extraction, International Symposium on Experimental Robotics (ISER), pp. 136-146, 2017
BibTeX:

@INPROCEEDINGS {Kaiser2017,
author = {Peter Kaiser and Eren E. Aksoy and Markus Grotz and Dimitrios Kanoulas and Nikos G. Tsagarakis and Tamim Asfour},
title = {Experimental Evaluation of a Perceptual Pipeline for Hierarchical Affordance Extraction},
booktitle = {International Symposium on Experimental Robotics (ISER)},
pages = {136--146},
year = {2017}
}
                
Paus, F., Kaiser, P., Vahrenkamp, N. and Asfour, T., A Combined Approach for Robot Placement and Coverage Path Planning for Mobile Manipulation, IEEE/RSJ International Conference on Intelligent Robots and Systems (IROS), pp. 6285-6292, September, 2017
BibTeX:

@INPROCEEDINGS {Paus2017,
author = {Fabian Paus and Peter Kaiser and Nikolaus Vahrenkamp and Tamim Asfour},
title = {A Combined Approach for Robot Placement and Coverage Path Planning for Mobile Manipulation},
booktitle = {IEEE/RSJ International Conference on Intelligent Robots and Systems (IROS)},
pages = {6285--6292},
year = {2017}
}
                
Rader, S., Kaul, L., Weiner, P. and Asfour, T., Highly Integrated Sensor-Actuator-Controller Units for Modular Robot Design, IEEE International Conference on Advanced Intelligent Mechatronics (AIM), pp. 1160-1166, 2017
BibTeX:

@INPROCEEDINGS {Rader2017,
author = {Samuel Rader and Lukas Kaul and Pascal Weiner and Tamim Asfour},
title = {Highly Integrated Sensor-Actuator-Controller Units for Modular Robot Design},
booktitle = {IEEE International Conference on Advanced Intelligent Mechatronics (AIM)},
pages = {1160--1166},
year = {2017}
}
                
Steffan, L., Kaul, L. and Asfour, T., Online Stability Estimation based on Inertial Sensor Data for Humanand Humanoid Fall Prevention, IEEE/RAS International Conference on Humanoid Robots (Humanoids), pp. 171-177, 2017
BibTeX:

@INPROCEEDINGS {Steffan2017,
author = {Laura Steffan and Lukas Kaul and Tamim Asfour},
title = {Online Stability Estimation based on Inertial Sensor Data for Humanand Humanoid Fall Prevention},
booktitle = {IEEE/RAS International Conference on Humanoid Robots (Humanoids)},
pages = {171--177},
year = {2017}
}
                
Zhou, Y. and Asfour, T., Task-Oriented Generalization of Dynamic Movement Primitive, IEEE/RSJ International Conference on Intelligent Robots and Systems (IROS), pp. 3202-3209, September, 2017
BibTeX:

@INPROCEEDINGS {Zhou2017,
author = {You Zhou and Tamim Asfour},
title = {Task-Oriented Generalization of Dynamic Movement Primitive},
booktitle = {IEEE/RSJ International Conference on Intelligent Robots and Systems (IROS)},
pages = {3202--3209},
year = {2017}
}
                
Zhu, Q., Perera, V., Wächter, M., Asfour, T. and Veloso, M., Autonomous Narration of Humanoid Robot Kitchen Task Experience, IEEE/RAS International Conference on Humanoid Robots (Humanoids), pp. 390-397, 2017
BibTeX:

@INPROCEEDINGS {Zhu2017,
author = {Qingxiaoyang Zhu and Vittorio Perera and Mirko W\"achter and Tamim Asfour and Manuela Veloso},
title = {Autonomous Narration of Humanoid Robot Kitchen Task Experience},
booktitle = {IEEE/RAS International Conference on Humanoid Robots (Humanoids)},
pages = {390--397},
year = {2017}
}
                
Books
Asfour, T., Dillmann, R., Vahrenkamp, N., Do, M., Wächter, M., Mandery, C., Kaiser, P., Kröhnert, M. and Grotz, M., The Karlsruhe ARMAR Humanoid Robot Family, In: Goswami A., Vadakkepat P. (eds.) Humanoid Robotics: A Reference, Springer Netherlands, 2017
BibTeX:

@INCOLLECTION {Asfour2017,
author = {Tamim Asfour and R\"udiger Dillmann and Nikolaus Vahrenkamp and Martin Do and Mirko W\"achter and Christian Mandery and Peter Kaiser and Manfred Kr\"ohnert and Markus Grotz},
publisher = {In: Goswami A., Vadakkepat P. (eds.) Humanoid Robotics: A Reference, Springer Netherlands},
booktitle = { },
title = {The Karlsruhe ARMAR Humanoid Robot Family},
pages = {1--32},
year = {2017}
}
                
Preprints
Plappert, M., Mandery, C. and Asfour, T., Learning a Bidirectional Mapping Between Human Whole-Body Motion and Natural Language Using Deep Recurrent Neural Networks, Preprint on arXiv, 2017
BibTeX:

@MISC {Plappert2017a,
title = {Learning a Bidirectional Mapping Between Human Whole-Body Motion and Natural Language Using Deep Recurrent Neural Networks},
author = {Matthias Plappert and Christian Mandery and Tamim Asfour},
publisher = {Preprint on arXiv},
year = {2017}
}
                
2016
Journals
Drigalski, F. V., Ikeda, A., Ogasawara, T. and Asfour, T., A Measurement Setup for the 3D Validation of Fingertip Deformation Models, International Journal of Human Factors Modelling and Simulation, vol. 5, no. 3, pp. 230-237, January, 2016
BibTeX:

@ARTICLE {Drigalski2016,
author = {Felix Von Drigalski and Atsutoshi Ikeda and Tsukasa Ogasawara and Tamim Asfour},
title = {A Measurement Setup for the 3D Validation of Fingertip Deformation Models},
pages = {230--237},
volume ={5},
number ={3},
journal ={International Journal of Human Factors Modelling and Simulation},
year = {2016}
}
                
Gams, A., Petric, T., Do, M., Nemec, B., Morimoto, J., Asfour, T. and Ude, A., Adaptation and coaching of periodic motion primitives through physical and visual interaction, Robotics and Autonomous Systems, vol. 75, Part B, no. , pp. 340-351, January, 2016
BibTeX:

@ARTICLE {Gams2015,
author = {A. Gams and T. Petric and M. Do and B. Nemec and J. Morimoto and T. Asfour and A. Ude},
title = {Adaptation and coaching of periodic motion primitives through physical and visual interaction},
pages = {340--351},
volume ={75, Part B},
number ={},
journal ={Robotics and Autonomous Systems},
year = {2016}
}
                
Mandery, C., Terlemez, Ö., Do, M., Vahrenkamp, N. and Asfour, T., Unifying Representations and Large-Scale Whole-Body Motion Databases for Studying Human Motion, IEEE Transactions on Robotics, vol. 32, no. 4, pp. 796-809, August, 2016
BibTeX:

@ARTICLE {Mandery2016b,
author = {Christian Mandery and \"Omer Terlemez and Martin Do and Nikolaus Vahrenkamp and Tamim Asfour},
title = {Unifying Representations and Large-Scale Whole-Body Motion Databases for Studying Human Motion},
pages = {796--809},
volume ={32},
number ={4},
journal ={IEEE Transactions on Robotics},
year = {2016}
}
                
Plappert, M., Mandery, C. and Asfour, T., The KIT Motion-Language Dataset, Big Data, vol. 4, no. 4, pp. 236-252, December, 2016 (available online at http://online.liebertpub.com/doi/full/10.1089/big.2016.0028)

[BibTeX]
BibTeX:

@ARTICLE {Plappert2016,
author = {Matthias Plappert and Christian Mandery and Tamim Asfour},
title = {The KIT Motion-Language Dataset},
pages = {236--252},
volume ={4},
number ={4},
journal ={Big Data},
year = {2016}
}
                
Wächter, M., Ottenhaus, S., Kröhnert, M., Vahrenkamp, N. and Asfour, T., The ArmarX Statechart Concept: Graphical Programming of Robot Behaviour, Frontiers in Robotics and AI, vol. 3, no. , 2016
BibTeX:

@ARTICLE {Waechter2016,
author = {Mirko W\"achter and Simon Ottenhaus and Manfred Kr\"ohnert and Nikolaus Vahrenkamp and Tamim Asfour},
title = {The ArmarX Statechart Concept: Graphical Programming of Robot Behaviour},
pages = {0--0},
volume ={3},
number ={},
journal ={Frontiers in Robotics and AI},
year = {2016}
}
                
Conferences
Aksoy, E. E., Zhou, Y., Wächter, M. and Asfour, T., Enriched Manipulation Action Semantics for Robot Execution of Time Constrained Tasks, IEEE/RAS International Conference on Humanoid Robots (Humanoids), pp. 109-116, 2016 (Best Oral Paper Award Finalist)
BibTeX:

@INPROCEEDINGS {Aksoy2016,
author = {Eren Erdal Aksoy and You Zhou and Mirko W\"achter and Tamim Asfour},
title = {Enriched Manipulation Action Semantics for Robot Execution of Time Constrained Tasks},
booktitle = {IEEE/RAS International Conference on Humanoid Robots (Humanoids)},
pages = {109--116},
year = {2016}
}
                
Beil, J. and Asfour, T., New Mechanism for a 3 DOF Exoskeleton Hip Joint with Five Revolute and Two Prismatic Joints, 6th IEEE International Conference on Biomedical Robotics and Biomechatronics (BioRob), pp. 787-792, June, 2016
BibTeX:

@INPROCEEDINGS {Beil2016,
author = {Jonas Beil and Tamim Asfour},
title = {New Mechanism for a 3 DOF Exoskeleton Hip Joint with Five Revolute and Two Prismatic Joints},
booktitle = {6th IEEE International Conference on Biomedical Robotics and Biomechatronics (BioRob)},
pages = {787--792},
year = {2016}
}
                
Goldbeck, C., Kaul, L., Vahrenkamp, N., Wörgötter, F., Braun, J. and Asfour, T., Two Ways of Walking: Contrasting a Reflexive Neuro-Controller and a LIP-Based ZMP-Controller on the Humanoid Robot ARMAR-4, IEEE/RAS International Conference on Humanoid Robots (Humanoids), pp. 966-972, 2016
BibTeX:

@INPROCEEDINGS {Goldbeck2016,
author = {Cornelius Goldbeck and Lukas Kaul and Nikolaus Vahrenkamp and Florentin W\"org\"otter and Jan-Matthias Braun and Tamim Asfour},
title = {Two Ways of Walking: Contrasting a Reflexive Neuro-Controller and a LIP-Based ZMP-Controller on the Humanoid Robot ARMAR-4},
booktitle = {IEEE/RAS International Conference on Humanoid Robots (Humanoids)},
pages = {966--972},
year = {2016}
}
                
Kaiser, P., Aksoy, E. E., Grotz, M. and Asfour, T., Towards a Hierarchy of Loco-Manipulation Affordances, IEEE/RSJ International Conference on Intelligent Robots and Systems (IROS), pp. 2839-2846, 2016
BibTeX:

@INPROCEEDINGS {Kaiser2016,
author = {Peter Kaiser and Eren E. Aksoy and Markus Grotz and Tamim Asfour},
title = {Towards a Hierarchy of Loco-Manipulation Affordances},
booktitle = {IEEE/RSJ International Conference on Intelligent Robots and Systems (IROS)},
pages = {2839--2846},
year = {2016}
}
                
Kaiser, P., Kanoulas, D., Grotz, M., Muratore, L., Rocchi, A., Hoffman, E. M., Tsagarakis, N. G. and Asfour, T., An Affordance-Based Pilot Interface for High-Level Control of Humanoid Robots in Supervised Autonomy, IEEE/RAS International Conference on Humanoid Robots (Humanoids), pp. 621-628, 2016
BibTeX:

@INPROCEEDINGS {Kaiser2016b,
author = {Peter Kaiser and Dimitrios Kanoulas and Markus Grotz and Luca Muratore and Alessio Rocchi and Enrico Mingo Hoffman and Nikos G. Tsagarakis and Tamim Asfour},
title = {An Affordance-Based Pilot Interface for High-Level Control of Humanoid Robots in Supervised Autonomy},
booktitle = {IEEE/RAS International Conference on Humanoid Robots (Humanoids)},
pages = {621--628},
year = {2016}
}
                
Kaul, L. and Asfour, T., Human Push-Recovery: Strategy Selection Based on Push Intensity Estimation, International Symposium on Robotics (ISR), pp. 547-554, 2016
BibTeX:

@INPROCEEDINGS {Kaul2016,
author = {Lukas Kaul and Tamim Asfour},
title = {Human Push-Recovery: Strategy Selection Based on Push Intensity Estimation},
booktitle = {International Symposium on Robotics (ISR)},
pages = {547--554},
year = {2016}
}
                
Kaul, L., Ottenhaus, S., Weiner, P. and Asfour, T., The Sense of Surface Orientation - A New Sensor Modality for Humanoid Robots, IEEE/RAS International Conference on Humanoid Robots (Humanoids), pp. 820-825, 2016
BibTeX:

@INPROCEEDINGS {Kaul2016b,
author = {Lukas Kaul and Simon Ottenhaus and Pascal Weiner and Tamim Asfour},
title = {The Sense of Surface Orientation - A New Sensor Modality for Humanoid Robots},
booktitle = {IEEE/RAS International Conference on Humanoid Robots (Humanoids)},
pages = {820--825},
year = {2016}
}
                
Kröhnert, M., Grimm, R., Vahrenkamp, N. and Asfour, T., Resource-Aware Motion Planning, IEEE International Conference on Robotics and Automation (ICRA), pp. 32-39, may, 2016
BibTeX:

@INPROCEEDINGS {Kroehnert2016,
author = {M. Kr\"ohnert and R. Grimm and N. Vahrenkamp and T. Asfour},
title = {Resource-Aware Motion Planning},
booktitle = {IEEE International Conference on Robotics and Automation (ICRA)},
pages = {32--39},
year = {2016}
}
                
Mandery, C., Borràs, J., Jöchner, M. and Asfour, T., Using Language Models to Generate Whole-Body Multi-Contact Motions, IEEE/RSJ International Conference on Intelligent Robots and Systems (IROS), pp. 5411-5418, October, 2016
BibTeX:

@INPROCEEDINGS {Mandery2016c,
author = {Christian Mandery and Júlia Borràs and Mirjam J\"ochner and Tamim Asfour},
title = {Using Language Models to Generate Whole-Body Multi-Contact Motions},
booktitle = {IEEE/RSJ International Conference on Intelligent Robots and Systems (IROS)},
pages = {5411--5418},
year = {2016}
}
                
Mandery, C., Plappert, M., Borràs, J. and Asfour, T., Dimensionality Reduction for Whole-Body Human Motion Recognition, 19th International Conference on Information Fusion (FUSION), pp. 355-362, July, 2016
BibTeX:

@INPROCEEDINGS {Mandery2016a,
author = {Christian Mandery and Matthias Plappert and Júlia Borràs and Tamim Asfour},
title = {Dimensionality Reduction for Whole-Body Human Motion Recognition},
booktitle = {19th International Conference on Information Fusion (FUSION)},
pages = {355--362},
year = {2016}
}
                
Maniadakis, M., Aksoy, E. E., Asfour, T. and Trahanias, P., Collaboration of heterogeneous agents in time constrained tasks, IEEE/RAS International Conference on Humanoid Robots (Humanoids), pp. 448-453, 2016

[BibTeX]
BibTeX:

@INPROCEEDINGS {maniadakis2016collaboration,
author = {Michail Maniadakis and Eren Erdal Aksoy and Tamim Asfour and Panos Trahanias},
title = {Collaboration of heterogeneous agents in time constrained tasks},
booktitle = {IEEE/RAS International Conference on Humanoid Robots (Humanoids)},
pages = {448--453},
year = {2016}
}
                
Mustafa, W., Wächter, M., Szedmak, S., Agostini, A., Kraft, D., Asfour, T., Piater, J., Wörgötter, F. and Krüger, N., Affordance Estimation For Vision-Based Object Replacement on a Humanoid Robot, International Symposium on Robotics (ISR), pp. 1-9, 2016

[BibTeX]
BibTeX:

@INPROCEEDINGS {Mustafa2016,
author = {Wael Mustafa and Mirko W\"achter and Sandor Szedmak and Alejandro Agostini and Dirk Kraft and Tamim Asfour and Justus Piater and Florentin W\"org\"otter and Norbert Kr\"uger},
title = {Affordance Estimation For Vision-Based Object Replacement on a Humanoid Robot},
booktitle = {International Symposium on Robotics (ISR)},
pages = {1--9},
year = {2016}
}
                
Ottenhaus, S., Miller, M., Schiebener, D., Vahrenkamp, N. and Asfour, T., Local Implicit Surface Estimation for Haptic Exploration, IEEE/RAS International Conference on Humanoid Robots (Humanoids), pp. 850-856, 2016
BibTeX:

@INPROCEEDINGS {Ottenhaus2016,
author = {Simon Ottenhaus and Martin Miller and David Schiebener and Nikolaus Vahrenkamp and Tamim Asfour},
title = {Local Implicit Surface Estimation for Haptic Exploration},
booktitle = {IEEE/RAS International Conference on Humanoid Robots (Humanoids)},
pages = {850--856},
year = {2016}
}
                
Rader, S., Kaul, L., Fischbach, H., Vahrenkamp, N. and Asfour, T., Design of a High-Performance Humanoid Dual Arm System with Inner Shoulder Joints, IEEE/RAS International Conference on Humanoid Robots (Humanoids), pp. 523-529, 2016
BibTeX:

@INPROCEEDINGS {Rader2016,
author = {Samuel Rader and Lukas Kaul and Hennes Fischbach and Nikolaus Vahrenkamp and Tamim Asfour},
title = {Design of a High-Performance Humanoid Dual Arm System with Inner Shoulder Joints},
booktitle = {IEEE/RAS International Conference on Humanoid Robots (Humanoids)},
pages = {523--529},
year = {2016}
}
                
Schiebener, D., Schmidt, A., Vahrenkamp, N. and Asfour, T., Heuristic 3D Object Shape Completion based on Symmetry and Scene Context, IEEE/RSJ International Conference on Intelligent Robots and Systems (IROS), pp. 74-81, October, 2016
BibTeX:

@INPROCEEDINGS {Schiebener2016,
author = {David Schiebener and Andreas Schmidt and Nikolaus Vahrenkamp and Tamim Asfour},
title = {Heuristic 3D Object Shape Completion based on Symmetry and Scene Context},
booktitle = {IEEE/RSJ International Conference on Intelligent Robots and Systems (IROS)},
pages = {74--81},
year = {2016}
}
                
Steinbring, J., Mandery, C., Pfaff, F., Faion, F., Asfour, T. and Hanebeck, U. D., Real-Time Whole-Body Human Motion Tracking Based on Unlabeled Markers, IEEE International Conference on Multisensor Fusion and Integration for Intelligent Systems (MFI), pp. 583-590, September, 2016
BibTeX:

@INPROCEEDINGS {Steinbring2016,
author = {Jannik Steinbring and Christian Mandery and Florian Pfaff and Florian Faion and Tamim Asfour and Uwe D. Hanebeck},
title = {Real-Time Whole-Body Human Motion Tracking Based on Unlabeled Markers},
booktitle = {IEEE International Conference on Multisensor Fusion and Integration for Intelligent Systems (MFI)},
pages = {583--590},
year = {2016}
}
                
Trovato, G., Do, M., Terlemez, Ö., Mandery, C., Ishii, H., Bianchi-Berthouze, N., Asfour, T. and Takanishi, A., Is Hugging a Robot Weird?: Investigating the Influence of Robot Appearance on Users' Perception of Hugging, IEEE/RAS International Conference on Humanoid Robots (Humanoids), pp. 318-323, November, 2016

[BibTeX]
BibTeX:

@INPROCEEDINGS {Trovato2016,
author = {Gabriele Trovato and Martin Do and \"Omer Terlemez and Christian Mandery and Hiroyuki Ishii and Nadia Bianchi-Berthouze and Tamim Asfour and Atsuo Takanishi},
title = {Is Hugging a Robot Weird?: Investigating the Influence of Robot Appearance on Users' Perception of Hugging},
booktitle = {IEEE/RAS International Conference on Humanoid Robots (Humanoids)},
pages = {318--323},
year = {2016}
}
                
Vahrenkamp, N., Arnst, H., Wächter, M., Schiebener, D., Sotiropoulos, P., Kowalik, M. and Asfour, T., Workspace Analysis for Planning Human-Robot Interaction Tasks, IEEE/RAS International Conference on Humanoid Robots (Humanoids), pp. 1298-1303, Nov, 2016
BibTeX:

@INPROCEEDINGS {Vahrenkamp2016,
author = {Nikolaus Vahrenkamp and Harry Arnst and Mirko W\"achter and David Schiebener and Panagiotis Sotiropoulos and Michal Kowalik and Tamim Asfour},
title = {Workspace Analysis for Planning Human-Robot Interaction Tasks},
booktitle = {IEEE/RAS International Conference on Humanoid Robots (Humanoids)},
pages = {1298--1303},
year = {2016}
}
                
Vahrenkamp, N., Westkamp, L., Yamanobe, N., Aksoy, E. E. and Asfour, T., Part-based Grasp Planning for Familiar Objects, IEEE/RAS International Conference on Humanoid Robots (Humanoids), pp. 919-925, Nov, 2016
BibTeX:

@INPROCEEDINGS {Vahrenkamp2016b,
author = {Nikolaus Vahrenkamp and Leonard Westkamp and Natsuki Yamanobe and Eren E. Aksoy and Tamim Asfour},
title = {Part-based Grasp Planning for Familiar Objects},
booktitle = {IEEE/RAS International Conference on Humanoid Robots (Humanoids)},
pages = {919--925},
year = {2016}
}
                
Zhou, Y., Do, M. and Asfour, T., Coordinate Change Dynamic Movement Primitives - A Leader-Follower Approach, IEEE/RSJ International Conference on Intelligent Robots and Systems (IROS), pp. 5481-5488, October, 2016
BibTeX:

@INPROCEEDINGS {Zhou2016a,
author = {You Zhou and Martin Do and Tamim Asfour},
title = {Coordinate Change Dynamic Movement Primitives - A Leader-Follower Approach},
booktitle = {IEEE/RSJ International Conference on Intelligent Robots and Systems (IROS)},
pages = {5481--5488},
year = {2016}
}
                
Zhou, Y., Do, M. and Asfour, T., Learning and Force Adaptation for Interactive Actions, IEEE/RAS International Conference on Humanoid Robots (Humanoids), pp. 1129-1134, 2016
BibTeX:

@INPROCEEDINGS {Zhou2016b,
author = {You Zhou and Martin Do and Tamim Asfour},
title = {Learning and Force Adaptation for Interactive Actions},
booktitle = {IEEE/RAS International Conference on Humanoid Robots (Humanoids)},
pages = {1129--1134},
year = {2016}
}
                
Books
Preprints
2015
Journals
Balaguer, C., Asfour, T., Metta, G. and Yokoi, K., Special Issue on 2014 IEEE-RAS International Conference on Humanoid Robots – Humans and Humanoids Face to FaceHumans and Humanoids Face to Face, International Journal of Humanoid Robotics (IJHR), vol. 3, no. 12, May, 2015 ((Special Issue))
BibTeX:

@ARTICLE {Balaguer2015,
author = {Carlos Balaguer and Tamim Asfour and Giorgio Metta and Kazuhito Yokoi},
title = {Special Issue on 2014 IEEE-RAS International Conference on Humanoid Robots – Humans and Humanoids Face to FaceHumans and Humanoids Face to Face},
pages = {0--0},
volume ={3},
number ={12},
journal ={International Journal of Humanoid Robotics (IJHR)},
year = {2015}
}
                
Kaiser, P., Vahrenkamp, N., Schültje, F., Borràs, J. and Asfour, T., Extraction of Whole-Body Affordances for Loco-Manipulation Tasks, International Journal of Humanoid Robotics (IJHR), vol. 12, no. 3, pp. 15-31, 2015
BibTeX:

@ARTICLE {Kaiser2015,
author = {Peter Kaiser and Nikolaus Vahrenkamp and Fabian Sch\"ultje and Júlia Borràs and Tamim Asfour},
title = {Extraction of Whole-Body Affordances for Loco-Manipulation Tasks},
pages = {15--31},
volume ={12},
number ={3},
journal ={International Journal of Humanoid Robotics (IJHR)},
year = {2015}
}
                
Kaul, L., Zlot, R. and Bosse, M., Continuous-Time Three-Dimensional Mapping for Micro Aerial Vehicles with a Passively Actuated Rotating Laser Scanner, Journal of Field Robotics, vol. 33, no. 1, pp. 103-132, 2015
BibTeX:

@ARTICLE {Kaul2015,
author = {Lukas Kaul and Robert Zlot and Michael Bosse},
title = {Continuous-Time Three-Dimensional Mapping for Micro Aerial Vehicles with a Passively Actuated Rotating Laser Scanner},
pages = {103--132},
volume ={33},
number ={1},
journal ={Journal of Field Robotics},
year = {2015}
}
                
Paul, J., Oechslein, B., Erhardt, C., Schedel, J., Kröhnert, M., Lohmann, D., Stechele, W., Asfour, T. and Schröder-Preikschat, W., Self-adaptive corner detection on MPSoC through resource-aware programming, Journal of Systems Architecture, vol. 61, no. 10, pp. 520-530, 2015
BibTeX:

@ARTICLE {Paul2015a,
author = {Johny Paul and Benjamin Oechslein and Christoph Erhardt and Jens Schedel and Manfred Kr\"ohnert and Daniel Lohmann and Walter Stechele and Tamim Asfour and Wolfgang Schröder-Preikschat},
title = {Self-adaptive corner detection on MPSoC through resource-aware programming},
pages = {520--530},
volume ={61},
number ={10},
journal ={Journal of Systems Architecture},
year = {2015}
}
                
Paul, J., Stechele, W., Oechslein, B., Erhardt, C., Schedel, J., Lohmann, D., Schröder-Preikschat, W., Kröhnert, M., Asfour, T., Sousa, E., Lari, V., Hannig, F., Teich, J., Grudnitsky, A., Bauer, L. and Henkel, J., Resource-awareness on heterogeneous MPSoCs for image processing, Journal of Systems Architecture, vol. 61, no. 10, pp. 668-680, 2015
BibTeX:

@ARTICLE {Paul2015b,
author = {Johny Paul and Walter Stechele and Benjamin Oechslein and Christoph Erhardt and Jens Schedel and Daniel Lohmann and Wolfgang Schr\"oder-Preikschat and Manfred Kr\"ohnert and Tamim Asfour and Ericles Sousa and Vahid Lari and Frank Hannig and J\"urgen Teich and Artjom Grudnitsky and Lars Bauer and J\"org Henkel},
title = {Resource-awareness on heterogeneous MPSoCs for image processing},
pages = {668--680},
volume ={61},
number ={10},
journal ={Journal of Systems Architecture},
year = {2015}
}
                
Takano, W., Asfour, T. and Kormushev, P., Special Issue on Humanoid Robotics, Advanced Robotics, vol. 29, no. 5, March, 2015

[BibTeX]
BibTeX:

@ARTICLE {Takano2015,
author = {Wataru Takano and Tamim Asfour and Petar Kormushev},
title = {Special Issue on Humanoid Robotics},
pages = {0--0},
volume ={29},
number ={5},
journal ={Advanced Robotics},
year = {2015}
}
                
Trovato, G., Zecca, M., Do, M., Terlemez, Ö., Kuramochi, M., Waibel, A., Asfour, T. and Takanishi, A., A Novel Greeting Selection System for a Culture-Adaptive Humanoid Robot, International Journal of Advanced Robotic Systems, vol. 12, no. 34, April, 2015

[BibTeX]
BibTeX:

@ARTICLE {Trovato2015,
author = {Gabriele Trovato and Massimiliano Zecca and Martin Do and \"Omer Terlemez and Masuko Kuramochi and Alexander Waibel and Tamim Asfour and Atsuo Takanishi},
title = {A Novel Greeting Selection System for a Culture-Adaptive Humanoid Robot},
pages = {0--0},
volume ={12},
number ={34},
journal ={International Journal of Advanced Robotic Systems},
year = {2015}
}
                
Vahrenkamp, N. and Asfour, T., Representing the robot's workspace through constrained manipulability analysis, Autonomous Robots, vol. 38, no. 1, pp. 17-30, 2015
BibTeX:

@ARTICLE {Vahrenkamp2014,
author = {Nikolaus Vahrenkamp and Tamim Asfour},
title = {Representing the robot's workspace through constrained manipulability analysis},
pages = {17--30},
volume ={38},
number ={1},
journal ={Autonomous Robots},
year = {2015}
}
                
Vahrenkamp, N., Wächter, M., Kröhnert, M., Welke, K. and Asfour, T., The Robot Software Framework ArmarX, Information Technology, vol. 57, no. 2, pp. 99-111, 2015
BibTeX:

@ARTICLE {Vahrenkamp2015,
author = {N. Vahrenkamp and M. W\"achter and M. Kr\"ohnert and K. Welke and T. Asfour},
title = {The Robot Software Framework ArmarX},
pages = {99--111},
volume ={57},
number ={2},
journal ={Information Technology},
year = {2015}
}
                
Wörgötter, F., Geib, C., Tamosiunaite, M., Aksoy, E. E., Piater, J., Xiong, H., Ude, A., Nemec, B., Kraft, D., Krüger, N., Wächter, M. and Asfour, T., Structural bootstrapping - a novel concept for the fast acquisition of action-knowledge, IEEE Transactions on Autonomous Mental Development, vol. 7, no. 2, pp. 140-154, June, 2015
BibTeX:

@ARTICLE {Woergoetter2015,
author = {Florentin W\"org\"otter and Chris Geib and Minija Tamosiunaite and Eren Erdal Aksoy and Justus Piater and Hanchen Xiong and Ales Ude and Bojan Nemec and Dirk Kraft and Norbert Kr\"uger and Mirko W\"achter and Tamim Asfour},
title = {Structural bootstrapping - a novel concept for the fast acquisition of action-knowledge},
pages = {140--154},
volume ={7},
number ={2},
journal ={IEEE Transactions on Autonomous Mental Development},
year = {2015}
}
                
Conferences
Asfour, T., Borràs, J., Mandery, C., Kaiser, P., Aksoy, E. E. and Grotz, M., On the dualities between grasping and whole-body loco-manipulation tasks, International Symposium on Robotics Research (ISRR), pp. 305-322, 2015
BibTeX:

@INPROCEEDINGS {Asfour2015,
author = {Tamim Asfour and Júlia Borràs and Christian Mandery and Peter Kaiser and Eren Erdal Aksoy and Markus Grotz},
title = {On the dualities between grasping and whole-body loco-manipulation tasks},
booktitle = {International Symposium on Robotics Research (ISRR)},
pages = {305--322},
year = {2015}
}
                
Beil, J., Perner, G. and Asfour, T., Design and Control of a Lower Limb Exoskeleton (KIT-EXO-1), International Conference on Rehabilitation Robotics (ICORR), pp. 119-124, August, 2015
BibTeX:

@INPROCEEDINGS {Beil2015,
author = {Jonas Beil and Gernot Perner and Tamim Asfour},
title = {Design and Control of a Lower Limb Exoskeleton (KIT-EXO-1)},
booktitle = {International Conference on Rehabilitation Robotics (ICORR)},
pages = {119--124},
year = {2015}
}
                
Borràs, J. and Asfour, T., A Whole-Body Pose Taxonomy for Loco-Manipulation Tasks, IEEE/RSJ International Conference on Intelligent Robots and Systems (IROS), pp. 1578-1585, October, 2015
BibTeX:

@INPROCEEDINGS {Borras2015,
author = {Júlia Borràs and Tamim Asfour},
title = {A Whole-Body Pose Taxonomy for Loco-Manipulation Tasks},
booktitle = {IEEE/RSJ International Conference on Intelligent Robots and Systems (IROS)},
pages = {1578--1585},
year = {2015}
}
                
Brinker, J. O., Matsubara, T., Teramae, T., Noda, T., Ogasawarsa, T., Asfour, T. and Morimoto, J., Walking Pattern Prediction with Partial Observation for Partial Walking Assistance by using an Exoskeleton System, International Conference on Rehabilitation Robotics (ICORR), pp. 139-144, August, 2015
BibTeX:

@INPROCEEDINGS {Brinker2015,
author = {Jan Oskar Brinker and Takamitsu Matsubara and Tatsuya Teramae and Tomoyuki Noda and Tsukasa Ogasawarsa and Tamim Asfour and Jun Morimoto},
title = {Walking Pattern Prediction with Partial Observation for Partial Walking Assistance by using an Exoskeleton System},
booktitle = {International Conference on Rehabilitation Robotics (ICORR)},
pages = {139--144},
year = {2015}
}
                
Haustein, J. A., King, J., Srinivasa, S. S. and Asfour, T., Kinodynamic Randomized Rearrangement Planning via Dynamic Transitions Between Statically Stable States, IEEE International Conference on Robotics and Automation (ICRA), pp. 3075-3082, May, 2015
BibTeX:

@INPROCEEDINGS {Haustein2015,
author = {Joshua A. Haustein and Jennifer King and Siddhartha S. Srinivasa and Tamim Asfour},
title = {Kinodynamic Randomized Rearrangement Planning via Dynamic Transitions Between Statically Stable States},
booktitle = {IEEE International Conference on Robotics and Automation (ICRA)},
pages = {3075--3082},
year = {2015}
}
                
Kaiser, P., Grotz, M., Aksoy, E. E., Do, M., Vahrenkamp, N. and Asfour, T., Validation of Whole-Body Loco-Manipulation Affordances for Pushability and Liftability, IEEE/RAS International Conference on Humanoid Robots (Humanoids), pp. 920-927, 2015
BibTeX:

@INPROCEEDINGS {Kaiser2015a,
author = {Peter Kaiser and Markus Grotz and Eren E. Aksoy and Martin Do and Nikolaus Vahrenkamp and Tamim Asfour},
title = {Validation of Whole-Body Loco-Manipulation Affordances for Pushability and Liftability},
booktitle = {IEEE/RAS International Conference on Humanoid Robots (Humanoids)},
pages = {920--927},
year = {2015}
}
                
King, J., Haustein, J. A., Srinivasa, S. S. and Asfour, T., Nonprehensile Whole Arm Rearrangement Planning with Physics Manifolds, IEEE International Conference on Robotics and Automation (ICRA), pp. 2508-2515, May, 2015
BibTeX:

@INPROCEEDINGS {King2015,
author = {Jennifer King and Joshua A. Haustein and Siddhartha S. Srinivasa and Tamim Asfour},
title = {Nonprehensile Whole Arm Rearrangement Planning with Physics Manifolds},
booktitle = {IEEE International Conference on Robotics and Automation (ICRA)},
pages = {2508--2515},
year = {2015}
}
                
Mandery, C., Borràs, J., Jöchner, M. and Asfour, T., Analyzing Whole-Body Pose Transitions in Multi-Contact Motions, IEEE/RAS International Conference on Humanoid Robots (Humanoids), pp. 1020-1027, November, 2015
BibTeX:

@INPROCEEDINGS {Mandery2015b,
author = {Christian Mandery and Júlia Borràs and Mirjam J\"ochner and Tamim Asfour},
title = {Analyzing Whole-Body Pose Transitions in Multi-Contact Motions},
booktitle = {IEEE/RAS International Conference on Humanoid Robots (Humanoids)},
pages = {1020--1027},
year = {2015}
}
                
Mandery, C., Terlemez, Ö., Do, M., Vahrenkamp, N. and Asfour, T., The KIT Whole-Body Human Motion Database, International Conference on Advanced Robotics (ICAR), pp. 329-336, July, 2015
BibTeX:

@INPROCEEDINGS {Mandery2015a,
author = {Christian Mandery and \"Omer Terlemez and Martin Do and Nikolaus Vahrenkamp and Tamim Asfour},
title = {The KIT Whole-Body Human Motion Database},
booktitle = {International Conference on Advanced Robotics (ICAR)},
pages = {329--336},
year = {2015}
}
                
Ni, F., Rojas, D., Tang, K., Cai, L. and Asfour, T., A Jumping Robot Using Soft Pneumatic Actuator, IEEE International Conference on Robotics and Automation (ICRA), pp. 3154-3159, May, 2015
BibTeX:

@INPROCEEDINGS {Ni2015,
author = {Feng Ni and Daniel Rojas and Kai Tang and Lilong Cai and Tamim Asfour},
title = {A Jumping Robot Using Soft Pneumatic Actuator},
booktitle = {IEEE International Conference on Robotics and Automation (ICRA)},
pages = {3154--3159},
year = {2015}
}
                
Paikan, A., Schiebener, D., Wächter, M., Asfour, T., Metta, G. and Natale, L., Transferring Object Grasping Knowledge and Skill Across Different Robotic Platforms, International Conference on Advanced Robotics (ICAR), pp. 498-503, July, 2015
BibTeX:

@INPROCEEDINGS {Paikan2015,
author = {Ali Paikan and David Schiebener and Mirko W\"achter and Tamim Asfour and Giorgio Metta and Lorenzo Natale},
title = {Transferring Object Grasping Knowledge and Skill Across Different Robotic Platforms},
booktitle = {International Conference on Advanced Robotics (ICAR)},
pages = {498--503},
year = {2015}
}
                
Vahrenkamp, N., Muth, D., Kaiser, P. and Asfour, T., IK-MAP: An Enhanced Workspace Representation to Support Inverse Kinematics Solvers, IEEE/RAS International Conference on Humanoid Robots (Humanoids), pp. 785-790, Nov, 2015
BibTeX:

@INPROCEEDINGS {Vahrenkamp2015b,
author = {Nikolaus Vahrenkamp and Dominik Muth and Peter Kaiser and Tamim Asfour},
title = {IK-MAP: An Enhanced Workspace Representation to Support Inverse Kinematics Solvers},
booktitle = {IEEE/RAS International Conference on Humanoid Robots (Humanoids)},
pages = {785--790},
year = {2015}
}
                
Wächter, M. and Asfour, T., Hierarchical Segmentation of Manipulation Actions based on Object Relations and Motion Characteristics, International Conference on Advanced Robotics (ICAR), pp. 549-556, July, 2015 (Best paper award candidate)
BibTeX:

@INPROCEEDINGS {Waechter2015,
author = {Mikro W\"achter and Tamim Asfour},
title = {Hierarchical Segmentation of Manipulation Actions based on Object Relations and Motion Characteristics},
booktitle = {International Conference on Advanced Robotics (ICAR)},
pages = {549--556},
year = {2015}
}
                
Books
Preprints
2014
Journals
Bohg, J., Morales, A., Asfour, T. and Kragic, D., Data-Driven Grasp Synthesis – A Survey, IEEE Transactions on Robotics, vol. 30, no. 2, pp. 289-309, 2014 (Key: grasping)

[BibTeX]
BibTeX:

@ARTICLE {Bohg2014,
author = {J. Bohg and A. Morales and T. Asfour and D. Kragic},
title = {Data-Driven Grasp Synthesis – A Survey},
pages = {289--309},
volume ={30},
number ={2},
journal ={IEEE Transactions on Robotics},
year = {2014}
}
                
Herzog, A., Pastor, P., Kalakrishnan, M., Righetti, L., Bohg, J., Asfour, T. and Schaal, S., Learning of Grasp Selection based on Shape-Templates, Autonomous Robots, vol. 36, no. 1-2, pp. 51-65, 2014 (Key: model-free grasping and grasp synthesis and template learning)

[BibTeX]
BibTeX:

@ARTICLE {Herzog2014,
author = {A. Herzog and P. Pastor and M. Kalakrishnan and L. Righetti and J. Bohg and T. Asfour and S. Schaal},
title = {Learning of Grasp Selection based on Shape-Templates},
pages = {51--65},
volume ={36},
number ={1-2},
journal ={Autonomous Robots},
year = {2014}
}
                
Paul, J., Stechele, W., Kröhnert, M. and Asfour, T., Resource-Aware Programming for Robotic Vision, CoRR, vol. abs/1405.2908, no. , 2014
BibTeX:

@ARTICLE {Paul2014:racing,
author = {Johny Paul and Walter Stechele and Manfred Kr\"ohnert and Tamim Asfour},
title = {Resource-Aware Programming for Robotic Vision},
pages = {0--0},
volume ={abs/1405.2908},
number ={},
journal ={CoRR},
year = {2014}
}
                
Conferences
Do, M., Schill, J., Ernesti, J. and Asfour, T., Learn to Wipe: A Case Study of Structural Bootstrapping from Sensorimotor Experience, IEEE International Conference on Robotics and Automation (ICRA), pp. 1858-1864, 2014
BibTeX:

@INPROCEEDINGS {Do2014,
author = {M. Do and J. Schill and J. Ernesti and T. Asfour},
title = {Learn to Wipe: A Case Study of Structural Bootstrapping from Sensorimotor Experience},
booktitle = {IEEE International Conference on Robotics and Automation (ICRA)},
pages = {1858--1864},
year = {2014}
}
                
Drigalski, F. V., Ikeda, A., Asfour, T. and Ogasawara, T., A Measurement Setup for the 3D Validation of Fingertip Deformation Models, International Conference on Digital Human Modeling Symposium (DHM), pp. 230-237, May, 2014
BibTeX:

@INPROCEEDINGS {Drigalski2014,
author = {Felix Von Drigalski and Atsutoshi Ikeda and Tamim Asfour and Tsukasa Ogasawara},
title = {A Measurement Setup for the 3D Validation of Fingertip Deformation Models},
booktitle = {International Conference on Digital Human Modeling Symposium (DHM)},
pages = {230--237},
year = {2014}
}
                
Felip, J., Morales, A. and Asfour, T., Multi-Sensor and Prediction Fusion for Contact Detection and Localization, IEEE/RAS International Conference on Humanoid Robots (Humanoids), pp. 601-607, 2014
BibTeX:

@INPROCEEDINGS {Felip2014,
author = {Javier Felip and Antonio Morales and Tamim Asfour},
title = {Multi-Sensor and Prediction Fusion for Contact Detection and Localization},
booktitle = {IEEE/RAS International Conference on Humanoid Robots (Humanoids)},
pages = {601--607},
year = {2014}
}
                
Gonzalez-Aguirre, D., Vollert, M., Asfour, T. and Dillmann, R., Robust Real-time 6D Active-visual Localization for Humanoid Robots, The IEEE international conference on robotics and automation, ICRA 2014, Hong Kong, China., pp. 2785-2791, 2014
BibTeX:

@INPROCEEDINGS {Gonzalez2014a,
author = {D. Gonzalez-Aguirre and M. Vollert and T. Asfour and R. Dillmann},
title = {Robust Real-time 6D Active-visual Localization for Humanoid Robots},
booktitle = {The IEEE international conference on robotics and automation, ICRA 2014, Hong Kong, China.},
pages = {2785--2791},
year = {2014}
}
                
Illing, B., Asfour, T. and Pollard, N. S., Changing Pre-Grasp Strategies With Increasing Object Location Uncertainty, IEEE/RSJ International Conference on Intelligent Robots and Systems (IROS), pp. 2468-2475, September, 2014
BibTeX:

@INPROCEEDINGS {Illing2014,
author = {Boris Illing and Tamim Asfour and Nancy S. Pollard},
title = {Changing Pre-Grasp Strategies With Increasing Object Location Uncertainty},
booktitle = {IEEE/RSJ International Conference on Intelligent Robots and Systems (IROS)},
pages = {2468--2475},
year = {2014}
}
                
Kaiser, P., Gonzalez-Aguirre, D., Schültje, F., Borràs, J., Vahrenkamp, N. and Asfour, T., Extracting Whole-Body Affordances from Multimodal Exploration, IEEE/RAS International Conference on Humanoid Robots (Humanoids), pp. 1036-1043, 2014
BibTeX:

@INPROCEEDINGS {Kaiser2014a,
author = {Peter Kaiser and David Gonzalez-Aguirre and Fabian Sch\"ultje and Júlia Borràs and Nikolaus Vahrenkamp and Tamim Asfour},
title = {Extracting Whole-Body Affordances from Multimodal Exploration},
booktitle = {IEEE/RAS International Conference on Humanoid Robots (Humanoids)},
pages = {1036--1043},
year = {2014}
}
                
Kaiser, P., Lewis, M., Petrick, R. P. A., Asfour, T. and Steedman, M., Extracting Common Sense Knowledge from Text for Robot Planning, IEEE International Conference on Robotics and Automation (ICRA), pp. 3749-3756, 2014
BibTeX:

@INPROCEEDINGS {Kaiser2014,
author = {Peter Kaiser and Mike Lewis and Ronald P. A. Petrick and Tamim Asfour and Mark Steedman},
title = {Extracting Common Sense Knowledge from Text for Robot Planning},
booktitle = {IEEE International Conference on Robotics and Automation (ICRA)},
pages = {3749--3756},
year = {2014}
}
                
Kröhnert, M., Vahrenkamp, N., Paul, J., Stechele, W. and Asfour, T., Resource Prediction for Humanoid Robots, Proceedings of the First Workshop on Resource Awareness and Adaptivity in Multi-Core Computing (Racing 2014), pp. 22-28, may, 2014
BibTeX:

@INPROCEEDINGS {Kroehnert2014,
author = {Manfred Kr\"ohnert and Nikolaus Vahrenkamp and Johny Paul and Walter Stechele and Tamim Asfour},
title = {Resource Prediction for Humanoid Robots},
booktitle = {Proceedings of the First Workshop on Resource Awareness and Adaptivity in Multi-Core Computing (Racing 2014)},
pages = {22--28},
year = {2014}
}
                
Paul, J., Stechele, W., Kröhnert, M., Asfour, T., Oechslein, B., Erhardt, C., Schedel, J., Lohmann, D. and Schröder-Preikschat, W., Resource-Aware Harris Corner Detection based on Adaptive Pruning, Proceedings of the Conference on Architecture of Computing Systems (ARCS), pp. 1-12, 2014
BibTeX:

@INPROCEEDINGS {paul2014:arcs,
author = {Johny Paul and Walter Stechele and Manfred Kr\"ohnert and Tamim Asfour and Benjamin Oechslein and Christoph Erhardt and Jens Schedel and Daniel Lohmann and Wolfgang Schr\"oder-Preikschat},
title = {Resource-Aware Harris Corner Detection based on Adaptive Pruning},
booktitle = {Proceedings of the Conference on Architecture of Computing Systems (ARCS)},
pages = {1--12},
year = {2014}
}
                
Paul, J., Stechele, W., Kroehnert, M. and Asfour, T., Improving Efficiency of Embedded Multi-core Platforms with Scratchpad Memories, Architecture of Computing Systems (ARCS), 2014 27th International Conference on, pp. 1-8, Feb, 2014
BibTeX:

@INPROCEEDINGS {Paul2014c,
author = {Johny Paul and Walter Stechele and Manfred Kroehnert and Tamim Asfour},
title = {Improving Efficiency of Embedded Multi-core Platforms with Scratchpad Memories},
booktitle = {Architecture of Computing Systems (ARCS), 2014 27th International Conference on},
pages = {1--8},
year = {2014}
}
                
Paul, J., Stechele, W., Sousa, E., Lari, V., Hannig, F., Teich, J., Kröhnert, M. and Asfour, T., Self-adaptive harris corner detector on heterogeneous many-core processor, Design and Architectures for Signal and Image Processing (DASIP), 2014 Conference on, pp. 1-8, Oct, 2014
BibTeX:

@INPROCEEDINGS {paul2014d,
author = {Johny Paul and Walter Stechele and Ericles Sousa and Vahid Lari and Frank Hannig and J\"urgen Teich and Manfred Kr\"ohnert and Tamim Asfour},
title = {Self-adaptive harris corner detector on heterogeneous many-core processor},
booktitle = {Design and Architectures for Signal and Image Processing (DASIP), 2014 Conference on},
pages = {1--8},
year = {2014}
}
                
Schiebener, D., Ude, A. and Asfour, T., Physical Interaction for Segmentation of Unknown Textured and Non-textured Rigid Objects, IEEE International Conference on Robotics and Automation (ICRA), pp. 4959-4966, 2014
BibTeX:

@INPROCEEDINGS {Schiebener2014,
author = {D. Schiebener and A. Ude and T. Asfour},
title = {Physical Interaction for Segmentation of Unknown Textured and Non-textured Rigid Objects},
booktitle = {IEEE International Conference on Robotics and Automation (ICRA)},
pages = {4959--4966},
year = {2014}
}
                
Schiebener, D., Vahrenkamp, N. and Asfour, T., Visual Collision Detection for Corrective Movements during Grasping on a Humanoid Robot, IEEE/RAS International Conference on Humanoid Robots (Humanoids), pp. 105-111, 2014
BibTeX:

@INPROCEEDINGS {Schiebener2014b,
author = {David Schiebener and Nikolaus Vahrenkamp and Tamim Asfour},
title = {Visual Collision Detection for Corrective Movements during Grasping on a Humanoid Robot},
booktitle = {IEEE/RAS International Conference on Humanoid Robots (Humanoids)},
pages = {105--111},
year = {2014}
}
                
Suwelack, S., Sander, C., Schill, J., Serf, M., Danz, M., Asfour, T., Burger, W., Dillmann, R. and Speidel, S., Towards open-source, low-cost haptics for surgery simulation, Medicine Meets Virtual Reality (MMVR), pp. 401-403, February, 2014
BibTeX:

@INPROCEEDINGS {Suwelack2014,
author = {S. Suwelack and C. Sander and J. Schill and Manuel Serf and M. Danz and T. Asfour and W. Burger and R. Dillmann and S. Speidel},
title = {Towards open-source, low-cost haptics for surgery simulation},
booktitle = {Medicine Meets Virtual Reality (MMVR)},
pages = {401--403},
year = {2014}
}
                
Terlemez, O., Ulbrich, S., Mandery, C., Do, M., Vahrenkamp, N. and Asfour, T., Master Motor Map (MMM) - Framework and Toolkit for Capturing, Representing, and Reproducing Human Motion on Humanoid Robots, IEEE/RAS International Conference on Humanoid Robots (Humanoids), pp. 894-901, November, 2014
BibTeX:

@INPROCEEDINGS {Terlemez2014,
author = {Oemer Terlemez and Stefan Ulbrich and Christian Mandery and Martin Do and Nikolaus Vahrenkamp and Tamim Asfour},
title = {Master Motor Map (MMM) - Framework and Toolkit for Capturing, Representing, and Reproducing Human Motion on Humanoid Robots},
booktitle = {IEEE/RAS International Conference on Humanoid Robots (Humanoids)},
pages = {894--901},
year = {2014}
}
                
Trovato, G., Do, M., Kuramochi, M., Terlemez, O., Asfour, T. and Takanishi, A., A novel culture-dependent gesture selection system for a humanoid robot performing greeting interaction, International Conference on Social Robotics (ICSR), pp. 340-349, 2014
BibTeX:

@INPROCEEDINGS {Trovato2014,
author = {G. Trovato and M. Do and M. Kuramochi and O. Terlemez and T. Asfour and A. Takanishi},
title = {A novel culture-dependent gesture selection system for a humanoid robot performing greeting interaction},
booktitle = {International Conference on Social Robotics (ICSR)},
pages = {340--349},
year = {2014}
}
                
Vahrenkamp, N., Wächter, M., Kröhnert, M., Kaiser, P., Welke, K. and Asfour, T., High-Level Robot Control with ArmarX, INFORMATIK – Workshop on Robot Control Architectures, Sep, 2014
BibTeX:

@INPROCEEDINGS {Vahrenkamp2014b,
author = {N. Vahrenkamp and M. W\"achter and M. Kr\"ohnert and P. Kaiser and K. Welke and T. Asfour},
title = {High-Level Robot Control with ArmarX},
booktitle = {INFORMATIK – Workshop on Robot Control Architectures},
pages = {0--0},
year = {2014}
}
                
Books
Preprints
2013
Journals
Asfour, T., Vahrenkamp, N., Schiebener, D., Do, M., Przybylski, M., Welke, K., Schill, J. and Dillmann, R., ARMAR-III: Advances in Humanoid Grasping and Manipulation, Journal of the Robotics Society of Japan, vol. 31, no. 4, pp. 341-346, 2013

[BibTeX]
BibTeX:

@ARTICLE {Asfour2013a,
author = {Tamim Asfour and Nikolaus Vahrenkamp and David Schiebener and Martin Do and Markus Przybylski and Kai Welke and Julian Schill and R\"udiger Dillmann},
title = {ARMAR-III: Advances in Humanoid Grasping and Manipulation},
pages = {341--346},
volume ={31},
number ={4},
journal ={Journal of the Robotics Society of Japan},
year = {2013}
}
                
Schiebener, D., Morimoto, J., Asfour, T. and Ude, A., Integrating visual perception and manipulation for autonomous learning of object representations, Adaptive Behavior, vol. 21, no. 5, pp. 328-345, 2013
BibTeX:

@ARTICLE {Schiebener2013,
author = {D. Schiebener and J. Morimoto and T. Asfour and A. Ude},
title = {Integrating visual perception and manipulation for autonomous learning of object representations},
pages = {328--345},
volume ={21},
number ={5},
journal ={Adaptive Behavior},
year = {2013}
}
                
Conferences
Asfour, T., Schill, J., Peters, H., Klas, C., Bücker, J., Sander, C., Schulz, S., Kargov, A., Werner, T. and Bartenbach, V., ARMAR-4: A 63 DOF Torque Controlled Humanoid Robot, IEEE/RAS International Conference on Humanoid Robots (Humanoids), pp. 390-396, October, 2013
BibTeX:

@INPROCEEDINGS {Asfour2013,
author = {Tamim Asfour and Julian Schill and Heiner Peters and Cornelius Klas and Jens B\"ucker and Christian Sander and Stefan Schulz and Artem Kargov and Tino Werner and Volker Bartenbach},
title = {ARMAR-4: A 63 DOF Torque Controlled Humanoid Robot},
booktitle = {IEEE/RAS International Conference on Humanoid Robots (Humanoids)},
pages = {390--396},
year = {2013}
}
                
Deniša, M., Petrič, T., Asfour, T. and Ude, A., Synthesizing Compliant Reaching Movements by Searching a Database of Example Trajectories, IEEE/RAS International Conference on Humanoid Robots (Humanoids), pp. 540-546, 2013
BibTeX:

@INPROCEEDINGS {Denisa2013,
author = {Miha Deniša and Tadej Petrič and Tamim Asfour and Aleš Ude},
title = {Synthesizing Compliant Reaching Movements by Searching a Database of Example Trajectories},
booktitle = {IEEE/RAS International Conference on Humanoid Robots (Humanoids)},
pages = {540--546},
year = {2013}
}
                
Fukaya, N., Asfour, T., Dillmann, R. and Toyama, S., Development of a Five-Finger Dexterous Hand without Feedback Control: The TUAT/Karlsruhe Humanoid Hand, IEEE/RSJ International Conference on Intelligent Robots and Systems (IROS), pp. 4533-4540, 2013
BibTeX:

@INPROCEEDINGS {Fukaya2013,
author = {Naoki Fukaya and Tamim Asfour and R\"diger Dillmann and Shigeki Toyama},
title = {Development of a Five-Finger Dexterous Hand without Feedback Control: The TUAT/Karlsruhe Humanoid Hand},
booktitle = {IEEE/RSJ International Conference on Intelligent Robots and Systems (IROS)},
pages = {4533--4540},
year = {2013}
}
                
Gams, A., Nemec, B., Zlajpah, L., Wächter, M., Ijspeert, A., Asfour, T. and Ude, A., Modulation of Motor Primitives using Force Feedback: Interaction with the Environment and Bimanual Tasks, IEEE/RSJ International Conference on Intelligent Robots and Systems (IROS), pp. 5629-5635, 2013
BibTeX:

@INPROCEEDINGS {Gams2013,
author = {A. Gams and B. Nemec and L. Zlajpah and M. W\"achter and A. Ijspeert and T. Asfour and A. Ude},
title = {Modulation of Motor Primitives using Force Feedback: Interaction with the Environment and Bimanual Tasks},
booktitle = {IEEE/RSJ International Conference on Intelligent Robots and Systems (IROS)},
pages = {5629--5635},
year = {2013}
}
                
Gonzalez-Aguirre, D., Asfour, T. and Dillmann, R., Optimal High-Dynamic-Range Image Acquisition for Humanoid Robots, IEEE/RSJ International Conference on Intelligent Robots and Systems (IROS), pp. 2586-2593, 2013
BibTeX:

@INPROCEEDINGS {Gonzalez2013,
author = {D. Gonzalez-Aguirre and T. Asfour and R. Dillmann},
title = {Optimal High-Dynamic-Range Image Acquisition for Humanoid Robots},
booktitle = {IEEE/RSJ International Conference on Intelligent Robots and Systems (IROS)},
pages = {2586--2593},
year = {2013}
}
                
Katzschmann, R., Kröger, T., Asfour, T. and Khatib, O., Towards Online Trajectory Generation Considering Robot Dynamics and Torque Limits, IEEE/RSJ International Conference on Intelligent Robots and Systems (IROS), pp. 5644-5651, 2013
BibTeX:

@INPROCEEDINGS {Kaztschmann2013,
author = {Robert Katzschmann and Torsten Kr\"oger and Tamim Asfour and Oussama Khatib},
title = {Towards Online Trajectory Generation Considering Robot Dynamics and Torque Limits},
booktitle = {IEEE/RSJ International Conference on Intelligent Robots and Systems (IROS)},
pages = {5644--5651},
year = {2013}
}
                
Paul, J., Stechele, W., Kröhnert, M., Asfour, T., Oechslein, B., Erhardt, C., Schedel, J., Lohmann, D. and Schröder-Preikschat, W., A Resource-Aware Nearest Neighbor Search Algorithm for K-Dimensional Trees, Proceedings of the 2013 Conference on Design & Architectures for Signal & Image Processing (DASIP 2013), pp. 80-87, 2013
BibTeX:

@INPROCEEDINGS {Paul2013:dasip,
author = {Johny Paul and Walter Stechele and Manfred Kr\"ohnert and Tamim Asfour and Benjamin Oechslein and Christoph Erhardt and Jens Schedel and Daniel Lohmann and Wolfgang Schr\"oder-Preikschat},
title = {A Resource-Aware Nearest Neighbor Search Algorithm for K-Dimensional Trees},
booktitle = {Proceedings of the 2013 Conference on Design & Architectures for Signal & Image Processing (DASIP 2013)},
pages = {80--87},
year = {2013}
}
                
Sousa, É. R., Tanase, A., Lari, V., Hannig, F., Teich, J., Paul, J., Stechele, W., Kröhnert, M. and Asfour, T., Acceleration of Optical Flow Computations on Tightly-Coupled Processor Arrays, Proceedings of the 25th Workshop on Parallel Systems and Algorithms (PARS), apr, 2013
BibTeX:

@INPROCEEDINGS {Sousa2013:PARS,
author = {Éricles R. Sousa and Alexandru Tanase and Vahid Lari and Frank Hannig and J\"urgen Teich and Johny Paul and Walter Stechele and Manfred Kr\"ohnert and Tamim Asfour},
title = {Acceleration of Optical Flow Computations on Tightly-Coupled Processor Arrays},
booktitle = {Proceedings of the 25th Workshop on Parallel Systems and Algorithms (PARS)},
pages = {0--0},
year = {2013}
}
                
Ulbrich, S. and Asfour, T., Improving Body Schema Learning with Kinematic Bezier Maps by Symmetry Constraints, ICRA Workshop on Autonomous Learning, 2013
BibTeX:

@INPROCEEDINGS {Ulbrich2013a,
author = {Stefan Ulbrich and Tamim Asfour},
title = {Improving Body Schema Learning with Kinematic Bezier Maps by Symmetry Constraints},
booktitle = {ICRA Workshop on Autonomous Learning},
pages = {0--0},
year = {2013}
}
                
Vahrenkamp, N., Asfour, T. and Dillmann, R., Robot Placement based on Reachability Inversion, IEEE International Conference on Robotics and Automation (ICRA), pp. 1970-1975, 2013
BibTeX:

@INPROCEEDINGS {Vahrenkamp2013,
author = {N. Vahrenkamp and T. Asfour and R. Dillmann},
title = {Robot Placement based on Reachability Inversion},
booktitle = {IEEE International Conference on Robotics and Automation (ICRA)},
pages = {1970--1975},
year = {2013}
}
                
Welke, K., Kaiser, P., Kozlov, A., Adermann, N., Asfour, T., Lewis, M. and Steedman, M., Grounded Spatial Symbols for Task Planning Based on Experience, IEEE/RAS International Conference on Humanoid Robots (Humanoids), pp. 484-491, 2013
BibTeX:

@INPROCEEDINGS {Welke2013c,
author = {Kai Welke and Peter Kaiser and Alexey Kozlov and Nils Adermann and Tamim Asfour and Mike Lewis and Mark Steedman},
title = {Grounded Spatial Symbols for Task Planning Based on Experience},
booktitle = {IEEE/RAS International Conference on Humanoid Robots (Humanoids)},
pages = {484--491},
year = {2013}
}
                
Welke, K., Schiebener, D., Asfour, T. and Dillmann, R., Gaze selection during manipulation tasks, IEEE International Conference on Robotics and Automation (ICRA), pp. 652-659, 2013
BibTeX:

@INPROCEEDINGS {Welke2013,
author = {K. Welke and D. Schiebener and T. Asfour and R. Dillmann},
title = {Gaze selection during manipulation tasks},
booktitle = {IEEE International Conference on Robotics and Automation (ICRA)},
pages = {652--659},
year = {2013}
}
                
Welke, K., Vahrenkamp, N., Wächter, M., Kroehnert, M. and Asfour, T., The ArmarX Framework - Supporting high level robot programming through state disclosure, GI Annual German Conference on Informatics, pp. 2823-2837, 2013
BibTeX:

@INPROCEEDINGS {Welke2013b,
author = {Kai Welke and Nikolaus Vahrenkamp and Mirko W\"achter and Manfred Kroehnert and Tamim Asfour},
title = {The ArmarX Framework - Supporting high level robot programming through state disclosure},
booktitle = {GI Annual German Conference on Informatics},
pages = {2823--2837},
year = {2013}
}
                
Wächter, M., Schulz, S., Asfour, T., Aksoy, E., Wörgötter, F. and Dillmann, R., Action Sequence Reproduction based on Automatic Segmentation and Object-Action Complexes, IEEE/RAS International Conference on Humanoid Robots (Humanoids), pp. 189-195, October, 2013
BibTeX:

@INPROCEEDINGS {Waechter2013,
author = {M. W\"achter and S. Schulz and T. Asfour and E. Aksoy and F. W\"org\"otter and R. Dillmann},
title = {Action Sequence Reproduction based on Automatic Segmentation and Object-Action Complexes},
booktitle = {IEEE/RAS International Conference on Humanoid Robots (Humanoids)},
pages = {189--195},
year = {2013}
}
                
Yamane, K., Revfi, M. and Asfour, T., Synthesizing object receiving motions of humanoid robots with human motion database., IEEE International Conference on Robotics and Automation (ICRA), pp. 1629-1636, 2013
BibTeX:

@INPROCEEDINGS {Yamane2013,
author = {Katsu Yamane and Marcel Revfi and Tamim Asfour},
title = {Synthesizing object receiving motions of humanoid robots with human motion database.},
booktitle = {IEEE International Conference on Robotics and Automation (ICRA)},
pages = {1629--1636},
year = {2013}
}
                
Books
Przybylski, M., Vahrenkamp, N., Asfour, T. and Dillmann, R., Grasp and Motion Planning for Humanoid Robots, Grasping in Robotics, Springer, 2013

[BibTeX]
BibTeX:

@INCOLLECTION {Przybylski2013,
author = {M. Przybylski and N. Vahrenkamp and T. Asfour and R. Dillmann},
publisher = {Springer},
booktitle = {Grasping in Robotics},
title = {Grasp and Motion Planning for Humanoid Robots},
pages = {329--359},
year = {2013}
}
                
Preprints
2012
Journals
Böge, C., Vahrenkamp, N., Asfour, T. and Dillmann, R., Visual Servoing for Single and Dual Arm Manipulation Tasks in Humanoid Robots, at - Automatisierungstechnik, vol. 60, no. 5, pp. 309-317, may, 2012
BibTeX:

@ARTICLE {Boege2012,
author = {C. B\"oge and N. Vahrenkamp and T. Asfour and R. Dillmann},
title = {Visual Servoing for Single and Dual Arm Manipulation Tasks in Humanoid Robots},
pages = {309--317},
volume ={60},
number ={5},
journal ={at - Automatisierungstechnik},
year = {2012}
}
                
Kappler, D., Chang, L. Y., Pollard, N. S., Asfour, T. and Dillmann, R., Templates for pre-grasp sliding interactions, Robotics and Autonomous Systems, vol. 60, no. 3, pp. 411-423, 2012
BibTeX:

@ARTICLE {Kappler2012,
author = {Daniel Kappler and Lillian Y. Chang and Nancy S. Pollard and Tamim Asfour and R\"udiger Dillmann},
title = {Templates for pre-grasp sliding interactions},
pages = {411--423},
volume ={60},
number ={3},
journal ={Robotics and Autonomous Systems},
year = {2012}
}
                
Ulbrich, S., Ruiz, V., Asfour, T., Torras, C. and Dillmann, R., General Kinematics Decomposition without Intermediate Markers, IEEE Transactions on Neural Networks and Learning Systems, vol. 23, no. 4, pp. 620-630, 2012
BibTeX:

@ARTICLE {Ulbrich2012a,
author = {S. Ulbrich and V. Ruiz and T. Asfour and C. Torras and R. Dillmann},
title = {General Kinematics Decomposition without Intermediate Markers},
pages = {620--630},
volume ={23},
number ={4},
journal ={IEEE Transactions on Neural Networks and Learning Systems},
year = {2012}
}
                
Ulbrich, S., Ruiz, V., Asfour, T., Torras, C. and Dillmann, R., Kinematic Bézier Maps, IEEE Transactions on Systems, Man, and Cybernetics, vol. 42, no. 4, pp. 1215-1230, 2012
BibTeX:

@ARTICLE {Ulbrich2012b,
author = {S. Ulbrich and V. Ruiz and T. Asfour and C. Torras and R. Dillmann},
title = {Kinematic Bézier Maps},
pages = {1215--1230},
volume ={42},
number ={4},
journal ={IEEE Transactions on Systems, Man, and Cybernetics},
year = {2012}
}
                
Vahrenkamp, N., Asfour, T. and Dillmann, R., Efficient Inverse Kinematics Computation based on Reachability Analysis, International Journal of Humanoid Robotics (IJHR), vol. 9, no. 4, 2012
BibTeX:

@ARTICLE {Vahrenkamp12d,
author = {Nikolaus Vahrenkamp and Tamim Asfour and R\"udiger Dillmann},
title = {Efficient Inverse Kinematics Computation based on Reachability Analysis},
pages = {0--0},
volume ={9},
number ={4},
journal ={International Journal of Humanoid Robotics (IJHR)},
year = {2012}
}
                
Vahrenkamp, N., Asfour, T. and Dillmann, R., Simultaneous Grasp and Motion Planning, IEEE Robotics & Automation Magazine, vol. 19, no. 2, pp. 43-57, June, 2012
BibTeX:

@ARTICLE {Vahrenkamp2012,
author = {N. Vahrenkamp and T. Asfour and R. Dillmann},
title = {Simultaneous Grasp and Motion Planning},
pages = {43--57},
volume ={19},
number ={2},
journal ={IEEE Robotics & Automation Magazine},
year = {2012}
}
                
Conferences
Bohg, J., Welke, K., Leon, B., Do, M., Song, D., Wohlkinger, W., Madry, M., Aldoma, A., Przybylski, M., Asfour, T., Marti, H., Kragic, D., Morales, A. and Vincze, M., Task-based Grasp Adaptation on a Humanoid Robot, 10th IFAC Symposium on Robot Control (SYROCO 2012), pp. 779-786, 2012
BibTeX:

@INPROCEEDINGS {Bohg2012,
author = {J. Bohg and K. Welke and B. Leon and M. Do and D. Song and W. Wohlkinger and M. Madry and A. Aldoma and M. Przybylski and T. Asfour and H. Marti and D. Kragic and A. Morales and M. Vincze},
title = {Task-based Grasp Adaptation on a Humanoid Robot},
booktitle = {10th IFAC Symposium on Robot Control (SYROCO 2012)},
pages = {779--786},
year = {2012}
}
                
Ernesti, J., Righetti, L., Do, M., Asfour, T. and Schaal, S., Encoding of Periodic and their Transient Motions by a Single Dynamic Movement Primitive, IEEE/RAS International Conference on Humanoid Robots (Humanoids), pp. 57-64, December, 2012
BibTeX:

@INPROCEEDINGS {Ernesti2012,
author = {J. Ernesti and L. Righetti and M. Do and T. Asfour and S. Schaal},
title = {Encoding of Periodic and their Transient Motions by a Single Dynamic Movement Primitive},
booktitle = {IEEE/RAS International Conference on Humanoid Robots (Humanoids)},
pages = {57--64},
year = {2012}
}
                
Gonzalez-Aguirre, D., Asfour, T. and Dillmann, R., Ground-Truth Uncertainty Model of Visual Depth Perception for Humanoid Robots, Humanoid Robots (Humanoids), 2010 10th IEEE-RAS International Conference on, pp. 436-442, 2012
BibTeX:

@INPROCEEDINGS {Gonzalez2012,
author = {D. Gonzalez-Aguirre and T. Asfour and R. Dillmann},
title = {Ground-Truth Uncertainty Model of Visual Depth Perception for Humanoid Robots},
booktitle = {Humanoid Robots (Humanoids), 2010 10th IEEE-RAS International Conference on},
pages = {436--442},
year = {2012}
}
                
Herzog, A., Pastor, P., Kalakrishnan, M., Righetti, L., Asfour, T. and Schaal, S., Template-based learning of grasp selection, IEEE International Conference on Robotics and Automation (ICRA), pp. 2379-2384, 2012
BibTeX:

@INPROCEEDINGS {Herzog2012,
author = {A. Herzog and P. Pastor and M. Kalakrishnan and L. Righetti and T. Asfour and S. Schaal},
title = {Template-based learning of grasp selection},
booktitle = {IEEE International Conference on Robotics and Automation (ICRA)},
pages = {2379--2384},
year = {2012}
}
                
Kaiser, P., Berenson, D., Vahrenkamp, N., Asfour, T., Dillmann, R. and Srinivasa, S., Constellation - An Algorithm for Finding Robot Configurations that Satisfy Multiple Constraints, IEEE International Conference on Robotics and Automation (ICRA), pp. 436-443, 2012
BibTeX:

@INPROCEEDINGS {Kaiser2012,
author = {Peter Kaiser and Dmitry Berenson and Nikolaus Vahrenkamp and Tamim Asfour and R\"udiger Dillmann and Siddhartha Srinivasa},
title = {Constellation - An Algorithm for Finding Robot Configurations that Satisfy Multiple Constraints},
booktitle = {IEEE International Conference on Robotics and Automation (ICRA)},
pages = {436--443},
year = {2012}
}
                
Lengagne, S., Terlemez, O., Laturnus, S., Asfour, T. and Dillmann, R., Retrieving Contact Points Without Environment Knowledge, IEEE-RAS International conference on Humanoid robots, pp. 841-846, 2012
BibTeX:

@INPROCEEDINGS {lengagne2012retr,
author = {Sébastien Lengagne and Oemer Terlemez and Sophie Laturnus and Tamim Asfour and Ruediger Dillmann},
title = {Retrieving Contact Points Without Environment Knowledge},
booktitle = {IEEE-RAS International conference on Humanoid robots},
pages = {841--846},
year = {2012}
}
                
Navarro, S., N.Gorges, ., Wörn, H., Schill, J., Asfour, T. and Dillmann, R., Haptic object recognition for multi-fingered robot hands, IEEE Haptics Symposium, pp. 497-502, March, 2012
BibTeX:

@INPROCEEDINGS {Navarro2012,
author = {S. Navarro and N.Gorges and H. W\"orn and J. Schill and T. Asfour and R. Dillmann},
title = {Haptic object recognition for multi-fingered robot hands},
booktitle = {IEEE Haptics Symposium},
pages = {497--502},
year = {2012}
}
                
Paul, J., Stechele, W., Kröhnert, M., Asfour, T. and Dillmann, R., Invasive Computing for Robotic Vision, Proceedings of the 17th Asia and South Pacific Design Automation Conference (ASP-DAC), pp. 207-212, jan, 2012
BibTeX:

@INPROCEEDINGS {PS12aspdac,
author = {Johny Paul and Walter Stechele and Manfred Kr\"ohnert and Tamim Asfour and R\"udiger Dillmann},
title = {Invasive Computing for Robotic Vision},
booktitle = {Proceedings of the 17th Asia and South Pacific Design Automation Conference (ASP-DAC)},
pages = {207--212},
year = {2012}
}
                
Przybylski, M., Wächter, M., Asfour, T. and Dillmann, R., A Skeleton-based Approach to Grasp Known Objects with a Humanoid Robot, IEEE/RAS International Conference on Humanoid Robots (Humanoids), pp. 376-383, 2012
BibTeX:

@INPROCEEDINGS {Przybylski2012,
author = {M. Przybylski and M. W\"achter and T. Asfour and R. Dillmann},
title = {A Skeleton-based Approach to Grasp Known Objects with a Humanoid Robot},
booktitle = {IEEE/RAS International Conference on Humanoid Robots (Humanoids)},
pages = {376--383},
year = {2012}
}
                
Schiebener, D., Schill, J. and Asfour, T., Discovery, Segmentation and Reactive Grasping of Unknown Objects, IEEE/RAS International Conference on Humanoid Robots (Humanoids), pp. 71-77, November, 2012
BibTeX:

@INPROCEEDINGS {Schiebener2012,
author = {D. Schiebener and J. Schill and T. Asfour},
title = {Discovery, Segmentation and Reactive Grasping of Unknown Objects},
booktitle = {IEEE/RAS International Conference on Humanoid Robots (Humanoids)},
pages = {71--77},
year = {2012}
}
                
Schill, J., Laaksonen, J., Przybylski, M., Kyrki, V., Asfour, T. and Dillmann, R., Learning continuous grasp stability for a humanoid robot hand based on tactile sensing, IEEE RAS EMBS International Conference on Biomedical Robotics and Biomechatronics (BioRob), pp. 1901-1906, June, 2012
BibTeX:

@INPROCEEDINGS {Schill2012,
author = {J. Schill and J. Laaksonen and M. Przybylski and V. Kyrki and T. Asfour and R. Dillmann},
title = {Learning continuous grasp stability for a humanoid robot hand based on tactile sensing},
booktitle = {IEEE RAS EMBS International Conference on Biomedical Robotics and Biomechatronics (BioRob)},
pages = {1901--1906},
year = {2012}
}
                
Ude, A., Schiebener, D., Sugimoto, N. and Morimoto, J., Integrating surface-based hypotheses and manipulation for autonomous segmentation and learning of object representations, IEEE International Conference on Robotics and Automation (ICRA), pp. 1709-1715, May, 2012
BibTeX:

@INPROCEEDINGS {Ude2012,
author = {A. Ude and D. Schiebener and N. Sugimoto and J. Morimoto},
title = {Integrating surface-based hypotheses and manipulation for autonomous segmentation and learning of object representations},
booktitle = {IEEE International Conference on Robotics and Automation (ICRA)},
pages = {1709--1715},
year = {2012}
}
                
Ulbrich, S., Bechtel, M., Asfour, T. and Dillmann, R., Learning Robot Dynamics with Kinematic Bézier Maps, IEEE/RSJ International Conference on Intelligent Robots and Systems (IROS), 2012
BibTeX:

@INPROCEEDINGS {Ulbrich2012c,
author = {S. Ulbrich and M. Bechtel and T. Asfour and R. Dillmann},
title = {Learning Robot Dynamics with Kinematic Bézier Maps},
booktitle = {IEEE/RSJ International Conference on Intelligent Robots and Systems (IROS)},
pages = {0--0},
year = {2012}
}
                
Vahrenkamp, N., Asfour, T., Metta, G., Sandini, G. and Dillmann, R., Manipulability Analysis, Humanoids, pp. 568-573, 2012
BibTeX:

@INPROCEEDINGS {Vahrenkamp12c,
author = {Nikolaus Vahrenkamp and Tamim Asfour and Giorgio Metta and Giulio Sandini and R\"udiger Dillmann},
title = {Manipulability Analysis},
booktitle = {Humanoids},
pages = {568--573},
year = {2012}
}
                
Vahrenkamp, N., Kröhnert, M., Ulbrich, S., Asfour, T., Metta, G., Dillmann, R. and Sandini, G., Simox: A Robotics Toolbox for Simulation, Motion and Grasp Planning, International Conference on Intelligent Autonomous Systems (IAS), pp. 585-594, 2012
BibTeX:

@INPROCEEDINGS {Vahrenkamp12b,
author = {Nikolaus Vahrenkamp and Manfred Kr\"ohnert and Stefan Ulbrich and Tamim Asfour and Giorgio Metta and R\"udiger Dillmann and Giulio Sandini},
title = {Simox: A Robotics Toolbox for Simulation, Motion and Grasp Planning},
booktitle = {International Conference on Intelligent Autonomous Systems (IAS)},
pages = {585--594},
year = {2012}
}
                
Books
Preprints
2011
Journals
Asfour, T., Do, M., Welke, K., Bierbaum, A., Azad, P., Vahrenkamp, N., Gärtner, S., Ude, A. and Dillmann, R., From sensorimotor primitives to manipulation and imitation strategies in humanoid robots, Robotics Research, Springer Tracts in Advanced Robotics, vol. 70, no. STAR, pp. 363-378, 2011

[BibTeX]
BibTeX:

@ARTICLE {Asfour2011,
author = {T. Asfour and M. Do and K. Welke and A. Bierbaum and P. Azad and N. Vahrenkamp and S. G\"artner and A. Ude and R. Dillmann},
title = {From sensorimotor primitives to manipulation and imitation strategies in humanoid robots},
pages = {363--378},
volume ={70},
number ={STAR},
journal ={Robotics Research, Springer Tracts in Advanced Robotics},
year = {2011}
}
                
Fischer, A., Do, M., Stein, T., Asfour, T., Dillmann, R. and Schwameder, H., Recognition of Individual Kinematic Patterns during Walking and Running - A Comparison of Artificial Neural Networks and Support Vector Machines, Int. J. Comp. Sci. Sport, vol. 10, no. 1, pp. 63-67, 2011
BibTeX:

@ARTICLE {Fischer2011,
author = {Andreas Fischer and Martin Do and Thorsten Stein and Tamim Asfour and R\"udiger Dillmann and Hermann Schwameder},
title = {Recognition of Individual Kinematic Patterns during Walking and Running - A Comparison of Artificial Neural Networks and Support Vector Machines},
pages = {63--67},
volume ={10},
number ={1},
journal ={Int. J. Comp. Sci. Sport},
year = {2011}
}
                
Goldman, R. P., Geib, C. W., Kautz, H. and Asfour, T., Plan Recognition (Dagstuhl Seminar 11141), Dagstuhl Reports, vol. 1, no. 4, pp. 1-22, 2011

[BibTeX]
BibTeX:

@ARTICLE {Goldman2011,
author = {Robert P. Goldman and Christopher W. Geib and Henry Kautz and Tamim Asfour},
title = {Plan Recognition (Dagstuhl Seminar 11141)},
pages = {1--22},
volume ={1},
number ={4},
journal ={Dagstuhl Reports},
year = {2011}
}
                
Krüger, N., Geib, C., Piater, J., Petrick, R., Steedman, M., Wörgötter, F., Ude, A., Asfour, T., Kraft, D., Omrčen, D., Agostini, A. and Dillmann, R., Object-Action Complexes: Grounded Abstractions of Sensorimotor Processes, Robotics and Autonomous Systems, vol. 59, no. , pp. 740-757, 2011

[BibTeX]
BibTeX:

@ARTICLE {KruegerEtAlRas2011,
author = {Norbert Kr\"uger and Christopher Geib and Justus Piater and Ronald Petrick and Mark Steedman and Florentin W\"org\"otter and Aleš Ude and Tamim Asfour and Dirk Kraft and Damir Omrčen and Alejandro Agostini and R\"udiger Dillmann},
title = {Object-Action Complexes: Grounded Abstractions of Sensorimotor Processes},
pages = {740--757},
volume ={59},
number ={},
journal ={Robotics and Autonomous Systems},
year = {2011}
}
                
Conferences
Asfour, T., Towards High-Performance 24/7 Cognitive Humanoids, Berlin Summit on Robotics, pp. 53-61, July, 2011

[BibTeX]
BibTeX:

@INPROCEEDINGS {Asfour2011ba,
author = {T. Asfour},
title = {Towards High-Performance 24/7 Cognitive Humanoids},
booktitle = {Berlin Summit on Robotics},
pages = {53--61},
year = {2011}
}
                
Asfour, T., Towards High-Performance 24/7 Cognitive Humanoids, Berlin Summit on Robotics, pp. 53-61, July, 2011

[BibTeX]
BibTeX:

@INPROCEEDINGS {Asfour2011bb,
author = {T. Asfour},
title = {Towards High-Performance 24/7 Cognitive Humanoids},
booktitle = {Berlin Summit on Robotics},
pages = {53--61},
year = {2011}
}
                
Azad, P., Münch, D., Asfour, T. and Dillmann, R., 6-DoF Model-based Tracking of Arbitrarily Shaped 3D Objects, IEEE International Conference on Robotics and Automation (ICRA), pp. 5204-5209, 2011
BibTeX:

@INPROCEEDINGS {Azad2011,
author = {P. Azad and D. M\"unch and T. Asfour and R. Dillmann},
title = {6-DoF Model-based Tracking of Arbitrarily Shaped 3D Objects},
booktitle = {IEEE International Conference on Robotics and Automation (ICRA)},
pages = {5204--5209},
year = {2011}
}
                
Do, M., Asfour, T. and Dillmann, R., Towards a Unifying Grasp Representation for Imitation Learning on Humanoid Robots, IEEE International Conference on Robotics and Automation (ICRA), pp. 482-488, May, 2011
BibTeX:

@INPROCEEDINGS {Do2011a,
author = {M. Do and T. Asfour and R. Dillmann},
title = {Towards a Unifying Grasp Representation for Imitation Learning on Humanoid Robots},
booktitle = {IEEE International Conference on Robotics and Automation (ICRA)},
pages = {482--488},
year = {2011}
}
                
Do, M., Asfour, T. and Dillmann, R., Particle Filter-Based Fingertip Tracking with Circular Hough Transform Features, IAPR Machine Vision Applications (MVA'11), June, 2011
BibTeX:

@INPROCEEDINGS {Do2011b,
author = {M. Do and T. Asfour and R. Dillmann},
title = {Particle Filter-Based Fingertip Tracking with Circular Hough Transform Features},
booktitle = {IAPR Machine Vision Applications (MVA'11)},
pages = {0--0},
year = {2011}
}
                
Gonzalez-Aguirre, D., Asfour, T. and Dillmann, R., Robust Image Acquisition for Vision-Model Coupling by Humanoid Robots, None, pp. 557-561, 2011
BibTeX:

@INPROCEEDINGS {Gonzalez2012b,
author = {D. Gonzalez-Aguirre and T. Asfour and R. Dillmann},
title = {Robust Image Acquisition for Vision-Model Coupling by Humanoid Robots},
booktitle = {None},
pages = {557--561},
year = {2011}
}
                
Gonzalez-Aguirre, D., Hoch, J., Rohl, S., Asfour, T., Bayro-Corrochano, E. and Dillmann, R., Towards shape-based visual object categorization for humanoid robots, Robotics and Automation (ICRA), 2011 IEEE International Conference on, pp. 5226-5232, may, 2011
BibTeX:

@INPROCEEDINGS {Gonzalez2011a,
author = {D. Gonzalez-Aguirre and J. Hoch and S. Rohl and T. Asfour and E. Bayro-Corrochano and R. Dillmann},
title = {Towards shape-based visual object categorization for humanoid robots},
booktitle = {Robotics and Automation (ICRA), 2011 IEEE International Conference on},
pages = {5226--5232},
year = {2011}
}
                
Herzog, A., Pastor, P., Kalakrishnan, M., Righetti, L., Asfour, T. and Schaal, S., Template-Based Learning of Grasp Selection, Proceedings IROS-2011 Workshop "The PR2 Workshop -Results, Challenges and Lessons Learned in Advancing Robots with a Common Platform", September, 2011
BibTeX:

@INPROCEEDINGS {Herzog2011,
author = {A. Herzog and P. Pastor and M. Kalakrishnan and L. Righetti and T. Asfour and S. Schaal},
title = {Template-Based Learning of Grasp Selection},
booktitle = {Proceedings IROS-2011 Workshop "The PR2 Workshop -Results, Challenges and Lessons Learned in Advancing Robots with a Common Platform"},
pages = {0--0},
year = {2011}
}
                
Przybylski, M., Asfour, T. and Dillmann, R., Planning Grasps for Robotic Hands using a Novel Object Representation based on the Medial Axis Transform, IEEE/RSJ International Conference on Intelligent Robots and Systems (IROS), pp. 1781-1788, 2011
BibTeX:

@INPROCEEDINGS {Przybylski2011,
author = {M. Przybylski and T. Asfour and R. Dillmann},
title = {Planning Grasps for Robotic Hands using a Novel Object Representation based on the Medial Axis Transform},
booktitle = {IEEE/RSJ International Conference on Intelligent Robots and Systems (IROS)},
pages = {1781--1788},
year = {2011}
}
                
Przybylski, M., Gilster, R., Asfour, T., Deubel, H. and Dillmann, R., Human-Inspired Selection of Grasp Hypotheses for Execution on a Humanoid Robot, IEEE/RAS International Conference on Humanoid Robots (Humanoids), pp. 643-649, October, 2011
BibTeX:

@INPROCEEDINGS {Przybylski2011a,
author = {M. Przybylski and R. Gilster and T. Asfour and H. Deubel and R. Dillmann},
title = {Human-Inspired Selection of Grasp Hypotheses for Execution on a Humanoid Robot},
booktitle = {IEEE/RAS International Conference on Humanoid Robots (Humanoids)},
pages = {643--649},
year = {2011}
}
                
Roehl, S., Speidel, S., Gonzalez-Aguirre, D., Suwelack, S., Kenngott, H., Asfour, T., Mueller-Stich, B. and Dillmann, R., From Stereo Image Sequences to Smooth and Robust Surface Models using Temporal Information and Bilateral Postprocessing, IEEE International conference on Robotics and Biomimetics, pp. 544-550, 2011
BibTeX:

@INPROCEEDINGS {Roehl2011,
author = {S. Roehl and S. Speidel and D. Gonzalez-Aguirre and S. Suwelack and H. Kenngott and T. Asfour and B. Mueller-Stich and R. Dillmann},
title = {From Stereo Image Sequences to Smooth and Robust Surface Models using Temporal Information and Bilateral Postprocessing},
booktitle = {IEEE International conference on Robotics and Biomimetics},
pages = {544--550},
year = {2011}
}
                
Schiebener, D., Ude, A., Morimoto, J., Asfour, T. and Dillmann, R., Segmentation and learning of unknown objects through physical interaction, IEEE/RAS International Conference on Humanoid Robots (Humanoids), pp. 500-506, October, 2011
BibTeX:

@INPROCEEDINGS {Schiebener2011,
author = {D. Schiebener and A. Ude and J. Morimoto and T. Asfour and R. Dillmann},
title = {Segmentation and learning of unknown objects through physical interaction},
booktitle = {IEEE/RAS International Conference on Humanoid Robots (Humanoids)},
pages = {500--506},
year = {2011}
}
                
Ulbrich, S., Kappler, D., Asfour, T., Vahrenkamp, N., Bierbaum, A., Przybylski, M. and Dillmann, R., The OpenGRASP Benchmarking Suite: An Environment for the Comparative Analysis of Grasping and Dexterous Manipulation, IEEE/RSJ International Conference on Intelligent Robots and Systems (IROS), pp. 3598-3604, September, 2011
BibTeX:

@INPROCEEDINGS {Ulbrich2011,
author = {Stefan Ulbrich and Daniel Kappler and Tamim Asfour and Nikolaus Vahrenkamp and Alexander Bierbaum and Markus Przybylski and R\"udiger Dillmann},
title = {The OpenGRASP Benchmarking Suite: An Environment for the Comparative Analysis of Grasping and Dexterous Manipulation},
booktitle = {IEEE/RSJ International Conference on Intelligent Robots and Systems (IROS)},
pages = {3598--3604},
year = {2011}
}
                
Vahrenkamp, N., Kaiser, P., Asfour, T. and Dillmann, R., RDT+: A Parameter–free Algorithm for Exact Motion Planning, IEEE International Conference on Robotics and Automation (ICRA), pp. 715-722, 2011
BibTeX:

@INPROCEEDINGS {Vahrenkamp2011,
author = {N. Vahrenkamp and P. Kaiser and T. Asfour and R. Dillmann},
title = {RDT+: A Parameter–free Algorithm for Exact Motion Planning},
booktitle = {IEEE International Conference on Robotics and Automation (ICRA)},
pages = {715--722},
year = {2011}
}
                
Vahrenkamp, N., Przybylski, M., Asfour, T. and Dillmann, R., Bimanual Grasp Planning, IEEE/RAS International Conference on Humanoid Robots (Humanoids), pp. 493-499, October, 2011
BibTeX:

@INPROCEEDINGS {Vahrenkamp2011a,
author = {N. Vahrenkamp and M. Przybylski and T. Asfour and R. Dillmann},
title = {Bimanual Grasp Planning},
booktitle = {IEEE/RAS International Conference on Humanoid Robots (Humanoids)},
pages = {493--499},
year = {2011}
}
                
Welke, K., Asfour, T. and Dillmann, R., Inhibition of return in the Bayesian strategy to active visual search, IAPR Conference on Machine Vision Applications, pp. 79-83, 2011
BibTeX:

@INPROCEEDINGS {Welke2011,
author = {K. Welke and T. Asfour and R. Dillmann},
title = {Inhibition of return in the Bayesian strategy to active visual search},
booktitle = {IAPR Conference on Machine Vision Applications},
pages = {79--83},
year = {2011}
}
                
Books
Preprints
2010
Journals
Dillmann, R., Asfour, T., Do, M., Jäkel, R., Kasper, A., Azad, P., Ude, A., Schmidt-Rohr, S. and Lösch, M., Advances in Robot Programming by Demonstration, KI - Künstliche Intelligenz, vol. 24, no. 4, pp. 295-303, 2010
BibTeX:

@ARTICLE {Dillmann2010,
author = {R\"udiger Dillmann and Tamim Asfour and Martin Do and Rainer J\"akel and Alexander Kasper and Pedram Azad and Aleš Ude and Sven Schmidt-Rohr and Martin L\"osch},
title = {Advances in Robot Programming by Demonstration},
pages = {295--303},
volume ={24},
number ={4},
journal ={KI - K\"unstliche Intelligenz},
year = {2010}
}
                
Gonzalez-Aguirre, D., Asfour, T. and Dillmann, R., Towards stratified model-based environmental visual perception for humanoid robots, Pattern Recognition Letters, Special Issue on Advances in Theory and Applications of Pattern Recognition, Image Processing and Computer Vision., vol. Volume 32, Issue 16, Available online 13 October 2010, no. , pp. 2254-2260, 2010
BibTeX:

@ARTICLE {Gonzalez-Aguirre2010a,
author = {D. Gonzalez-Aguirre and T. Asfour and R. Dillmann},
title = {Towards stratified model-based environmental visual perception for humanoid robots},
pages = {2254--2260},
volume ={Volume 32, Issue 16, Available online 13 October 2010},
number ={},
journal ={Pattern Recognition Letters, Special Issue on Advances in Theory and Applications of Pattern Recognition, Image Processing and Computer Vision.},
year = {2010}
}
                
Popović, M., Kraft, D., Bodenhagen, L., Ba\cseski, E., Pugeault, N., Kragic, D., Asfour, T. and Krüger, N., A strategy for grasping unknown objects based on co-planarity and colour information, Robotics and Autonomous Systems, vol. 58, no. 5, pp. 551-565, may, 2010

[BibTeX]
BibTeX:

@ARTICLE {Popovic2010,
author = {Mila Popović and Dirk Kraft and Leon Bodenhagen and Emre Ba\cseski and Nicolas Pugeault and Danica Kragic and Tamim Asfour and Norbert Kr\"uger},
title = {A strategy for grasping unknown objects based on co-planarity and colour information},
pages = {551--565},
volume ={58},
number ={5},
journal ={Robotics and Autonomous Systems},
year = {2010}
}
                
Ude, A., Gams, A., Asfour, T. and Morimoto, J., Task-Specific Generalization of Discrete and Periodic Dynamic Movement Primitives, IEEE Transactions on Robotics, vol. 26, no. 5, pp. 800-815, October, 2010

[BibTeX]
BibTeX:

@ARTICLE {Ude2010a,
author = {A. Ude and A. Gams and T. Asfour and J. Morimoto},
title = {Task-Specific Generalization of Discrete and Periodic Dynamic Movement Primitives},
pages = {800--815},
volume ={26},
number ={5},
journal ={IEEE Transactions on Robotics},
year = {2010}
}
                
Werner, T., Kargov, A., Gaiser, I., Bierbaum, A., Schill, J., Schulz, S. and Bretthauer, G., A Fluidic Driven Anthropomorphic Robotic Hand, at - Automatisierungstechnik, vol. 58, no. 12, pp. 681-687, 2010
BibTeX:

@ARTICLE {Werner2010,
author = {Tino Werner and Artem Kargov and Immanuel Gaiser and Alexander Bierbaum and Julian Schill and Stefan Schulz and Georg Bretthauer},
title = {A Fluidic Driven Anthropomorphic Robotic Hand},
pages = {681--687},
volume ={58},
number ={12},
journal ={at - Automatisierungstechnik},
year = {2010}
}
                
Conferences
Gams, A., Do, M., Ude, A., Asfour, T. and Dillmann, R., On-Line Periodic Movement and Force-Profile Learning for Adaptation to New Surfaces, IEEE/RAS International Conference on Humanoid Robots (Humanoids), pp. 560-565, December, 2010
BibTeX:

@INPROCEEDINGS {Gams2010,
author = {A. Gams and M. Do and A. Ude and T. Asfour and R. Dillmann},
title = {On-Line Periodic Movement and Force-Profile Learning for Adaptation to New Surfaces},
booktitle = {IEEE/RAS International Conference on Humanoid Robots (Humanoids)},
pages = {560--565},
year = {2010}
}
                
Gonzalez-Aguirre, D., Asfour, T. and Dillmann, R., Eccentricity Edge-Graphs from HDR Images for Object Recognition by Humanoid Robots, Humanoid Robots (Humanoids), 2010 10th IEEE-RAS International Conference on, pp. 144-151, December, 2010
BibTeX:

@INPROCEEDINGS {Gonzalez2010a,
author = {D. Gonzalez-Aguirre and T. Asfour and R. Dillmann},
title = {Eccentricity Edge-Graphs from HDR Images for Object Recognition by Humanoid Robots},
booktitle = {Humanoid Robots (Humanoids), 2010 10th IEEE-RAS International Conference on},
pages = {144--151},
year = {2010}
}
                
Gärtner, S., Do, M., Simonidis, C., Asfour, T., Seemann, W. and Dillmann, R., Generation of Human-like Motion for Humanoid Robots Based on Marker-based Motion Capture Data, 41th International Symposium on Robotics (ISR), pp. 1-8, 2010

[BibTeX]
BibTeX:

@INPROCEEDINGS {Gaertner2010,
author = {S. G\"artner and M. Do and C. Simonidis and T. Asfour and W. Seemann and R. Dillmann},
title = {Generation of Human-like Motion for Humanoid Robots Based on Marker-based Motion Capture Data},
booktitle = {41th International Symposium on Robotics (ISR)},
pages = {1--8},
year = {2010}
}
                
Kappler, D., Chang, L., Przybylski, M., Pollard, N. S., Asfour, T. and Dillmann, R., Representation of Pre-Grasp Strategies for Object Manipulation, IEEE/RAS International Conference on Humanoid Robots (Humanoids), pp. 617-624, December, 2010
BibTeX:

@INPROCEEDINGS {Kappler2010,
author = {D. Kappler and L. Chang and M. Przybylski and N. S. Pollard and T. Asfour and R. Dillmann},
title = {Representation of Pre-Grasp Strategies for Object Manipulation},
booktitle = {IEEE/RAS International Conference on Humanoid Robots (Humanoids)},
pages = {617--624},
year = {2010}
}
                
Kraft, F., Kilgour, K., Saam, R., St\"(u)cker, S., W\"(o)lfel, M., Asfour, T. and Waibel, A., Towards Social Integration of Humanoid Robots by Conversational Concept Learning, IEEE/RAS International Conference on Humanoid Robots (Humanoids), pp. 352-357, December, 2010

[BibTeX]
BibTeX:

@INPROCEEDINGS {Kraft2010,
author = {F. Kraft and K. Kilgour and R. Saam and S. St\"(u)cker and M. W\"(o)lfel and T. Asfour and A. Waibel},
title = {Towards Social Integration of Humanoid Robots by Conversational Concept Learning},
booktitle = {IEEE/RAS International Conference on Humanoid Robots (Humanoids)},
pages = {352--357},
year = {2010}
}
                
Krüger, N., Pugeault, N., Baseski, E., Jensen, L. B. W., Kalkan, S., Kraft, D., Jessen, J. B., Pilz, F., KjÊr-Nielsen, A., Popovic, M., Asfour, T., Piater, J., Kragic, D. and Wörgötter, F., Early Cognitive Vision as a Frontend for Cognitive Systems, ECCV 2010 Workshop on Vision for Cognitive Tasks, 2010
BibTeX:

@INPROCEEDINGS {Krueger-ECCV2010,
author = {Norbert Kr\"uger and Nicolas Pugeault and Emre Baseski and Lars Baunegaard With Jensen and Sinan Kalkan and Dirk Kraft and Jeppe BarsÞe Jessen and Florian Pilz and Anders KjÊr-Nielsen and Mila Popovic and Tamim Asfour and Justus Piater and Danica Kragic and Florentin W\"org\"otter},
title = {Early Cognitive Vision as a Frontend for Cognitive Systems},
booktitle = {ECCV 2010 Workshop on Vision for Cognitive Tasks},
pages = {0--0},
year = {2010}
}
                
Leon, B., Ulbrich, S., Diankov, R., Puche, G., Przybylski, M., Morales, A., Asfour, T., Moisio, S., Bohg, J., Kuffner, J. and Dillmann, R., OpenGRASP: A Toolkit for Robot Grasping Simulation, 2nd International Conference on Simulation, Modeling, and Programming for Autonomous Robots (SIMPAR), pp. 109-120, November 15, 2010 (Best Paper Award)
BibTeX:

@INPROCEEDINGS {BeatrizLeon2010,
author = {B. Leon and S. Ulbrich and R. Diankov and G. Puche and M. Przybylski and A. Morales and T. Asfour and S. Moisio and J. Bohg and J. Kuffner and R. Dillmann},
title = {OpenGRASP: A Toolkit for Robot Grasping Simulation},
booktitle = {2nd International Conference on Simulation, Modeling, and Programming for Autonomous Robots (SIMPAR)},
pages = {109--120},
year = {2010}
}
                
Przybylski, M., Asfour, T. and Dillmann, R., Unions of Balls for Shape Approximation in Robot Grasping, IEEE/RSJ International Conference on Intelligent Robots and Systems (IROS), pp. 1592-1599, 2010
BibTeX:

@INPROCEEDINGS {Przybylski2010,
author = {M. Przybylski and T. Asfour and R. Dillmann},
title = {Unions of Balls for Shape Approximation in Robot Grasping},
booktitle = {IEEE/RSJ International Conference on Intelligent Robots and Systems (IROS)},
pages = {1592--1599},
year = {2010}
}
                
Vahrenkamp, N., Do, M., Asfour, T. and Dillmann, R., Integrated Grasp and Motion Planning, IEEE International Conference on Robotics and Automation (ICRA), pp. 2883-2888, Mai, 2010
BibTeX:

@INPROCEEDINGS {Vahrenkamp2010,
author = {N. Vahrenkamp and M. Do and T. Asfour and R. Dillmann},
title = {Integrated Grasp and Motion Planning},
booktitle = {IEEE International Conference on Robotics and Automation (ICRA)},
pages = {2883--2888},
year = {2010}
}
                
Vahrenkamp, N., Kuhn, E., Asfour, T. and Dillmann, R., Planning Multi-Robot Grasping Motions, IEEE/RAS International Conference on Humanoid Robots (Humanoids), pp. 593-600, December, 2010
BibTeX:

@INPROCEEDINGS {Vahrenkamp2010a,
author = {N. Vahrenkamp and E. Kuhn and T. Asfour and R. Dillmann},
title = {Planning Multi-Robot Grasping Motions},
booktitle = {IEEE/RAS International Conference on Humanoid Robots (Humanoids)},
pages = {593--600},
year = {2010}
}
                
Welke, K., Issac, J., Schiebener, D., Asfour, T. and Dillmann, R., Autonomous Acquisition of Visual Multi-View Object Representations for Object Recognition on a Humanoid Robot, IEEE International Conference on Robotics and Automation (ICRA), pp. 2012-2019, 2010
BibTeX:

@INPROCEEDINGS {Welke2010,
author = {Kai Welke and Jan Issac and David Schiebener and Tamim Asfour and R\"udiger Dillmann},
title = {Autonomous Acquisition of Visual Multi-View Object Representations for Object Recognition on a Humanoid Robot},
booktitle = {IEEE International Conference on Robotics and Automation (ICRA)},
pages = {2012--2019},
year = {2010}
}
                
Books
Vahrenkamp, N., Asfour, T. and Dillmann, R., Efficient Motion and Grasp Planning for Humanoid Robots, Motion Planning for Humanoid Robots, Springer, 2010
BibTeX:

@INCOLLECTION {Vahrenkamp10c,
author = {N. Vahrenkamp and T. Asfour and R. Dillmann},
publisher = {Springer},
booktitle = {Motion Planning for Humanoid Robots},
title = {Efficient Motion and Grasp Planning for Humanoid Robots},
pages = {129--160},
year = {2010}
}
                
Preprints
Vahrenkamp, N., Asfour, T. and Dillmann, R., Simox: A Simulation and Motion Planning Toolbox for C++, Karlsruhe Institute of Technology (KIT), 2010
BibTeX:

@MISC {Vahrenkamp10d,
title = {Simox: A Simulation and Motion Planning Toolbox for C++},
author = {Nikolaus Vahrenkamp and Tamim Asfour and R\"udiger Dillmann},
publisher = {Karlsruhe Institute of Technology (KIT)},
year = {2010}
}
                
2009
Journals
Tamosiunaite, M., Asfour, T. and Wörgötter, F., Learning to reach by reinforcement learning using a receptive field based function approximation approach with continuous actions, Biological Cybernetics, vol. 100, no. , pp. 249-260, 2009
BibTeX:

@ARTICLE {Tamosiunaite2009,
author = {M. Tamosiunaite and T. Asfour and F. W\"org\"otter},
title = {Learning to reach by reinforcement learning using a receptive field based function approximation approach with continuous actions},
pages = {249--260},
volume ={100},
number ={},
journal ={Biological Cybernetics},
year = {2009}
}
                
Conferences
Asfour, T., Do, M., Welke, K., Bierbaum, A., Azad, P., Vahrenkamp, N., Gärtner, S., Ude, A. and Dillmann, R., From Sensorimotor Primitives to Manipulation and Imitation Strategies in Humanoid Robots., International Symposium on Robotics Research (ISRR), pp. 363-378, 2009

[BibTeX]
BibTeX:

@INPROCEEDINGS {Asfour2009,
author = {T. Asfour and M. Do and K. Welke and A. Bierbaum and P. Azad and N. Vahrenkamp and S. G\"artner and A. Ude and R. Dillmann},
title = {From Sensorimotor Primitives to Manipulation and Imitation Strategies in Humanoid Robots.},
booktitle = {International Symposium on Robotics Research (ISRR)},
pages = {363--378},
year = {2009}
}
                
Azad, P., Asfour, T. and Dillmann, R., Combining Harris Interest Points and the SIFT Descriptor for Fast Scale-Invariant Object Recognition, IEEE/RSJ International Conference on Intelligent Robots and Systems (IROS), pp. 4275-4280, October, 2009
BibTeX:

@INPROCEEDINGS {Azad2009,
author = {P. Azad and T. Asfour and R. Dillmann},
title = {Combining Harris Interest Points and the SIFT Descriptor for Fast Scale-Invariant Object Recognition},
booktitle = {IEEE/RSJ International Conference on Intelligent Robots and Systems (IROS)},
pages = {4275--4280},
year = {2009}
}
                
Azad, P., Asfour, T. and Dillmann, R., Accurate Shape-based 6-DoF Pose Estimation of Single-colored Objects, IEEE/RSJ International Conference on Intelligent Robots and Systems (IROS), pp. 2690-2695, October, 2009
BibTeX:

@INPROCEEDINGS {Azad2009a,
author = {P. Azad and T. Asfour and R. Dillmann},
title = {Accurate Shape-based 6-DoF Pose Estimation of Single-colored Objects},
booktitle = {IEEE/RSJ International Conference on Intelligent Robots and Systems (IROS)},
pages = {2690--2695},
year = {2009}
}
                
Azad, P., Asfour, T. and Dillmann, R., Stereo-based vs. Monocular 6-DoF Pose Estimation using Point Features: A Quantitative Comparison, Autonome Mobile Systeme (AMS), pp. 41-48, December, 2009
BibTeX:

@INPROCEEDINGS {Azad2009b,
author = {P. Azad and T. Asfour and R. Dillmann},
title = {Stereo-based vs. Monocular 6-DoF Pose Estimation using Point Features: A Quantitative Comparison},
booktitle = {Autonome Mobile Systeme (AMS)},
pages = {41--48},
year = {2009}
}
                
Azad, P., Asfour, T. and Dillmann, R., Stereo-basierte vs. Monokulare 6-DoF Lagebestimmung unter Verwendung von Punktmerkmalen, 3D-NordOst, pp. 15-24, December, 2009
BibTeX:

@INPROCEEDINGS {Azad2009c,
author = {P. Azad and T. Asfour and R. Dillmann},
title = {Stereo-basierte vs. Monokulare 6-DoF Lagebestimmung unter Verwendung von Punktmerkmalen},
booktitle = {3D-NordOst},
pages = {15--24},
year = {2009}
}
                
Bierbaum, A., Asfour, T. and Dillmann, R., Dynamic Potential Fields for Dexterous Tactile Exploration, Human Centered Robot Systems, pp. 23-31, 2009 (HCRS Workshop, Bielefeld)
BibTeX:

@INPROCEEDINGS {Bierbaum2009b,
author = {Alexander Bierbaum and Tamim Asfour and R\"udiger Dillmann},
title = {Dynamic Potential Fields for Dexterous Tactile Exploration},
booktitle = {Human Centered Robot Systems},
pages = {23--31},
year = {2009}
}
                
Bierbaum, A., Rambow, M., Asfour, T. and Dillmann, R., Grasp Affordances from Multi-Fingered Tactile Exploration using Dynamic Potential Fields, IEEE/RAS International Conference on Humanoid Robots (Humanoids), pp. 168-174, 2009
BibTeX:

@INPROCEEDINGS {Bierbaum2009a,
author = {Alexander Bierbaum and Matthias Rambow and Tamim Asfour and R\"udiger Dillmann},
title = {Grasp Affordances from Multi-Fingered Tactile Exploration using Dynamic Potential Fields},
booktitle = {IEEE/RAS International Conference on Humanoid Robots (Humanoids)},
pages = {168--174},
year = {2009}
}
                
Bierbaum, A., Schill, J., Asfour, T. and Dillmann, R., Force Position Control for a Pneumatic Anthropomorphic Hand, IEEE/RAS International Conference on Humanoid Robots (Humanoids), pp. 21-27, 2009
BibTeX:

@INPROCEEDINGS {Bierbaum2009,
author = {Alexander Bierbaum and Julian Schill and Tamim Asfour and R\"udiger Dillmann},
title = {Force Position Control for a Pneumatic Anthropomorphic Hand},
booktitle = {IEEE/RAS International Conference on Humanoid Robots (Humanoids)},
pages = {21--27},
year = {2009}
}
                
Do, M., Romero, J., Kjellström, H., Azad, P., Asfour, T., Kragic, D. and Dillmann, R., Grasp Recognition and Mapping on Humanoid Robots, IEEE/RAS International Conference on Humanoid Robots (Humanoids), pp. 465-471, December, 2009
BibTeX:

@INPROCEEDINGS {Do2009,
author = {M. Do and J. Romero and H. Kjellstr\"om and P. Azad and T. Asfour and D. Kragic and R. Dillmann},
title = {Grasp Recognition and Mapping on Humanoid Robots},
booktitle = {IEEE/RAS International Conference on Humanoid Robots (Humanoids)},
pages = {465--471},
year = {2009}
}
                
Gonzalez-Aguirre, D., Wieland, S., Asfour, T. and Dillmann, R., On Environmental Model-Based Visual Perception for Humanoids, AGACSE, Applied Geometric Algebras in Computer Science and Engineering, pp. 901-909, 2009
BibTeX:

@INPROCEEDINGS {Gonzalez-Aguirre2009b,
author = {D. Gonzalez-Aguirre and S. Wieland and T. Asfour and R. Dillmann},
title = {On Environmental Model-Based Visual Perception for Humanoids},
booktitle = {AGACSE, Applied Geometric Algebras in Computer Science and Engineering},
pages = {901--909},
year = {2009}
}
                
Hecht, F., Azad, P., Asfour, T. and Dillmann, R., Markerless Human Motion Tracking with a Flexible Model and Appearance Learning, Proceedings of the IEEE International Conference on Robotics and Automation (ICRA 2009), pp. 3173-3179, May, 2009
BibTeX:

@INPROCEEDINGS {Hecht2009,
author = {F. Hecht and P. Azad and T. Asfour and R. Dillmann},
title = {Markerless Human Motion Tracking with a Flexible Model and Appearance Learning},
booktitle = {Proceedings of the IEEE International Conference on Robotics and Automation (ICRA 2009)},
pages = {3173--3179},
year = {2009}
}
                
Huebner, K., Welke, K., Przybylski, M., Vahrenkamp, N., Asfour, T., Kragic, D. and Dillmann, R., Grasping known objects with humanoid robots: A box-based approach, International Conference on Advanced Robotics (ICAR), pp. 1-6, June, 2009
BibTeX:

@INPROCEEDINGS {Huebner2009,
author = {K. Huebner and K. Welke and M. Przybylski and N. Vahrenkamp and T. Asfour and D. Kragic and R. Dillmann},
title = {Grasping known objects with humanoid robots: A box-based approach},
booktitle = {International Conference on Advanced Robotics (ICAR)},
pages = {1--6},
year = {2009}
}
                
Kraft, D., Bierbaum, A., Kjaergaard, M., Ratkevicius, J., Kjaer-Nielsen, A., Ryberg, C., Petersen, H., Asfour, T., Dillmann, R. and Kruger, N., Tactile object exploration using cursor navigation sensors, EuroHaptics conference, 2009 and Symposium on Haptic Interfaces for Virtual Environment and Teleoperator Systems. World Haptics 2009. Third Joint, pp. 296-301, March, 2009

[BibTeX]
BibTeX:

@INPROCEEDINGS {Kraft2009,
author = {D. Kraft and A. Bierbaum and M. Kjaergaard and J. Ratkevicius and A. Kjaer-Nielsen and C. Ryberg and H. Petersen and T. Asfour and R. Dillmann and N. Kruger},
title = {Tactile object exploration using cursor navigation sensors},
booktitle = {EuroHaptics conference, 2009 and Symposium on Haptic Interfaces for Virtual Environment and Teleoperator Systems. World Haptics 2009. Third Joint},
pages = {296--301},
year = {2009}
}
                
Omrcen, D., Böge, C., Asfour, T., Ude, A. and Dillmann, R., Autonomous Acquisition of Pushing Actions to Support Object Grasping with a Humanoid Robot, IEEE/RAS International Conference on Humanoid Robots (Humanoids), pp. 277-283, 2009
BibTeX:

@INPROCEEDINGS {Omrcen2009,
author = {D. Omrcen and C. B\"oge and T. Asfour and A. Ude and R. Dillmann},
title = {Autonomous Acquisition of Pushing Actions to Support Object Grasping with a Humanoid Robot},
booktitle = {IEEE/RAS International Conference on Humanoid Robots (Humanoids)},
pages = {277--283},
year = {2009}
}
                
Pastor, P., Hoffmann, H., Asfour, T. and Schaal, S., Learning and Generalization of Motor Skills by Learning from Demonstration, Proceedings of the IEEE International Conference on Robotics and Automation, pp. 763-768, 2009
BibTeX:

@INPROCEEDINGS {Pastor2009,
author = {Peter Pastor and Heiko Hoffmann and T. Asfour and Stefan Schaal},
title = {Learning and Generalization of Motor Skills by Learning from Demonstration},
booktitle = {Proceedings of the IEEE International Conference on Robotics and Automation},
pages = {763--768},
year = {2009}
}
                
Speidel, S., Benzko, J., Sudra, G., Azad, P., Müller-Stich, B. P., Gutt, C. N. and Dillmann, R., Automatic Classification of Minimally Invasive Instruments based on Endoscopic Image Sequences, SPIE Medical Imaging, February, 2009

[BibTeX]
BibTeX:

@INPROCEEDINGS {Speidel2009,
author = {S. Speidel and J. Benzko and G. Sudra and P. Azad and B. P. M\"uller-Stich and C. N. Gutt and R. Dillmann},
title = {Automatic Classification of Minimally Invasive Instruments based on Endoscopic Image Sequences},
booktitle = {SPIE Medical Imaging},
pages = {0--0},
year = {2009}
}
                
Ulbrich, S., Ruiz, V., Asfour, T., Torras, C. and Dillmann, R., Rapid learning of Humanoid Body Schemas with Kinematic Bezier Maps, IEEE/RAS International Conference on Humanoid Robots (Humanoids), pp. 431-438, Dec., 2009
BibTeX:

@INPROCEEDINGS {Ulbrich2009,
author = {S. Ulbrich and V. Ruiz and T. Asfour and C. Torras and R. Dillmann},
title = {Rapid learning of Humanoid Body Schemas with Kinematic Bezier Maps},
booktitle = {IEEE/RAS International Conference on Humanoid Robots (Humanoids)},
pages = {431--438},
year = {2009}
}
                
Vahrenkamp, N., Böge, C., Welke, K., Asfour, T., Walter, J. and Dillmann, R., Visual Servoing for Dual Arm Motions on a Humanoid Robot, IEEE/RAS International Conference on Humanoid Robots (Humanoids), pp. 208-214, Dec., 2009
BibTeX:

@INPROCEEDINGS {Vahrenkamp2009,
author = {N. Vahrenkamp and C. B\"oge and K. Welke and T. Asfour and J. Walter and R. Dillmann},
title = {Visual Servoing for Dual Arm Motions on a Humanoid Robot},
booktitle = {IEEE/RAS International Conference on Humanoid Robots (Humanoids)},
pages = {208--214},
year = {2009}
}
                
Vahrenkamp, N., Barski, A., Asfour, T. and Dillmann, R., Planning and Execution of Grasping Motions on a Humanoid Robot, IEEE/RAS International Conference on Humanoid Robots (Humanoids), pp. 639-645, Dec., 2009
BibTeX:

@INPROCEEDINGS {Vahrenkamp2009a,
author = {N. Vahrenkamp and A. Barski and T. Asfour and R. Dillmann},
title = {Planning and Execution of Grasping Motions on a Humanoid Robot},
booktitle = {IEEE/RAS International Conference on Humanoid Robots (Humanoids)},
pages = {639--645},
year = {2009}
}
                
Vahrenkamp, N., Berenson, D., Asfour, T., Kuffner, J. and Dillmann, R., Humanoid Motion Planning for Dual-Arm Manipulation and Re-Grasping Tasks, IEEE/RSJ International Conference on Intelligent Robots and Systems (IROS), pp. 2464-2470, October, 2009
BibTeX:

@INPROCEEDINGS {Vahrenkamp2009b,
author = {N. Vahrenkamp and D. Berenson and T. Asfour and J. Kuffner and R. Dillmann},
title = {Humanoid Motion Planning for Dual-Arm Manipulation and Re-Grasping Tasks},
booktitle = {IEEE/RSJ International Conference on Intelligent Robots and Systems (IROS)},
pages = {2464--2470},
year = {2009}
}
                
Welke, K., Asfour, T. and Dillmann, R., Active Multi-View Object Search on a Humanoid Head, IEEE International Conference on Robotics and Automation (ICRA), pp. 417-423, May, 2009
BibTeX:

@INPROCEEDINGS {Welke2009,
author = {K. Welke and T. Asfour and R. Dillmann},
title = {Active Multi-View Object Search on a Humanoid Head},
booktitle = {IEEE International Conference on Robotics and Automation (ICRA)},
pages = {417--423},
year = {2009}
}
                
Welke, K., Asfour, T. and Dillmann, R., Bayesian Visual Feature Integration with Saccadic Eye Movements, IEEE/RAS International Conference on Humanoid Robots (Humanoids), pp. 256-262, 2009
BibTeX:

@INPROCEEDINGS {Welke2009a,
author = {K. Welke and T. Asfour and R. Dillmann},
title = {Bayesian Visual Feature Integration with Saccadic Eye Movements},
booktitle = {IEEE/RAS International Conference on Humanoid Robots (Humanoids)},
pages = {256--262},
year = {2009}
}
                
Wieland, S., Gonzalez-Aguirre, D., Vahrenkamp, N., Asfour, T. and Dillmann, R., Combining force and visual feedback for physical interaction tasks in humanoid robots, IEEE/RAS International Conference on Humanoid Robots (Humanoids), pp. 439-446, 2009
BibTeX:

@INPROCEEDINGS {Wieland2009,
author = {S. Wieland and D. Gonzalez-Aguirre and N. Vahrenkamp and T. Asfour and R. Dillmann},
title = {Combining force and visual feedback for physical interaction tasks in humanoid robots},
booktitle = {IEEE/RAS International Conference on Humanoid Robots (Humanoids)},
pages = {439--446},
year = {2009}
}
                
Books
Gonzalez-Aguirre, D., Asfour, T., Bayro-Corrochano, E. and Dillmann, R., Model-Based Visual Self-Localization Using Gaussian Spheres, None, Springer Verlag, 2009, 2009
BibTeX:

@INCOLLECTION {Gonzalez-Aguirre2009a,
author = {D. Gonzalez-Aguirre and T. Asfour and E. Bayro-Corrochano and R. Dillmann},
publisher = {Springer Verlag, 2009},
booktitle = {None},
title = {Model-Based Visual Self-Localization Using Gaussian Spheres},
pages = {299--324},
year = {2009}
}
                
Preprints
2008
Journals
Asfour, T., Azad, P., Gyarfas, F. and Dillmann, R., Imitation Learning of Dual-Arm Manipulation Tasks in Humanoid Robots, International Journal of Humanoid Robotics (IJHR), vol. 5, no. 2, pp. 183-202, December, 2008
BibTeX:

@ARTICLE {Asfour2008a,
author = {T. Asfour and P. Azad and F. Gyarfas and R. Dillmann},
title = {Imitation Learning of Dual-Arm Manipulation Tasks in Humanoid Robots},
pages = {183--202},
volume ={5},
number ={2},
journal ={International Journal of Humanoid Robotics (IJHR)},
year = {2008}
}
                
Asfour, T., Azad, P., Vahrenkamp, N., Regenstein, K., Bierbaum, A., Welke, K., Schröder, J. and Dillmann, R., Toward Humanoid Manipulation in Human-Centred Environments, Robotics and Autonomous Systems, vol. 56, no. , pp. 54-65, January, 2008
BibTeX:

@ARTICLE {Asfour2008b,
author = {T. Asfour and P. Azad and N. Vahrenkamp and K. Regenstein and A. Bierbaum and K. Welke and J. Schr\"oder and R. Dillmann},
title = {Toward Humanoid Manipulation in Human-Centred Environments},
pages = {54--65},
volume ={56},
number ={},
journal ={Robotics and Autonomous Systems},
year = {2008}
}
                
Asfour, T., Welke, K., Ude, A., Azad, P. and Dillmann, R., Perceiving Objects and Movements to Generate Actions on a Humanoid Robot, Lecture Notes in Electrical Engineering, vol. 8, no. , pp. 41-55, July, 2008
BibTeX:

@ARTICLE {Asfour2008d,
author = {T. Asfour and K. Welke and A. Ude and P. Azad and R. Dillmann},
title = {Perceiving Objects and Movements to Generate Actions on a Humanoid Robot},
pages = {41--55},
volume ={8},
number ={},
journal ={Lecture Notes in Electrical Engineering},
year = {2008}
}
                
Azad, P., Gockel, T. and Dillmann, R., Gesichtskontrolle – Biometrie per Webcam selbstgemacht, c't Magazin für Computer Technik, vol. 13, no. , pp. 168-175, June, 2008

[BibTeX]
BibTeX:

@ARTICLE {Azad2008c,
author = {P. Azad and T. Gockel and R. Dillmann},
title = {Gesichtskontrolle – Biometrie per Webcam selbstgemacht},
pages = {168--175},
volume ={13},
number ={},
journal ={c't Magazin f\"ur Computer Technik},
year = {2008}
}
                
Dillmann, R. and Asfour, T., Collaborative Research Center on Humanoid Robots (SFB 588), KI - Zeitschrift Künstliche Intelligenz, vol. 4, no. , pp. 26-28, 2008
BibTeX:

@ARTICLE {Dillmann2008,
author = {R. Dillmann and T. Asfour},
title = {Collaborative Research Center on Humanoid Robots (SFB 588)},
pages = {26--28},
volume ={4},
number ={},
journal ={KI - Zeitschrift K\"unstliche Intelligenz},
year = {2008}
}
                
Dillmann, R., Asfour, T., Cheng, G. and Ude, A., Toward Cognitive Humanoid Robots, International Journal of Humanoid Robotics (IJHR), vol. 5, no. 2, June, 2008 ((Special Issue))

[BibTeX]
BibTeX:

@ARTICLE {dillmann-ijhr:2008,
author = {R. Dillmann and T. Asfour and G. Cheng and A. Ude},
title = {Toward Cognitive Humanoid Robots},
pages = {0--0},
volume ={5},
number ={2},
journal ={International Journal of Humanoid Robotics (IJHR)},
year = {2008}
}
                
Conferences
Asfour, T., Welke, K., Azad, P., Ude, A. and Dillmann, R., The Karlsruhe Humanoid Head, IEEE/RAS International Conference on Humanoid Robots (Humanoids), pp. 447-453, December, 2008
BibTeX:

@INPROCEEDINGS {Asfour2008c,
author = {T. Asfour and K. Welke and P. Azad and A. Ude and R. Dillmann},
title = {The Karlsruhe Humanoid Head},
booktitle = {IEEE/RAS International Conference on Humanoid Robots (Humanoids)},
pages = {447--453},
year = {2008}
}
                
Azad, P., Asfour, T. and Dillmann, R., Robust Real-time Stereo-based Markerless Human Motion Capture, IEEE/RAS International Conference on Humanoid Robots (Humanoids), pp. 700-707, December, 2008
BibTeX:

@INPROCEEDINGS {Azad2008a,
author = {P. Azad and T. Asfour and R. Dillmann},
title = {Robust Real-time Stereo-based Markerless Human Motion Capture},
booktitle = {IEEE/RAS International Conference on Humanoid Robots (Humanoids)},
pages = {700--707},
year = {2008}
}
                
Bierbaum, A., Asfour, T. and Dillmann, R., IPSA - Inventor Physics Modeling API for Dynamics Simulation in Manipulation, IEEE/RSJ International Conference on Intelligent Robots and Systems (IROS), Workshop on robot simulators, 2008
BibTeX:

@INPROCEEDINGS {Bierbaum2008,
author = {A. Bierbaum and T. Asfour and R. Dillmann},
title = {IPSA - Inventor Physics Modeling API for Dynamics Simulation in Manipulation},
booktitle = {IEEE/RSJ International Conference on Intelligent Robots and Systems (IROS), Workshop on robot simulators},
pages = {0--0},
year = {2008}
}
                
Bierbaum, A., Gubarev, I. and Dillmann, R., Robust Shape Recovery for Sparse Contact Location and Normal Data from Haptic Exploration, IEEE/RSJ International Conference on Intelligent Robots and Systems (IROS), pp. 3200-3205, 2008
BibTeX:

@INPROCEEDINGS {Bierbaum2008a,
author = {A. Bierbaum and I. Gubarev and R. Dillmann},
title = {Robust Shape Recovery for Sparse Contact Location and Normal Data from Haptic Exploration},
booktitle = {IEEE/RSJ International Conference on Intelligent Robots and Systems (IROS)},
pages = {3200--3205},
year = {2008}
}
                
Bierbaum, A., Rambow, M., Asfour, T. and Dillmann, R., A Potential Field Approach to Dexterous Tactile Exploration, IEEE/RAS International Conference on Humanoid Robots (Humanoids), pp. 360-366, 2008
BibTeX:

@INPROCEEDINGS {Bierbaum2008b,
author = {A. Bierbaum and M. Rambow and T. Asfour and R. Dillmann},
title = {A Potential Field Approach to Dexterous Tactile Exploration},
booktitle = {IEEE/RAS International Conference on Humanoid Robots (Humanoids)},
pages = {360--366},
year = {2008}
}
                
Do, M., Azad, P., Asfour, T. and Dillmann, R., Imitation of Human Motion on a Humanoid Robot using Nonlinear Optimization, IEEE/RAS International Conference on Humanoid Robots (Humanoids), pp. 545-552, December, 2008
BibTeX:

@INPROCEEDINGS {Do2008,
author = {M. Do and P. Azad and T. Asfour and R. Dillmann},
title = {Imitation of Human Motion on a Humanoid Robot using Nonlinear Optimization},
booktitle = {IEEE/RAS International Conference on Humanoid Robots (Humanoids)},
pages = {545--552},
year = {2008}
}
                
Gaiser, I., Schulz, S., Kargov, A., Klosek, H., Bierbaum, A., Pylatiuk, C., Oberle, R., Werner, T., Asfour, T., Bretthauer, G. and Dillmann, R., A New Anthropomorphic Robotic Hand, IEEE/RAS International Conference on Humanoid Robots (Humanoids), pp. 418-422, 2008

[BibTeX]
BibTeX:

@INPROCEEDINGS {Gaiser2008,
author = {I. Gaiser and S. Schulz and A. Kargov and H. Klosek and A. Bierbaum and C. Pylatiuk and R. Oberle and T. Werner and T. Asfour and G. Bretthauer and R. Dillmann},
title = {A New Anthropomorphic Robotic Hand},
booktitle = {IEEE/RAS International Conference on Humanoid Robots (Humanoids)},
pages = {418--422},
year = {2008}
}
                
Gonzalez-Aguirre, D. I., Asfour, T., Bayro-Corrochano, E. and Dillmann, R., Model-Based Visual Self-Localization Using Geometry and Graphs, International Conference on Pattern Recognition, ICPR 2008, Tampa Florida-USA., pp. 1-5, 2008
BibTeX:

@INPROCEEDINGS {Gonzalez-Aguirre2008a,
author = {D. I. Gonzalez-Aguirre and T. Asfour and E. Bayro-Corrochano and R. Dillmann},
title = {Model-Based Visual Self-Localization Using Geometry and Graphs},
booktitle = {International Conference on Pattern Recognition, ICPR 2008, Tampa Florida-USA.},
pages = {1--5},
year = {2008}
}
                
Gonzalez-Aguirre, D., Wieland, S., Asfour, T. and Dillmann, R., Improving Model-Based Visual Self-Localization Using Gaussian Spheres, AGACSE, Applied Geometric Algebras in Computer Science and Engineering, pp. 1-16, 2008
BibTeX:

@INPROCEEDINGS {Gonzalez-Aguirre2008b,
author = {D. Gonzalez-Aguirre and S. Wieland and T. Asfour and R. Dillmann},
title = {Improving Model-Based Visual Self-Localization Using Gaussian Spheres},
booktitle = {AGACSE, Applied Geometric Algebras in Computer Science and Engineering},
pages = {1--16},
year = {2008}
}
                
Prats, M., Wieland, S., Asfour, T., Pobil, A. P. d. and Dillmann, R., Compliant Interaction in Household Environments by the Armar-III Humanoid Robot, IEEE/RAS International Conference on Humanoid Robots (Humanoids), pp. 475-480, 2008

[BibTeX]
BibTeX:

@INPROCEEDINGS {Prats2008,
author = {M. Prats and S. Wieland and T. Asfour and A. P. del Pobil and R. Dillmann},
title = {Compliant Interaction in Household Environments by the Armar-III Humanoid Robot},
booktitle = {IEEE/RAS International Conference on Humanoid Robots (Humanoids)},
pages = {475--480},
year = {2008}
}
                
Ude, A. and Asfour, T., Control and recognition on a humanoid head with cameras having different field of view, Proc. 19th IAPR Int. Conf. Pattern Recognition, pp. 1-4, 2008
BibTeX:

@INPROCEEDINGS {Ude2008,
author = {A. Ude and T. Asfour},
title = {Control and recognition on a humanoid head with cameras having different field of view},
booktitle = {Proc. 19th IAPR Int. Conf. Pattern Recognition},
pages = {1--4},
year = {2008}
}
                
Vahrenkamp, N., Scheurer, C., Asfour, T., Kuffner, J. and Dillmann, R., Adaptive Motion Planning for Humanoid Robots, IEEE/RSJ International Conference on Intelligent Robots and Systems (IROS), pp. 2127-2132, 2008
BibTeX:

@INPROCEEDINGS {Vahrenkamp2008,
author = {N. Vahrenkamp and C. Scheurer and T. Asfour and J. Kuffner and R. Dillmann},
title = {Adaptive Motion Planning for Humanoid Robots},
booktitle = {IEEE/RSJ International Conference on Intelligent Robots and Systems (IROS)},
pages = {2127--2132},
year = {2008}
}
                
Vahrenkamp, N., Wieland, S., Azad, P., Gonzalez-Aguirre, D., Asfour, T. and Dillmann, R., Visual Servoing for Humanoid Grasping and Manipulation Tasks, IEEE/RAS International Conference on Humanoid Robots (Humanoids), pp. 406-412, December, 2008
BibTeX:

@INPROCEEDINGS {Vahrenkamp2008aa,
author = {N. Vahrenkamp and S. Wieland and P. Azad and D. Gonzalez-Aguirre and T. Asfour and R. Dillmann},
title = {Visual Servoing for Humanoid Grasping and Manipulation Tasks},
booktitle = {IEEE/RAS International Conference on Humanoid Robots (Humanoids)},
pages = {406--412},
year = {2008}
}
                
Vahrenkamp, N., Wieland, S., Azad, P., Gonzalez-Aguirre, D., Asfour, T. and Dillmann, R., Visual Servoing for Humanoid Grasping and Manipulation Tasks, IEEE/RAS International Conference on Humanoid Robots (Humanoids), pp. 406-412, December, 2008
BibTeX:

@INPROCEEDINGS {Vahrenkamp2008ab,
author = {N. Vahrenkamp and S. Wieland and P. Azad and D. Gonzalez-Aguirre and T. Asfour and R. Dillmann},
title = {Visual Servoing for Humanoid Grasping and Manipulation Tasks},
booktitle = {IEEE/RAS International Conference on Humanoid Robots (Humanoids)},
pages = {406--412},
year = {2008}
}
                
Welke, K., Asfour, T. and Dillmann, R., Object Separation using Active Methods and Multi-View Representations, IEEE International Conference on Robotics and Automation (ICRA), pp. 949-955, May, 2008
BibTeX:

@INPROCEEDINGS {Welke2008,
author = {K. Welke and T. Asfour and R. Dillmann},
title = {Object Separation using Active Methods and Multi-View Representations},
booktitle = {IEEE International Conference on Robotics and Automation (ICRA)},
pages = {949--955},
year = {2008}
}
                
Books
Azad, P., Gockel, T. and Dillmann, R., Computer Vision – Principles and Practice, None, May, 2008

[BibTeX]
BibTeX:

@INCOLLECTION {Azad2008b,
author = {P. Azad and T. Gockel and R. Dillmann},
publisher = {},
booktitle = {None},
title = {Computer Vision – Principles and Practice},
pages = {0--0},
year = {2008}
}
                
Preprints
Welke, K., Przybylski, M., Asfour, T. and Dillmann, R., Kinematic Calibration for Saccadic Eye Movements, Institute for Anthropomatics, Universität Karlsruhe, 2008
BibTeX:

@MISC {Welke2008a,
title = {Kinematic Calibration for Saccadic Eye Movements},
author = {K. Welke and M. Przybylski and T. Asfour and R. Dillmann},
publisher = {Institute for Anthropomatics, Universit\"at Karlsruhe},
year = {2008}
}
                
2007
Journals
Dillmann, R., Steinhaus, P., Asfour, T. and Pardowitz, M., Lernende humanoide Roboter in Alltagsumgebungen, it – Information Technology, vol. 49, no. 4, pp. 224-231, 2007

[BibTeX]
BibTeX:

@ARTICLE {Dillmann2007,
author = {R. Dillmann and P. Steinhaus and T. Asfour and M. Pardowitz},
title = {Lernende humanoide Roboter in Alltagsumgebungen},
pages = {224--231},
volume ={49},
number ={4},
journal ={it – Information Technology},
year = {2007}
}
                
Conferences
Azad, P., Asfour, T. and Dillmann, R., Stereo-based 6D Object Localization for Grasping with Humanoid Robot Systems, IEEE/RSJ International Conference on Intelligent Robots and Systems (IROS), pp. 919-924, October, 2007
BibTeX:

@INPROCEEDINGS {Azad2007,
author = {P. Azad and T. Asfour and R. Dillmann},
title = {Stereo-based 6D Object Localization for Grasping with Humanoid Robot Systems},
booktitle = {IEEE/RSJ International Conference on Intelligent Robots and Systems (IROS)},
pages = {919--924},
year = {2007}
}
                
Azad, P., Asfour, T. and Dillmann, R., Toward an Unified Representation for Imitation of Human Motion on Humanoids, IEEE International Conference on Robotics and Automation (ICRA), pp. 2558-2563, April, 2007
BibTeX:

@INPROCEEDINGS {Azad2007c,
author = {P. Azad and T. Asfour and R. Dillmann},
title = {Toward an Unified Representation for Imitation of Human Motion on Humanoids},
booktitle = {IEEE International Conference on Robotics and Automation (ICRA)},
pages = {2558--2563},
year = {2007}
}
                
Azad, P., Ude, A., Asfour, T. and Dillmann, R., Stereo-based Markerless Human Motion Capture for Humanoid Robot Systems, IEEE International Conference on Robotics and Automation (ICRA), pp. 3951-3956, April, 2007
BibTeX:

@INPROCEEDINGS {Azad2007b,
author = {P. Azad and A. Ude and T. Asfour and R. Dillmann},
title = {Stereo-based Markerless Human Motion Capture for Humanoid Robot Systems},
booktitle = {IEEE International Conference on Robotics and Automation (ICRA)},
pages = {3951--3956},
year = {2007}
}
                
Bierbaum, A., Welke, K., Burger, D., Asfour, T. and Dillmann, R., A Framework for Visually guided Haptic Exploration with Five Finger Hands, 2007 Robotics, pp. 674-676, 2007
BibTeX:

@INPROCEEDINGS {Bierbaum2007,
author = {A. Bierbaum and K. Welke and D. Burger and T. Asfour and R. Dillmann},
title = {A Framework for Visually guided Haptic Exploration with Five Finger Hands},
booktitle = {2007 Robotics},
pages = {674--676},
year = {2007}
}
                
Bierbaum, A., Welke, K., Burger, D., Asfour, T. and Dillmann, R., Haptic Exploration for 3D Shape Reconstruction using Five-Finger Hands, IEEE/RAS International Conference on Humanoid Robots (Humanoids), pp. 616-621, Nov 29 , 2007
BibTeX:

@INPROCEEDINGS {Bierbaum2007a,
author = {A. Bierbaum and K. Welke and D. Burger and T. Asfour and R. Dillmann},
title = {Haptic Exploration for 3D Shape Reconstruction using Five-Finger Hands},
booktitle = {IEEE/RAS International Conference on Humanoid Robots (Humanoids)},
pages = {616--621},
year = {2007}
}
                
Michel, P., Scheurer, C., Kuffner, J., Vahrenkamp, N. and Dillmann, R., Planning for Robust Execution of Humanoid Motions using Future Perceptive Capability, IEEE/RSJ International Conference on Intelligent Robots and Systems (IROS), pp. 3223-3228, October, 2007
BibTeX:

@INPROCEEDINGS {Michel2007,
author = {P. Michel and C. Scheurer and J. Kuffner and N. Vahrenkamp and R. Dillmann},
title = {Planning for Robust Execution of Humanoid Motions using Future Perceptive Capability},
booktitle = {IEEE/RSJ International Conference on Intelligent Robots and Systems (IROS)},
pages = {3223--3228},
year = {2007}
}
                
Omrcen, D., Ude, A., Welke, K., Asfour, T. and Dillmann, R., Sensorimotor Processes for Learning Object Representations, IEEE/RAS International Conference on Humanoid Robots (Humanoids), pp. 143-150, 2007
BibTeX:

@INPROCEEDINGS {Omrcen2007,
author = {D. Omrcen and A. Ude and K. Welke and T. Asfour and R. Dillmann},
title = {Sensorimotor Processes for Learning Object Representations},
booktitle = {IEEE/RAS International Conference on Humanoid Robots (Humanoids)},
pages = {143--150},
year = {2007}
}
                
Regenstein, K., Kerscher, T., Birkenhofer, C., Asfour, T., Zöllner, J. M. and Dillmann, R., A modular approach for controlling mobile robots, Proceedings of CLAWAR2007, 10th International Conference on Climbing and Walking Robots, pp. 547-554, July 16, 2007
BibTeX:

@INPROCEEDINGS {Regenstein2007,
author = {K. Regenstein and T. Kerscher and C. Birkenhofer and T. Asfour and J. M. Z\"ollner and R. Dillmann},
title = {A modular approach for controlling mobile robots},
booktitle = {Proceedings of CLAWAR2007, 10th International Conference on Climbing and Walking Robots},
pages = {547--554},
year = {2007}
}
                
Regenstein, K., Kerscher, T., Birkenhofer, C., Asfour, T., Zöllner, J. M. and Dillmann, R., Universal Controller Module (UCoM) - component of a modular concept in robotic systems, Proceedings of 2007 IEEE International Symposium on Industrial Electronics, pp. 2089-2094, June 4, 2007
BibTeX:

@INPROCEEDINGS {Regenstein2007a,
author = {K. Regenstein and T. Kerscher and C. Birkenhofer and T. Asfour and J. M. Z\"ollner and R. Dillmann},
title = {Universal Controller Module (UCoM) - component of a modular concept in robotic systems},
booktitle = {Proceedings of 2007 IEEE International Symposium on Industrial Electronics},
pages = {2089--2094},
year = {2007}
}
                
Stilman, M., Schamburek, J., Kuffner, J. and Asfour, T., Manipulation Planning Among Movable Obstacles., IEEE International Conference on Robotics and Automation (ICRA), pp. 3327-3332, April, 2007
BibTeX:

@INPROCEEDINGS {Stilman2007,
author = {M. Stilman and J. Schamburek and J. Kuffner and T. Asfour},
title = {Manipulation Planning Among Movable Obstacles.},
booktitle = {IEEE International Conference on Robotics and Automation (ICRA)},
pages = {3327--3332},
year = {2007}
}
                
Ude, A., Riley, M., Nemec, B., Asfour, T. and Cheng, G., Synthesizing Goal-Directed Actions from a Library of Example Movements, IEEE/RAS International Conference on Humanoid Robots (Humanoids), pp. 115-121, 2007
BibTeX:

@INPROCEEDINGS {Ude2007,
author = {A. Ude and M. Riley and B. Nemec and T. Asfour and G. Cheng},
title = {Synthesizing Goal-Directed Actions from a Library of Example Movements},
booktitle = {IEEE/RAS International Conference on Humanoid Robots (Humanoids)},
pages = {115--121},
year = {2007}
}
                
Vahrenkamp, N., Asfour, T. and Dillmann, R., Efficient Motion Planning for Humanoid Robots using Lazy Collision Checking and Enlarged Robot Models, IEEE/RSJ International Conference on Intelligent Robots and Systems (IROS), pp. 3062-3067, October, 2007
BibTeX:

@INPROCEEDINGS {Vahrenkamp2007,
author = {N. Vahrenkamp and T. Asfour and R. Dillmann},
title = {Efficient Motion Planning for Humanoid Robots using Lazy Collision Checking and Enlarged Robot Models},
booktitle = {IEEE/RSJ International Conference on Intelligent Robots and Systems (IROS)},
pages = {3062--3067},
year = {2007}
}
                
Welke, K., Oztop, E., Cheng, G. and Dillmann, R., Exploiting Similarities for robot perception, IEEE/RSJ International Conference on Intelligent Robots and Systems (IROS), pp. 3237-3242, October, 2007
BibTeX:

@INPROCEEDINGS {Welke2007,
author = {K. Welke and E. Oztop and G. Cheng and R. Dillmann},
title = {Exploiting Similarities for robot perception},
booktitle = {IEEE/RSJ International Conference on Intelligent Robots and Systems (IROS)},
pages = {3237--3242},
year = {2007}
}
                
Books
Azad, P., Gockel, T. and Dillmann, R., Computer Vision – Das Praxisbuch, None, June, 2007

[BibTeX]
BibTeX:

@INCOLLECTION {Azad2007a,
author = {P. Azad and T. Gockel and R. Dillmann},
publisher = {},
booktitle = {None},
title = {Computer Vision – Das Praxisbuch},
pages = {0--0},
year = {2007}
}
                
Preprints
Kjaergaard, M., Bierbaum, A., Kraft, D., Kalkan, S., Krüger, N., Asfour, T. and Dillmann, R., Using Tactile Sensors for Multisensorial Scene Exploration, Robotics Group, The Maersk Mc-Kinney Moller Institute, University of Souther Denmark, Jan, 2007
BibTeX:

@MISC {Kjaergaard2007,
title = {Using Tactile Sensors for Multisensorial Scene Exploration},
author = {M. Kjaergaard and A. Bierbaum and D. Kraft and S. Kalkan and N. Kr\"uger and T. Asfour and R. Dillmann},
publisher = {Robotics Group, The Maersk Mc-Kinney Moller Institute, University of Souther Denmark},
year = {2007}
}
                
2006
Journals
Conferences
Asfour, T., Gyarfas, F., Azad, P. and Dillmann, R., Imitation Learning of Dual-Arm Manipulation Tasks in Humanoid Robots, IEEE/RAS International Conference on Humanoid Robots (Humanoids), pp. 40-47, December, 2006
BibTeX:

@INPROCEEDINGS {Asfour2006,
author = {T. Asfour and F. Gyarfas and P. Azad and R. Dillmann},
title = {Imitation Learning of Dual-Arm Manipulation Tasks in Humanoid Robots},
booktitle = {IEEE/RAS International Conference on Humanoid Robots (Humanoids)},
pages = {40--47},
year = {2006}
}
                
Asfour, T., Regenstein, K., Azad, P., Schröder, J. and Dillmann, R., ARMAR-III: A Humanoid Platform for Perception-Action Integration, 2nd International Workshop on Human-Centered Robotic Systems (HCRS), pp. 51-56, 2006
BibTeX:

@INPROCEEDINGS {Asfour2006c,
author = {T. Asfour and K. Regenstein and P. Azad and J. Schr\"oder and R. Dillmann},
title = {ARMAR-III: A Humanoid Platform for Perception-Action Integration},
booktitle = {2nd International Workshop on Human-Centered Robotic Systems (HCRS)},
pages = {51--56},
year = {2006}
}
                
Asfour, T., Regenstein, K., Azad, P., Schröder, J., Vahrenkamp, N. and Dillmann, R., ARMAR-III: An Integrated Humanoid Platform for Sensory-Motor Control, IEEE/RAS International Conference on Humanoid Robots (Humanoids), pp. 169-175, December, 2006 (Most Influential Paper Award Finalist, IEEE-RAS International Conference on Humanoid Robots 20th anniversary)
BibTeX:

@INPROCEEDINGS {Asfour2006b,
author = {T. Asfour and K. Regenstein and P. Azad and J. Schr\"oder and N. Vahrenkamp and R. Dillmann},
title = {ARMAR-III: An Integrated Humanoid Platform for Sensory-Motor Control},
booktitle = {IEEE/RAS International Conference on Humanoid Robots (Humanoids)},
pages = {169--175},
year = {2006}
}
                
Azad, P., Asfour, T. and Dillmann, R., Combining Appearance-based and Model-based Methods for Real-Time Object Recognition and 6D Localization, IEEE/RSJ International Conference on Intelligent Robots and Systems (IROS), pp. 5339-5344, October, 2006
BibTeX:

@INPROCEEDINGS {Azad2006,
author = {P. Azad and T. Asfour and R. Dillmann},
title = {Combining Appearance-based and Model-based Methods for Real-Time Object Recognition and 6D Localization},
booktitle = {IEEE/RSJ International Conference on Intelligent Robots and Systems (IROS)},
pages = {5339--5344},
year = {2006}
}
                
Azad, P., Ude, A., Asfour, T., Cheng, G. and Dillmann, R., Image-based Markerless 3D Human Motion Capture using Multiple Cues, International Workshop on Vision Based Human-Robot Interaction, March, 2006
BibTeX:

@INPROCEEDINGS {Azad2006a,
author = {P. Azad and A. Ude and T. Asfour and G. Cheng and R. Dillmann},
title = {Image-based Markerless 3D Human Motion Capture using Multiple Cues},
booktitle = {International Workshop on Vision Based Human-Robot Interaction},
pages = {0--0},
year = {2006}
}
                
Bertram, D., Kuffner, J. J., Dillmann, R. and Asfour, T., An Integrated Approach to Inverse Kinematics and Path Planning for Redundant Manipulators, IEEE International Conference on Robotics and Automation (ICRA), pp. 1874-1879, May, 2006
BibTeX:

@INPROCEEDINGS {Bertram2006,
author = {D. Bertram and J. J. Kuffner and R. Dillmann and T. Asfour},
title = {An Integrated Approach to Inverse Kinematics and Path Planning for Redundant Manipulators},
booktitle = {IEEE International Conference on Robotics and Automation (ICRA)},
pages = {1874--1879},
year = {2006}
}
                
Gorges, N., Bierbaum, A., Wörn, H. and Dillmann, R., Towards a comprehensive grasping system for Armar-III, Human-Centered Robotic Systems (HCRS'06), pp. 57-62, 2006
BibTeX:

@INPROCEEDINGS {Gorges2006,
author = {N. Gorges and A. Bierbaum and H. W\"orn and R. Dillmann},
title = {Towards a comprehensive grasping system for Armar-III},
booktitle = {Human-Centered Robotic Systems (HCRS'06)},
pages = {57--62},
year = {2006}
}
                
Lehmann, A., Mikut, R. and Asfour, T., Petri Nets for Task Supervision in Humanoid Robots, Proc. of 37th International Symposium of Robotics (ISR), 2006

[BibTeX]
BibTeX:

@INPROCEEDINGS {Lehmann2006,
author = {A. Lehmann and R. Mikut and T. Asfour},
title = {Petri Nets for Task Supervision in Humanoid Robots},
booktitle = {Proc. of 37th International Symposium of Robotics (ISR)},
pages = {0--0},
year = {2006}
}
                
Morales, A., Asfour, T., Azad, P., Knoop, S. and Dillmann, R., Integrated Grasp Planning and Visual Object Localization For a Humanoid Robot with Five-Fingered Hands, IEEE/RSJ International Conference on Intelligent Robots and Systems (IROS), pp. 5663-5668, October, 2006
BibTeX:

@INPROCEEDINGS {Morales2006,
author = {A. Morales and T. Asfour and P. Azad and S. Knoop and R. Dillmann},
title = {Integrated Grasp Planning and Visual Object Localization For a Humanoid Robot with Five-Fingered Hands},
booktitle = {IEEE/RSJ International Conference on Intelligent Robots and Systems (IROS)},
pages = {5663--5668},
year = {2006}
}
                
Morales, A., Azad, P., Asfour, T., Kraft, D., Knoop, S., Dillmann, R., Kargov, A., Pylatiuk, C. and Schulz, S., An Anthropomorphic Grasping Approach for an Assistant Humanoid Robot, International Symposium on Robotics (ISR), May, 2006
BibTeX:

@INPROCEEDINGS {Morales2006a,
author = {A. Morales and P. Azad and T. Asfour and D. Kraft and S. Knoop and R. Dillmann and A. Kargov and C. Pylatiuk and S. Schulz},
title = {An Anthropomorphic Grasping Approach for an Assistant Humanoid Robot},
booktitle = {International Symposium on Robotics (ISR)},
pages = {0--0},
year = {2006}
}
                
Regenstein, K., Asfour, T. and Dillmann, R., Designing a computer architecture for the humanoid robot ARMAR-III, Proceedings of HLR 2006, French-German Workshop on Humanoid and Legged Robots, 2006
BibTeX:

@INPROCEEDINGS {Regenstein2006,
author = {K. Regenstein and T. Asfour and R. Dillmann},
title = {Designing a computer architecture for the humanoid robot ARMAR-III},
booktitle = {Proceedings of HLR 2006, French-German Workshop on Humanoid and Legged Robots},
pages = {0--0},
year = {2006}
}
                
Steinbach, K., Kuffner, J., Asfour, T. and Dillmann, R., Collision and self-collision detection for humanoids based on sphere tree hierarchies, IEEE/RAS International Conference on Humanoid Robots (Humanoids), pp. 560-566, 2006
BibTeX:

@INPROCEEDINGS {Steinbach2006,
author = {Klaus Steinbach and J. Kuffner and T. Asfour and R. Dillmann},
title = {Collision and self-collision detection for humanoids based on sphere tree hierarchies},
booktitle = {IEEE/RAS International Conference on Humanoid Robots (Humanoids)},
pages = {560--566},
year = {2006}
}
                
Welke, K., Azad, P. and Dillmann, R., Fast and Robust Feature-based Recognition of Multiple Objects, IEEE/RAS International Conference on Humanoid Robots (Humanoids), pp. 264-269, December, 2006
BibTeX:

@INPROCEEDINGS {Welke2006,
author = {K. Welke and P. Azad and R. Dillmann},
title = {Fast and Robust Feature-based Recognition of Multiple Objects},
booktitle = {IEEE/RAS International Conference on Humanoid Robots (Humanoids)},
pages = {264--269},
year = {2006}
}
                
Welke, K., Oztop, E., Ude, A., Dillmann, R. and Cheng, G., Learning feature representations for an object recognition system, IEEE/RAS International Conference on Humanoid Robots (Humanoids), pp. 290-295, December, 2006
BibTeX:

@INPROCEEDINGS {Welke2006a,
author = {K. Welke and E. Oztop and A. Ude and R. Dillmann and G. Cheng},
title = {Learning feature representations for an object recognition system},
booktitle = {IEEE/RAS International Conference on Humanoid Robots (Humanoids)},
pages = {290--295},
year = {2006}
}
                
Books
Asfour, T., Ly, D. N., Regenstein, K. and Dillmann, R., Coordinated Task Execution for Humanoid Robots, Experimental Robotics IX, Springer Verlag, 2006

[BibTeX]
BibTeX:

@INCOLLECTION {Asfour2006a,
author = {T. Asfour and D. N. Ly and K. Regenstein and R. Dillmann},
publisher = {Springer Verlag},
booktitle = {Experimental Robotics IX},
title = {Coordinated Task Execution for Humanoid Robots},
pages = {259--267},
year = {2006}
}
                
Preprints
2005
Journals
Conferences
Burghart, C., Mikut, R., Stiefelhagen, R., Asfour, T., Holzapfel, H., Steinhaus, P. and Dillmann, R., A Cognitive Architecture for a Humanoid Robot: A First Approach, IEEE/RAS International Conference on Humanoid Robots (Humanoids), pp. 357-362, 2005
BibTeX:

@INPROCEEDINGS {Burghart2005,
author = {C. Burghart and R. Mikut and R. Stiefelhagen and T. Asfour and H. Holzapfel and P. Steinhaus and R. Dillmann},
title = {A Cognitive Architecture for a Humanoid Robot: A First Approach},
booktitle = {IEEE/RAS International Conference on Humanoid Robots (Humanoids)},
pages = {357--362},
year = {2005}
}
                
Gockel, T., Ahlmann, J., Dillmann, R. and Azad, P., 3D Vision Sensing for Grasp Planning: A New, Robust and Affordable Structured Light Approach, IEEE International Conference on Robotics and Automation (ICRA), pp. 2529-2534, April, 2005
BibTeX:

@INPROCEEDINGS {Gockel2005,
author = {T. Gockel and J. Ahlmann and R. Dillmann and P. Azad},
title = {3D Vision Sensing for Grasp Planning: A New, Robust and Affordable Structured Light Approach},
booktitle = {IEEE International Conference on Robotics and Automation (ICRA)},
pages = {2529--2534},
year = {2005}
}
                
Morales, A., Asfour, T., Osswald, D., Schulz, S. and Dillmann, R., Towards an Anthropomorphic Manipulator for an Assistant Humanoid Robot, Robotics, 2005
BibTeX:

@INPROCEEDINGS {Morales2005,
author = {A. Morales and T. Asfour and D. Osswald and S. Schulz and R. Dillmann},
title = {Towards an Anthropomorphic Manipulator for an Assistant Humanoid Robot},
booktitle = {Robotics},
pages = {0--0},
year = {2005}
}
                
Books
Bierbaum, A., Piaseczki, A., Schröder, J., Azad, P., Gockel, T. and Dillmann, R., Embedded Robotics – Das Praxisbuch, None, August, 2005

[BibTeX]
BibTeX:

@INCOLLECTION {Bierbaum2005,
author = {A. Bierbaum and A. Piaseczki and J. Schr\"oder and P. Azad and T. Gockel and R. Dillmann},
publisher = {},
booktitle = {None},
title = {Embedded Robotics – Das Praxisbuch},
pages = {0--0},
year = {2005}
}
                
Preprints
2004
Journals
Conferences
Asfour, T., Ly, D. N., Regenstein, K. and Dillmann, R., Coordinated Task Execution for Humanoid Robots, The International Symposium on Experimental Robots, pp. 259-267, June, 2004
BibTeX:

@INPROCEEDINGS {Asfour2004,
author = {T. Asfour and D. N. Ly and K. Regenstein and R. Dillmann},
title = {Coordinated Task Execution for Humanoid Robots},
booktitle = {The International Symposium on Experimental Robots},
pages = {259--267},
year = {2004}
}
                
Azad, P., Gockel, T. and Dillmann, R., 3D Shape Acquisition using a Combined SSD and Least Squares Correlation Approach, International Conference on Coding and Computing (ITCC), pp. 367-371, April, 2004
BibTeX:

@INPROCEEDINGS {Azad2004,
author = {P. Azad and T. Gockel and R. Dillmann},
title = {3D Shape Acquisition using a Combined SSD and Least Squares Correlation Approach},
booktitle = {International Conference on Coding and Computing (ITCC)},
pages = {367--371},
year = {2004}
}
                
Azad, P., Ude, A., Dillmann, R. and Cheng, G., A Full Body Human Motion Capture System using Particle Filtering and On-The-Fly Edge Detection, IEEE/RAS International Conference on Humanoid Robots (Humanoids), pp. 941-959, December, 2004
BibTeX:

@INPROCEEDINGS {Azad2004a,
author = {P. Azad and A. Ude and R. Dillmann and G. Cheng},
title = {A Full Body Human Motion Capture System using Particle Filtering and On-The-Fly Edge Detection},
booktitle = {IEEE/RAS International Conference on Humanoid Robots (Humanoids)},
pages = {941--959},
year = {2004}
}
                
Gockel, T., Azad, P. and Dillmann, R., Calibration Issues for Projector-based 3D-Scanning, International Conference on Shape Modeling and Applications (SMI), pp. 367-370, June, 2004
BibTeX:

@INPROCEEDINGS {Gockel2004,
author = {T. Gockel and P. Azad and R. Dillmann},
title = {Calibration Issues for Projector-based 3D-Scanning},
booktitle = {International Conference on Shape Modeling and Applications (SMI)},
pages = {367--370},
year = {2004}
}
                
Gockel, T., Azad, P. and Dillmann, R., 3D-Modellerfassung mittels eines innovativen One-Shot-Musterprojektionsverfahrens, 3D-NordOst-Workshop, December, 2004
BibTeX:

@INPROCEEDINGS {Gockel2004a,
author = {T. Gockel and P. Azad and R. Dillmann},
title = {3D-Modellerfassung mittels eines innovativen One-Shot-Musterprojektionsverfahrens},
booktitle = {3D-NordOst-Workshop},
pages = {0--0},
year = {2004}
}
                
Ly, D. N., Regenstein, K., Asfour, T. and Dillmann, R., A Modular and Distributed Embedded Control Architecture for Humanoid Robots, IEEE/RSJ International Conference on Intelligent Robots and Systems (IROS), pp. 2775-2780, 2004
BibTeX:

@INPROCEEDINGS {Ly2004,
author = {D. N. Ly and K. Regenstein and T. Asfour and R. Dillmann},
title = {A Modular and Distributed Embedded Control Architecture for Humanoid Robots},
booktitle = {IEEE/RSJ International Conference on Intelligent Robots and Systems (IROS)},
pages = {2775--2780},
year = {2004}
}
                
Zöllner, R., Asfour, T. and Dillmann, R., Programming by Demonstration: Dual-Arm Manipulation Tasks for Humanoid Robots, IEEE/RSJ International Conference on Intelligent Robots and Systems (IROS), pp. 479-484, 2004
BibTeX:

@INPROCEEDINGS {Zollner2004,
author = {R. Z\"ollner and T. Asfour and R. Dillmann},
title = {Programming by Demonstration: Dual-Arm Manipulation Tasks for Humanoid Robots},
booktitle = {IEEE/RSJ International Conference on Intelligent Robots and Systems (IROS)},
pages = {479--484},
year = {2004}
}
                
Books
Preprints
2003
Journals
Azad, P. and Gockel, T., Flash-Board als Schachcomputer – Deep Evelyn – der Gewinner im Flash-Board-Wettbewerb, Elektor Elektronik & Computertechnik, vol. 422, no. , February, 2003

[BibTeX]
BibTeX:

@ARTICLE {Azad2003b,
author = {P. Azad and T. Gockel},
title = {Flash-Board als Schachcomputer – Deep Evelyn – der Gewinner im Flash-Board-Wettbewerb},
pages = {0--0},
volume ={422},
number ={},
journal ={Elektor Elektronik & Computertechnik},
year = {2003}
}
                
Conferences
Asfour, T. and Dillmann, R., Human-like Motion of a Humanoid Robot Arm Based on Closed-Form Solution of the Inverse Kinematics Problem., IEEE/RSJ International Conference on Intelligent Robots and Systems (IROS), pp. 407-1412, 2003
BibTeX:

@INPROCEEDINGS {Asfour2003,
author = {T. Asfour and R. Dillmann},
title = {Human-like Motion of a Humanoid Robot Arm Based on Closed-Form Solution of the Inverse Kinematics Problem.},
booktitle = {IEEE/RSJ International Conference on Intelligent Robots and Systems (IROS)},
pages = {407--1412},
year = {2003}
}
                
Gockel, T., Taminé, O., Azad, P. and Dillmann, R., EduKaBot – Aufbau eines edukativen Roboter-Baukastensystems, Autonome Mobile Systeme (AMS), pp. 311-321, December, 2003
BibTeX:

@INPROCEEDINGS {Gockel2003,
author = {T. Gockel and O. Taminé and P. Azad and R. Dillmann},
title = {EduKaBot – Aufbau eines edukativen Roboter-Baukastensystems},
booktitle = {Autonome Mobile Systeme (AMS)},
pages = {311--321},
year = {2003}
}
                
Regenstein, K. and Dillmann, R., Design of an open hardware architecture for the humanoid robot ARMAR, IEEE/RAS International Conference on Humanoid Robots (Humanoids), October 1, 2003

[BibTeX]
BibTeX:

@INPROCEEDINGS {Regenstein2003,
author = {K. Regenstein and R. Dillmann},
title = {Design of an open hardware architecture for the humanoid robot ARMAR},
booktitle = {IEEE/RAS International Conference on Humanoid Robots (Humanoids)},
pages = {0--0},
year = {2003}
}
                
Books
Preprints
2001
Journals
Conferences
Asfour, T., Ude, A., Berns, K. and Dillmann, R., Control of ARMAR for the Realization of Anthropomorphic Motion Patterns., IEEE/RAS International Conference on Humanoid Robots (Humanoids), pp. 22-24, November 22, 2001
BibTeX:

@INPROCEEDINGS {Asfour2001,
author = {T. Asfour and A. Ude and K. Berns and R. Dillmann},
title = {Control of ARMAR for the Realization of Anthropomorphic Motion Patterns.},
booktitle = {IEEE/RAS International Conference on Humanoid Robots (Humanoids)},
pages = {22--24},
year = {2001}
}
                
Books
Preprints
2000
Journals
Conferences
Asfour, T., Berns, K. and Dillmann, R., The Humanoid Robot ARMAR: Design and control, The 1st IEEE-RAS International Conference on Humanoid Robots, pp. 7-8, 2000
BibTeX:

@INPROCEEDINGS {Asfour2000,
author = {T. Asfour and K. Berns and R. Dillmann},
title = {The Humanoid Robot ARMAR: Design and control},
booktitle = {The 1st IEEE-RAS International Conference on Humanoid Robots},
pages = {7--8},
year = {2000}
}
                
Dillmann, R., Asfour, T. and Berns, K., Design and Control of a Humanoid Typ 2-Arm Robot System, World Automation Congress (WAC 2000), June 11, 2000

[BibTeX]
BibTeX:

@INPROCEEDINGS {Dillmann2000,
author = {R. Dillmann and T. Asfour and K. Berns},
title = {Design and Control of a Humanoid Typ 2-Arm Robot System},
booktitle = {World Automation Congress (WAC 2000)},
pages = {0--0},
year = {2000}
}
                
Fukaya, N., Toyama, S., Asfour, T. and Dillmann, R., Design of the TUAT/Karlsruhe Humanoid Hand., IEEE/RSJ International Conference on Intelligent Robots and Systems (IROS), pp. 1754-1759, October 30 , 2000
BibTeX:

@INPROCEEDINGS {Fukaya2000,
author = {N. Fukaya and S. Toyama and T. Asfour and R. Dillmann},
title = {Design of the TUAT/Karlsruhe Humanoid Hand.},
booktitle = {IEEE/RSJ International Conference on Intelligent Robots and Systems (IROS)},
pages = {1754--1759},
year = {2000}
}
                
Fukaya, N., Toyama, S., Asfour, T. and Dillmann, R., Design of a Humanoid Hand for Human Friendly Robotics Applications., International Conference on Machine Automation (ICMA2000), pp. 4533-4540, September 27, 2000
BibTeX:

@INPROCEEDINGS {Fukaya2000a,
author = {N. Fukaya and S. Toyama and T. Asfour and R. Dillmann},
title = {Design of a Humanoid Hand for Human Friendly Robotics Applications.},
booktitle = {International Conference on Machine Automation (ICMA2000)},
pages = {4533--4540},
year = {2000}
}
                
Books
Preprints
1999
Journals
Conferences
Asfour, T., Berns, K. and Dillmann, R., The Humanoid Robot ARMAR, The Second International Symposium in HUmanoid RObots (HURO'99), pp. 174-180, October 8, 1999
BibTeX:

@INPROCEEDINGS {Asfour1999,
author = {T. Asfour and K. Berns and R. Dillmann},
title = {The Humanoid Robot ARMAR},
booktitle = {The Second International Symposium in HUmanoid RObots (HURO'99)},
pages = {174--180},
year = {1999}
}
                
Asfour, T., Berns, K., Schelling, J. and Dillmann, R., Programming of Manipulation Tasks of the Humanoid Robot ARMAR, The Ninth International Conference on Advanced Robotics (ICAR'99), pp. 107-112, October 25, 1999
BibTeX:

@INPROCEEDINGS {Asfour1999a,
author = {T. Asfour and K. Berns and J. Schelling and R. Dillmann},
title = {Programming of Manipulation Tasks of the Humanoid Robot ARMAR},
booktitle = {The Ninth International Conference on Advanced Robotics (ICAR'99)},
pages = {107--112},
year = {1999}
}
                
Books
Preprints